LANSING—Linda Lee Tarver said the lawsuits, testimonies, and hearings underway show there is evidence of fraud and criminal activity in the presidential election, but there is a way forward.
"Once that's revealed people will be able to see the real results and every legal vote should count," she said at a Stop the Steal rally in Lansing, Michigan on Nov. 28, 2020. Thousands have been protesting against election fraud every Saturday since Election Day.
"I know people who voted for Joe Biden who are still looking for justice," she added. In some counties, votes can't or won't be recounted, or recounted in a way that can separate fraudulent votes from legal ones, and those voters she knows are concerned about that too. "It's unacceptable."
"That is not fair," she said. "We demand a fair voting system because that is the crux of our republic and our democracy. Our Constitution demands that your vote in Detroit should be treated like a vote in Traverse City or Lansing or elsewhere, equal protection under the law."
"And there are some people that are whistleblowers who have stepped forward, they're here, and there are some who are Democrats. We want a fair and just election," she said. "We should be signing petitions, we should be telling our lawmakers and our congressional members that we want a fair election. We want to know what happened here."
"And if there is any validity to what the president's lawyers and these independent attorneys have, we want it to come out and we want to be able to trust that our vote does count," she said.
"I think most everybody should be praying, the biggest thing we can be doing is praying for justice, and demand we have a fair legal system," she said.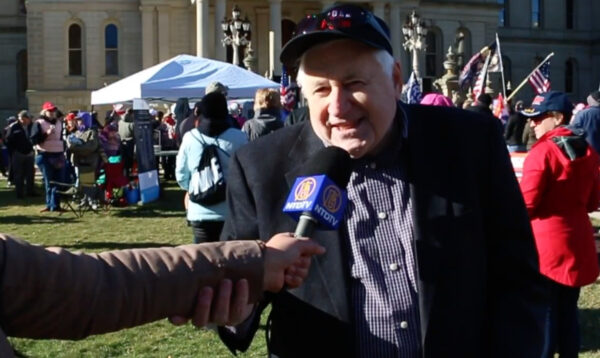 Charles Mulholland said it was important that the corruption seen in this election is rooted out and done away with.
"We need to make sure that the honest vote is the one that puts him [Trump] back again," Mulholland said.
"We need to preserve America; it's in a battle right now, to maintain our liberties we have been granted, from our founding fathers," he said. "There is a lot, a lot of pressure, both internationally from foreign countries, as well as anarchists in America, so we need to make sure we are vigilant and prevail."