LANSING, Mich.—Jerry Denman was heartened to see the turnout for the Stop the Steal rally in Lansing, Michigan on Nov. 7, 2020, and felt Americans across the country are suspicious of the way the votes have been counted. Too many allegations of fraud and statistic anomalies have hurt the integrity of the presidential election, he added.
"I don't think it's any surprise. The speaker before mentioned the Silent Majority is no longer silent, and I think you see that right now," Denman said. "People from all walks of life. People from every racial background. I think right now, what we're worried about is the integrity of the vote … the con is on and the American people, they are awake to it."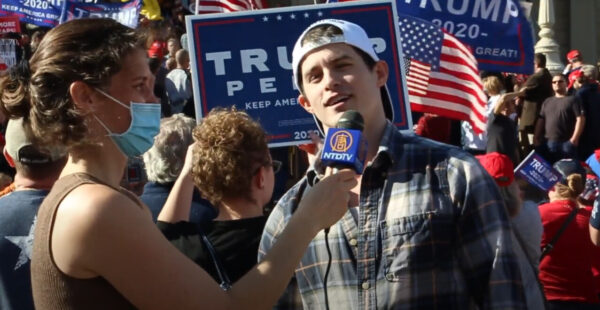 Joseph Yancho joined the demonstration as well, and said though he supported President Donald Trump, he is an Independent, not a Republican.
"This is bigger than the Republican Party, this is about our country, this is about the integrity of our institutions. If you can't trust our electoral process what can you trust?" Yancho said.
He stayed up to track the vote counts on election night, and overnight there was a big jump for candidate Joe Biden in one state, and then another.
"Hm, maybe it's a mistake, I'll wait it out. Then the same thing happened in Michigan, you notice coincidences," he said. "That's literally just the tip of the iceberg." Then came reports of software glitches, reports from poll watchers of ballot count discrepancies, and so on.
"If the news media just sweep it under the rug, who's there to fight for us? … Do they really have the American people's interest at heart?"
Yancho says the courts will have to settle this for the American people.
"You know our president is not going to concede, he's will not concede, he's just not. He's not a loser, he's a lion, he's a fighter, and he's going to fight for us. We're going to take this to the highest court if we have to," Yancho said. "I have family members who voted for Biden and when you present them with the evidence they just laugh. Well you can't laugh your way out of this in the courts, they just can't. They can't just throw this evidence aside, and there is a lot of evidence. "