Michelle Obama Will Give Three Commencement Speeches in May
April 11, 2013 4:12 pm Last Updated: July 18, 2015 5:20 pm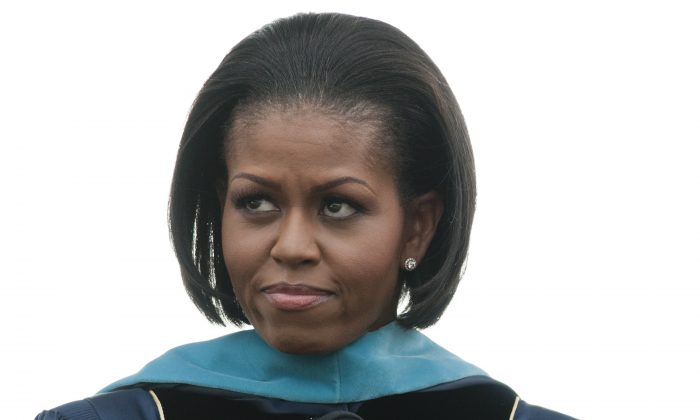 First Lady Michelle Obama will speak to graduating seniors in Maryland, Kentucky, and Tennessee, the White House announced on April 11.
The three schools are:
Eastern Kentucky University
Bowie State University
Martin Luther King Jr. Academic Magnet High School
Times:
EKU: Saturday, May 11, at 7:30 p.m.
Bowie State: Friday, May 17 (time unannounced)
MLK Jr. High School: Saturday, May 18, at 1:00 p.m.
Obama will speak to Eastern Kentucky University as part of her Joining Forces initiative, which supports veterans and military families. The university has helped veterans get jobs within the school and further their education, and is home to more than 1,275 veterans and their families.
At Bowie State, a historically black college that is outside of Baltimore, Obama will help commemorate the university as the oldest historically black university, and one of the oldest in the nation. It is 148 years old this year.
The Martin Luther King Jr. Academic Magnet High School for Health Sciences and Engineering was chosen because its active gardening programs, including caring for a garden at a nearby community center, align with Obama's healthy eating and living initiatives. The school serves students in grades 7 through 12.
 Obama has given commencement addresses before, including to the University of California Merced's first full senior class in 2009, and to the George Washington University in 2010.