The smells of pot roast, with Nordic black currant jelly and carrots, gravitated from the kitchen to all areas of the house, creating a pleasant sense that made two Michelin star chef Emma Bengtsson excited to taste the dish.
It brought back memories of growing up on the west coast of Sweden. As a child, Bengtsson, executive chef at Aquavit in New York, visited her grandmother for the holidays and weekends. There, the young cuisine enthusiast ran around the house, and sneaked into the kitchen to watch her grandmother prep meals.
"I would always remember from the moment I would step in—I knew that she would already have spent two to three days in the kitchen," Bengtsson said. "Her whole house would already have this wonderful smell."
Sweden was where Bengtsson developed her love of food, and a dream to move to New York City as a chef before she turned 30. She did it in 2010—and four years later earned Aquavit its two Michelin stars. And now she's looking to give back.
Initially a picky eater, through Bengtsson grandmother's playful skills, ranging from hide and seek spot games to naming food names, she found joyful moments. The youngster would slide under the table to taste foods, which caused her grandma to hide certain meals in a kitchen cabinet. It didn't stop the future chef thought; she always found a way to grab a bite.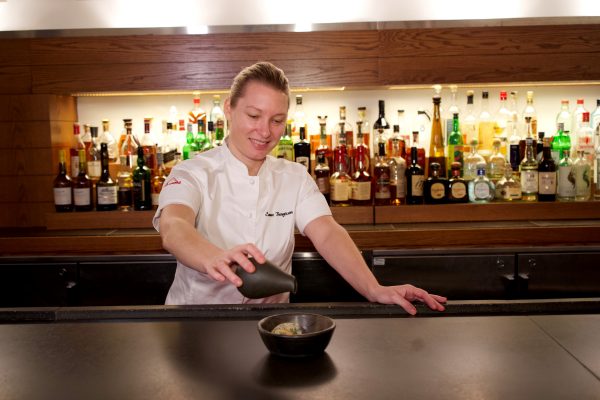 Passion in Food
Brought up in a home that revolved around cooking and eating, Bengtsson recalled even outdoor playtime had something to do with food.
"I would do a lot of food of mud and pine cones and make a mess out of everything," she said. "I used to do a lot of pies."
In a small fishing town called Falkenberg, the Swedish chef had a large backyard, filled with fruits and vegetables. While strolling and skipping in a terrace filled with plants and harvest apple trees, Bengtsson would pick up ingredients to make a delicious meal, such as carrot-apple pies.
Her favorite childhood meal was a family's carrot recipe—simple, but effective.
"I would go and get apples, carrots or anything that I could find would turn into a pie," she said. "I had this recipe that my grandmother gave me that was just four ingredients. So it's really easy to make and it taste really nice."
It was through the occasional visit to her grandmother's house that Bengtsson learned to appreciate food. Eventually, she decided to turn this passion into a career.
Honing Craft and Creativity
When Bengtsson was 16 years old, she attended Stockholm Hotel and Restaurant School, a culinary school where the chef learned to make pastries and savory dishes, hotel management, and bartending. She later interned at the restaurant Edsbacka located in Sollentuna, north of Stockholm.
After gaining experience from some of the most renowned restaurants in Sweden, the chef decided to move to the big apple eight years ago.
"The city is so vibrant and everything moves so fast," she said. "The level when you can get noticed, as well, goes so much faster."
Bengtsson's style and technique in cooking was well-received and Aquavit owner Hakan Swahn recognized her talent and skills, which led to her position as executive pastry chef at the restaurant.
"Within my first year, I developed a new dessert that was being recognized in so many magazines," she said. "Getting that recognition of what I do that people like and admire is absolutely amazing."
Bengtsson fell more in love with food throughout her time at the Scandinavian restaurant. The freedom in cooking allowed the professional cook to be creative with her craft.
"The freedom of it is what I loved the most with cooking," she said.
The only rule?
"You have to make sure that it tastes good," the cook said. "You never really know until you try it."
She tries to keep tradition alive through her dishes. The restaurant offers a classic, traditional comfort lunch of dishes passed down over decades, and a modern dinner style, such as Matjes Herring, a raw pickled Herrin, served with Swedish cheese, sour cream, and red onion.
Giving Back
As Bengtsson tickles her creativity in cooking, she also uses her platform in the culinary world to give back within the food community. Bengtsson serves on City Harvest's Food Council. City Harvest is New York City's largest food rescue organization, and has been partnering with top chefs to spread their mission and loan her expertise.
It started when she noticed the amount of food thrown away in the garbage.
"I want to do as much as possible to help. It's scary to see how many people don't know where their next meal is coming from," the Michelin-Star chef said.
The chef wants to be of service to the needy in hopes of bringing people together and to provide certainty for those who want to have a healthy meal. She participated in the organization's BID Against Hunger event on Oct. 4, a themed fall occasion where guests bid on once-in-a-lifetime food and travel experiences to raise money to feed the hungry.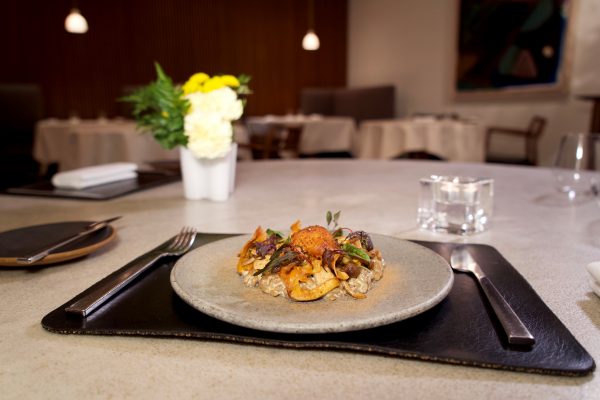 "You have to try to help the best way you can," Bengtsson said. "I think we're moving in the right direction where chefs are getting more involved and helping out as much as possible."
Although it can be difficult at times for Bengtsson to leave the restaurant, she's thought of ways to give back from within the kitchen. She created a special lunch tasting menu that donates $3 for each list of dishes purchased to make sure it reflects City Harvest's ideals—newly made healthy food that can fulfill one's appetite.
"I would like to help as much as possible," she said. "I can help the world."