Brand comparisons between tires are probably nearly as old as the tire business itself. However, as Michelin pointed out during a recent event, how often do you see a head-to-head between two sets of well-used rubber?
The answer is,likely, not very. Which is why the French manufacturer in late April invited media to take part in a hands-on demonstration called "The Truth About Worn Tires" at the Laurens Proving Grounds—the company's own private test facility near its North American headquarters in South Carolina.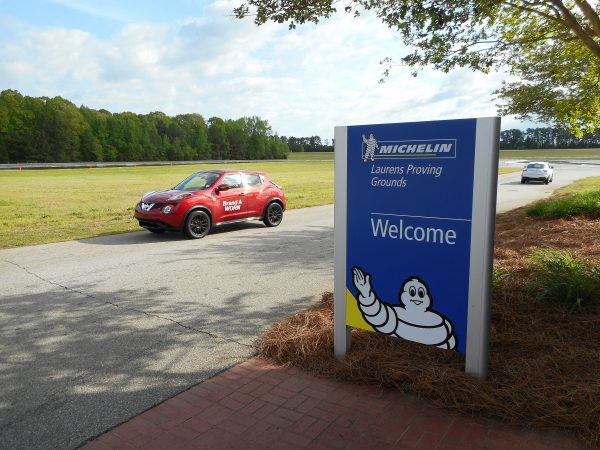 "This is not a normal event that Michelin puts on. Normally, we invite you out for a new product launch or a corporate announcement, but that's not what this is about. We are just a voice in the industry here talking about something we're very passionate about. And that's safety," says brand director Andy Koury.
"Typically when the industry is testing tires, it's standard to test what? New tires. Rarely do we test anything that's worn, so it's something we're going to highlight at this event. It's truly important, as most consumers, after they buy the tire and leave the shop, they'realready driving on worn tires."
Prior to participating in any exercises, the day began in the classroom where some statistics were laid out. Over 400 million tires a year are sent to the landfill prematurely, a result of owners not using them down to the minimum allowable tread-depth limit of 1.5 millimetres, or 2/32nds of an inch. Michelin says even replacing the tire at 3 millimetres, or 4/32nds, could mean losing up to 32,000 kilometres of the potential tire life.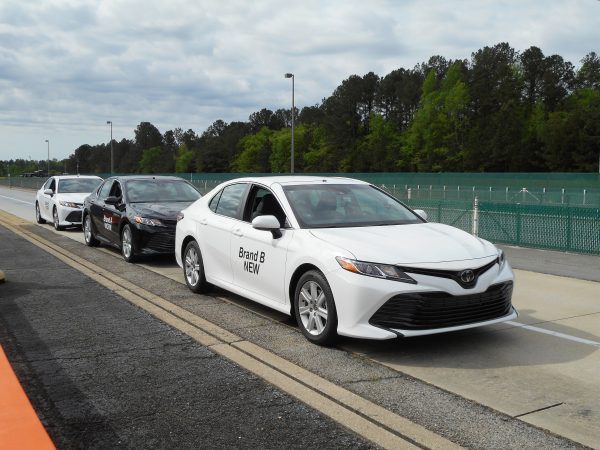 Now of course, that's not to say all tires are created equal, especially in a heavily used state. A lot of the time, people buy a fresh set because the old ones don't perform like they once did.
And to illustrate the point, we were sent to the first of two activities of the day: doing three laps around a deliberately wet section of the test track in various Nissan Juke crossovers.  All were spec'd the same but on two different sets of tires—Tire A and Tire B (all branding was removed prior)—in both new and worn condition, the latter simulated by artificially shaving the tread to 3/32nds.
Although we weren't privy to the specific models yet, it was pretty clear from the get go that Tire A was the more capable of the two, being able to better hold a consistent line around the turns at speed than Tire B.

The next exercise proved to be most illuminating. This time we got behind the wheel of a Toyota Camry equipped with a similar setup and GPS tracking, except that we were not going to be lapping. Instead, we were to accelerate to 72 km/h in a straight line, activate cruise control, and then, once entering a designated stop box (sprinkled in water of course, as that is truly the best way to identify any hidden issues), slam on the brakes as hard as possible in order to measure stopping distance.
Tire A again came through the winner. However, I wasn't expecting B, in its new state, to take nearly five metres further to stop than A, which was worn. Afterwards, professional drivers did the exact same thing in F-150 pickup trucks, yielding similar results.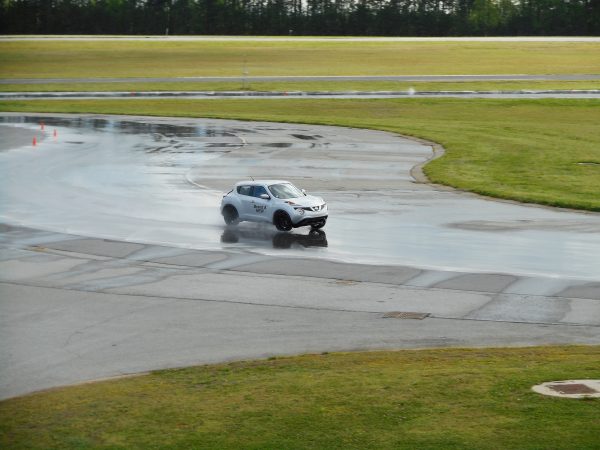 As Michelin explained, some tires are designed to wear better, keeping a proper contact patch (with part of the rubber actually contacting with the road surface) as well as the grooves and biting edges that help maintain traction in slick conditions. As it turned out, Tire A was a Michelin (surprise!) passenger tire, and Tire B a Goodyear equivalent.
You can read more about the event at michelinmedia.com/the-truth-about-worn-tires.
Benjamin Yong is a freelance writer from Vancouver, B.C., and belongs to the Automobile Journalists Association of Canada (AJAC). Follow him on Twitter @b_yong.