The Michael Jordan UNC letter is part of an auction of items from Jordan.
The letter and another letter from assistant coach Bill Guthridge to Jordan are being sold by New Jersey-based auction house Goldin Auctions.
They were among items given by Jordan to "Michael Jordan's 23," a restaurant in Chapel Hill, North Carolina. 
But the restaurant, opened in 1999, closed in November 2003.
Some of the items on the walls of the restaurant went into a storage locker, reported ESPN. When the storage bill wasn't paid, a lucky man gained the property.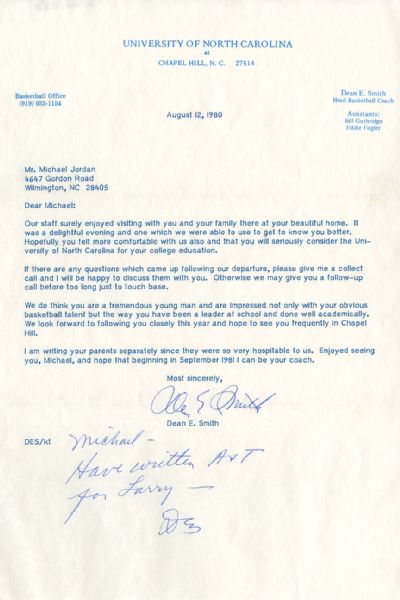 "In my more than 30 years in the business, this is the first time I've ever seen documents like this," Ken Goldin, founder of Goldin Auctions, told ESPN. "A recruiting letter to a major high profile athlete has never been available for the public to buy."
The auction opened on January 10 with the opening bid for the Smith letter at $5,000 and for the Guthridge letter at $2,500.
Jordan's business manager declined to comment on the auction.
The letter from Smith is dated August 12, 1980. The letter from Guthridge is dated February 19, 1980.
Jordan signed a letter of intent to play for the Tar heels in April 1981.
A third item that is part of the auction: a copy of Jordan's diploma, which he received when he graduated from UNC in December 1986.
That began at $1,000.
The auction ends on February 7.