President Donald Trump's former lawyer Michael Cohen began serving a three-year sentence for tax evasion and campaign finance violations on May 6.
Cohen arrived on the morning of May 6 at the Federal Correctional Institution in Otisville, a federal prison in the wilderness some 70 miles northwest of New York City.
On the way to prison, Cohen made remarks to reporters outside of his Manhattan apartment, suggesting that he hopes Trump loses the presidency in the 2020 election.
"I hope that when I rejoin my family and friends that the country will be in place without xenophobia, injustice, and lies at helm of our country," Cohen said, adding that "there still remains much to be told and I look forward to the day that I can share the truth."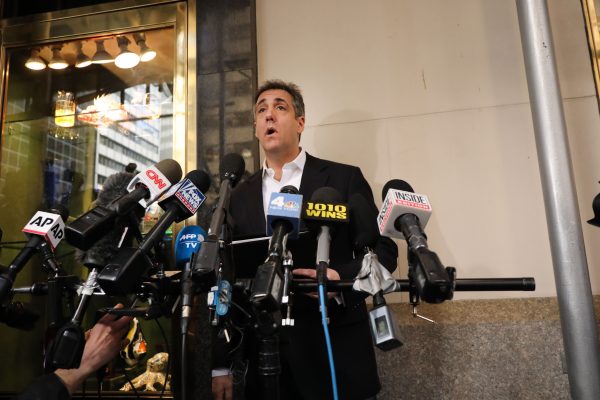 In response to Cohen's comments, Congressman Mark Meadows (R-N.C.), who is among Trump's strongest supporters in Congress wrote on Twitter: "Guy who lied to Congress, then came back to Congress under oath and lied again, wants you to know he has more to say."
"Guy who lied to Congress, then came back to Congress under oath and lied again, wants you to know he has more to say" https://t.co/wGWLVmQ31V

— Mark Meadows (@RepMarkMeadows) May 6, 2019
Cohen testified before the House Oversight and Government Reform Committee on Feb. 27 after publicly turning against his former boss during the investigation into alleged collusion by the Trump campaign and Russia during the 2016 election.
Cohen had once claimed that he would be willing to "take a bullet" for Trump. He pleaded guilty last year to campaign finance violations, tax evasion, and lying to Congress.
Cohen had testified before Congress that the president never directed him to lie—an allegation made in a false report published by BuzzFeed News, which alleged that the Mueller team had evidence that Trump had directed Cohen to lie to Congress about his real estate business deal in Moscow. The special counsel's office disputed these claims and confirmed in the report released last month that the news was false.

"Cohen said that he and the President did not explicitly discuss whether Cohen's testimony about the Trump Tower Moscow project would be or was false, and the President did not direct him to provide false testimony. Cohen also said he did not tell the President about the specifics of his planned testimony," the special counsel's report states.
The Associated Press contributed to this report.
Watch Next:
Key Takeaways From the Mueller Report