Miami Heat News, Rumors 2014: Updates on Dwayne Wade, Chris Bosh, Danny Granger, Luol Deng
September 29, 2014 4:40 pm Last Updated: October 1, 2014 12:28 am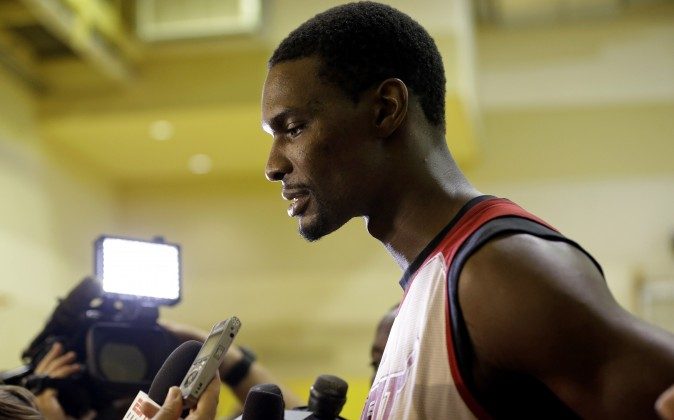 The Miami Heat training camp just started and the news and rumors have ramped back up with the season about a month away.
Check out the latest buzz below.
Bosh Wants to be the Leader
Chris Bosh, with a huge new contract, sees himself as the leader of the Heat this season.
"Right now it's easy. Everybody is supposed to win a championship, everybody wants to win a championship right now, everybody is undefeated, but when those back-to-backs come and those long road trips come, it's going to be a big-time challenge," Bosh said, reported the Miami Herald.
"And especially those nights when you're going to have to put the extra effort for the team and to lead them in a certain way that I wasn't doing before. It's going to be hard." 
Bosh has been working out for months in preparation for his new role.
Trainer Ed Downs and personal skills coach Miles Simon ramped up the work this summer to prepare Bosh for his new role as the focal point of the offense. 
"I'm excited," Bosh told Bleacher Report. "I really want to do it for the city of Miami—to show my evolution and my growth, and display a different level of my talent. It's not easy; I went from [about] 20 [points] and 10 [rebounds] in Toronto to 16 and 7 last season.
"I'm a much better player than I was in Toronto, and I'll be able to give Miami a lot more. I'm excited to really test out what I've done over these years, as far as leadership is concerned, as far as what's on the court is concerned, and really put it out there."
Wade Looking to Play Every Game
Dwayne Wade says that he's looking to play every game this year after sitting out 28 games last season.
"Last year," he said after the first session of training camp at AmericanAirlines Arena, "we tried something and I wasn't comfortable with it, either."
"My goal is to be available every day for my teammates and see what that equals out to. Hopefully it equals out to success for myself, individually, but for our team," he said, reported the Sun-Sentinel.
Coach Erik Spoelstra didn't say specifically if Wade would be rested for some games again.
"He had a good summer, one of health, but also of training. So he came into camp in good shape and we'll just continue to progress him each day. I like the shape that he's in and we want to keep him taking steps forward," Spoelstra said. 
"He's in a great mindset right now, borne out of the work this summer, so I'm encouraged at that. It's the first day of training camp and we'll build on it and go to the next day and that's how I'm going to treat it."
Granger to Get Big Opportunity

Without LeBron James, Ray Allen, and Shane Battier, the Heat need new shooters to step in and Danny Granger is looking to be one of them.
He has a career 38 percentage from that range, although he hasn't been close to that since suffering his severe knee injury. He did shoot 35.3 percent in a limited run with the Los Angeles Clippers last season.
"When you're playing with players like [Bosh] and D-Wade they draw a lot of attention and it opens up a lot, and that's a credit to those players and a credit to the system as well," Granger said, reported the Herald. "The system gives you a lot of open three-point shots. I love that." 
Granger said that he's watched the system do wonders for players like Allen and that attracted him to Miami.
"It's super inviting," Granger said. "That's one of the things that attracted me to sign with the Heat [and] some of the other famous players who have been attracted here as well. You know playing against them how hard it is to guard the three-point line with the spacing and everybody is touching the ball.
"It's a very difficult offense to guard, so now that I'm in it I'm trying to learn and hopefully I'll be very efficient." 
Heat a 'Rental' Team
Ira Winderman of the South Florida Sun Sentinel says that the current team is a "rental," responding to a fan who wondered whether Luol Deng and Granger have a shot at earning contract extensions.
"The reality is that so much of this team is a rental team, players other than Chris Bosh and Josh McRoberts, including the two you mentioned, and many more, on contracts that allow them to opt out after the coming season. The Heat clearly have placed a priority on being a player in 2016 free agency, when the salary cap is expected to rise exponentially," he said.
"So yes, there is a chance that any player (perhaps other than Wade) who has a breakout season and an opt-out could bolt next summer. I still believe the Heat would keep their focus on 2016 free agency. Then again, this is what makes sports these days so confounding, that on the eve of the 2014-15 season, some already are wondering about the 2015 offseason and beyond. For now, it should be about savoring the moment. Whatever it may bring."
Kevin Durant headlines the 2016 free agent class, which is notably bigger than the 2015 class.
MORE: Lakers News, Rumors 2014: Jeremy Lin, Kobe Bryant, Steve Nash, Carlos Boozer, Trade Rumors
Check out a previous Associated Press story below
For Miami Heat, rival players are now new teammates
MIAMI — Earlier this month, it just so happened that Josh McRoberts, Danny Granger and Luol Deng all had spots on the same side of the Miami Heat locker room.
Rival Row didn't last long.
"I was like, 'OK, we've got to mix that up,'" Heat coach Erik Spoelstra said.
McRoberts, Granger and Deng — villains to the Heat in the past, especially in the playoffs — are rivals to Miami no more, after they became the biggest parts of the team's roster revamping this summer. Getting shifted to new spots in the locker room was the easy part; getting acclimated to the ways of the Heat will be a tad more difficult, that process officially beginning Saturday in the first practice of training camp.
"When you have those intense battles, it definitely does something to you," Granger said. "You respect the other team. You want to kill them, as much as you can in the game, but off the court you have the utmost respect for them — especially a team like Miami. What they've done the last four years has really been incredible."
McRoberts, Granger and Deng have all had plenty of moments that raised Heat ire in the past.
Deng has scored 20 or more points 15 times against the Heat, and led the charge as he and Chicago ended Miami's franchise-record 27-game winning streak — the second-longest run in NBA history — in 2013. Granger was a stalwart of some Indiana teams that always challenged but never supplanted Miami atop the Eastern Conference, and McRoberts added intrigue to the Charlotte-Miami series last spring by throwing an elbow into LeBron James' throat.

Quite simply, they weren't liked very much in Heat land.
Those days are now gone, and respect has been born from past rivalry.
"I've made it clear to guys that when they come here and they become a part of this organization, they're part of this team," said Heat forward Udonis Haslem, who has gone up against all three new teammates plenty of times. "The stuff that we went through in the past, whether we were competing against each other or whether I gave them a hard foul or said something they might not like, that's in the past."
McRoberts entered free agency this year not knowing who would call, but not expecting interest from Miami. But ultimately, he, Deng and Granger all found themselves being placed very highly on Miami's free-agency wish list.
And it's probably no coincidence that each had proven worthy adversaries to the Heat in the past.
"I'd like to think all three of us aren't fun guys to play against," McRoberts said. "I hated playing against Luol. I hated playing against Danny. But we're all guys you want on your team, in terms of toughness and competitiveness and what we're willing to do to win basketball games."
Granger has spent nearly his entire career with Indiana, entertained talks about returning to the Pacers this summer and began re-thinking his commitment to Miami again after James revealed that he was going back to his original team, the Cleveland Cavaliers.
But even though he found it strange to pull a Heat jersey on, Granger believes he made the right call.
"The plus side is I get to play with a new group of guys," Granger said. "It's Miami, you know what I mean? I get the sunshine, we've got a dock behind our house, I go fishing with my son. There's a lot of benefit to playing down here."
NOTES: Spoelstra said he planned to sit Granger — who has had knee problems — for some of the opening practice, then forgot and kept him involved for the entire workout. … Predictably, virtually the entire session was devoted to defense. "I'm surprised we touched a ball today," Heat forward Chris Bosh said, laughing. "I'm just happy we did like one offensive drill."