A Miami-Dade judge has dismissed a case against a man arrested on voter fraud charges in a DeSantis statewide roundup.
Miami-Dade Judge Laura Ann Stuzin has dismissed the case against 57-year-old Ronald Lee Miller, one of 20 people arrested in August.
The arrest was executed by state officers through a new office—the Office of Election Crimes and Security—created to investigate and prosecute voter fraud when Florida Gov. Ron DeSantis signed Senate Bill 524 into law on April 25.
According to court records, Miller was charged with one count of false affirmations in connection with voting as an unqualified elector.
Stuzin's Dec. 7 order (pdf), granting the dismissal of Miller's case, came shortly after another Miami-Dade County Judge, Milton Hirsch, dismissed a similar case against Robert Lee Wood, 56, of Opa-Locka.
At an Aug. 18 press conference from the Broward County Courthouse, DeSantis announced a slew of statewide arrests, promising that prosecutions of felons who aren't allowed to vote, people who voted in Florida from other states, and people who aren't U.S. citizens, would be forthcoming.
"I am pretty confident you'll see prosecutions. Not necessarily tomorrow, but in the relatively near future," DeSantis said.
Voting in 2020 Elections
According to Stuzin's order, amended information was filed by the Office of Statewide Prosecutor (OSP) on Aug. 29, charging Miller with two counts of election fraud; False Affirmation in Connection with Election Section 104.011(1) of Florida's 2020 statutes, and Voting by Unqualified Elector Section 104.15 of Florida's 2020 statutes. On Oct. 18, a Motion to Dismiss was filed by Miller's attorney, Robert Barrar.
According to the Motion (pdf), Miller had allegedly signed a Florida voter application on or about Oct. 2, 2020, which was then submitted by a third-party individual to the Miami-Dade supervisor of elections.
The application was then forwarded by officials within the Miami-Dade Supervisor of Elections to the Florida Secretary of State in Leon County. After becoming a registered voter in Miami Dade County, Miller was provided via mail with a voter ID card. Miller then voted in the 2020 election in Miami-Dade County.
"The motion to dismiss was based on what is called 'lack of subject matter jurisdiction,'" Barrar, a former prosecutor and assistant state attorney with the Miami-Dade County State Attorney's Office, told The Epoch Times, explaining that for a statewide prosecutor's office to bring charges, they have to statutorily authorized.
"There have to be criminal acts occurring in multi-judicial circuits, meaning the accused would have to commit parts of the crime in one county and another part of the crime in a separate county," he said.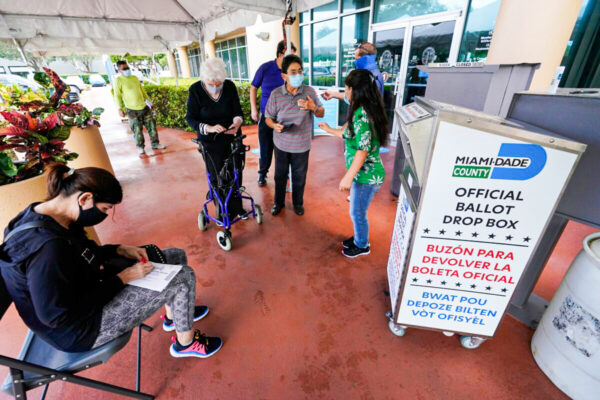 As Stuzin's order noted, "the controlling statute governing the decision is found in Florida Statute 16.56(1)(a), which says "there is created in the Department of Legal Affairs an Office of Statewide Prosecution" (OSP), which "shall be a separate 'budget entity.'"
The OSP may investigate and prosecute the offenses of voter registration, voting, or candidate or issue petition activities. However, it "shall have such power only when any such offenses occur within two or more judicial circuits as part of a related transaction or when any such offense is connected with an organized criminal conspiracy affecting two or more judicial circuits."
As Barrar explained, "the statewide prosecutor filed charges but didn't have jurisdiction to file them because there was no criminal act committed in more than one judicial circuit."
While asserting "there were no criminal acts committed at all," Barrar further argued that there weren't any criminal acts committed in more than one circuit because Miller registered in Miami-Dade and voted in Miami-Dade.
"The fact that the application was sent to Tallahassee had nothing to do with him, and because of that, the judge dismissed the case," he said.
In the State's Response to Defendant's Motion to Dismiss (pdf), filed Nov. 1, Florida Chief Assistant Statewide Prosecutor Jeremy Scott argued that the reliance on Winter vs. State to support its case was "misplaced" because the case was "limited" to one offense "connected with an organized criminal conspiracy affecting two or more judicial circuits" when Miller's case "has only one defendant."
In addition, Scott argued that "the Defendant's crime of swearing to a false statement on his Florida voter registration application appears to have begun in the Eleventh Judicial Circuit in Miami-Dade, then went to the Seventeenth Judicial Circuit via the Broward County Supervisor of Elections Office and then through the Second Judicial Circuit as part of the approval process before being returned to the Eleventh Judicial Circuit."
Convicted Felons
Moreover, Florida Election Law prohibits convicted felons from casting a ballot in any election unless they have had their voting rights restored.
According to the Florida Department of State website, people convicted of a felony without having their rights restored are not eligible to vote. When completing a voter registration application, the registrant must affirm whether or not they are a convicted felon. It is a third-degree felony to submit false information.
As Scott noted, the defendant "did willfully vote in an election knowing he is not a qualified elector."
However, according to the Defendant's Reply to State's Response (pdf), filed Nov. 7, Barrar argued that "it is abundantly clear that any actions whatsoever taken by the Defendant were taken solely in Miami-Dade County Florida and nowhere else," and "there was no conspiracy whatsoever" because "at no time material to the charges did the Defendant enter, mail or electronically transfer anything to another judicial circuit."


In response to Scott's argument of multiple jurisdictions, Barrar argues that Miller "never physically entered the Second or Seventeenth Judicial Circuit" and "never mailed or electronically transferred anything to the Second or Seventeenth Circuit. Therefore, he was "never part of a criminal conspiracy."
Moreover, Barrar argues that the OPS "does not have jurisdiction to investigate and prosecute the Defendant as part of a related transaction in two or more circuits."
"I think it's not a coincidence that the press conference was held a short time before the election where they announced all of those arrests," Barrar said.
"Quite frankly, it's all about political theater. The unfortunate thing is, there were real consequences facing my client as well as some of the others. Theoretically, you go to trial and lose.
"But I don't think we would have lost this case because there was no criminal intent. Any time there is a fraud charge, fraud is a specific intent crime, and I don't think Mr. Miller did anything wrong.
"The point is, there was no intent. The people who should really have their feet held to the fire are the ones responsible for reviewing the applications and issuing voter registration cards. But maybe that was part of the plan. I'd hate to think that people knew that they shouldn't have issued those voter registration cards but did so anyway. That I don't want to believe."
Barrar informed The Epoch Times that the State filed a Motion of Appeal (pdf) on Dec. 8.
The Epoch Times reached out to the Office of Florida Gov. Ron DeSantis.