Mexico officials have said they expect a spike in mass migration this year driven by natural disasters, failed economies, and the negative impact of the Chinese Communist Party (CCP) virus pandemic.
Nashieli Ramirez Hernandez, the head of Mexico's Human Rights Commission (Comision Nacional de Derechos Humanos, CNDH), said during a press briefing last week that the institution came to the conclusion after closely monitoring conditions in Central and South America, Breitbart first reported.
"We are expecting an increase in the migration flow," Ramirez said. "Not long ago there was a caravan coming from Honduras that tried to reach the country. While that one was stopped, there is a latent topic there and people will continue to arrive."
She said the CNDH expects a spike in migration in smaller groups, rather than in large caravans, linked to the negative economic impact of ongoing pandemic. Ramirez also cited reports of an upsurge in human smuggling operations along human trafficking routes.
Just weeks earlier, Mexico's Human Rights Secretary, Alejandro Encinas Rodriguez, said he believed the country would "face new challenges" in migration flows in the coming months, warning of the effects of the pandemic and hurricanes that struck Nicaragua, El Salvador, and Guatemala.
Mexico's federal government has not yet addressed the Biden administration's prompt dismantling of former President Donald Trump's border security measures.
The Biden administration, on its first day in office, signed executive orders and issued memos to temporarily suspend deportations of illegal aliens, reverse former Trump's ban on travel from terror-prone countries, halt border wall construction, stop adding people to the "Remain in Mexico" program, preserve and fortify the Deferred Action for Childhood Arrivals (DACA) program, and release a sweeping immigration package to Congress that includes amnesty for millions of asylum seekers and illegal immigrants.
The Attorney Generals (AG) of both Arizona and Texas have sued Biden over a memo from the administration that ordered a freeze on the majority of deportations for 100 days.
On Jan. 20 (pdf), the Department of Homeland Security released the memo, which imposed a moratorium on most deportations and outlined categories of immigration offenders who will continue to be subject to arrest and eventual removal, including those who pose a national security risk or are suspected of terrorism or espionage.
Arizona AG Mark Brnovich a Republican, announced the lawsuit on Twitter late on Feb. 3, stating that he believes the policy "puts Arizona public safety at risk," saying the suit asks the U.S. District Court in Arizona to rule that the 100-Day Pause policy violates federal law.

The chief deputy in Pinal County, Arizona—a 90-minute drive away from Mexico—told Townhall that the situation on the United States southern border is worsening following the change of administration and its policies.
Thomas said that the crisis at the border had begun to re-emerge at around the end of 2020 because the human and drug trafficking cartels expected President Joe Biden to have a "hands-off" attitude with regard to the border situation.
"When [Trump] took office, we saw that this area out here went completely dead. Nobody was moving, nobody was smuggling because [the cartels] knew that Trump was going to put all hands on deck out down here and that they would be intercepted so it came to a screeching halt," Thomas said.
"It was a very slow trickle to get back to some kind of normal but it never got back to where it was," Thomas added.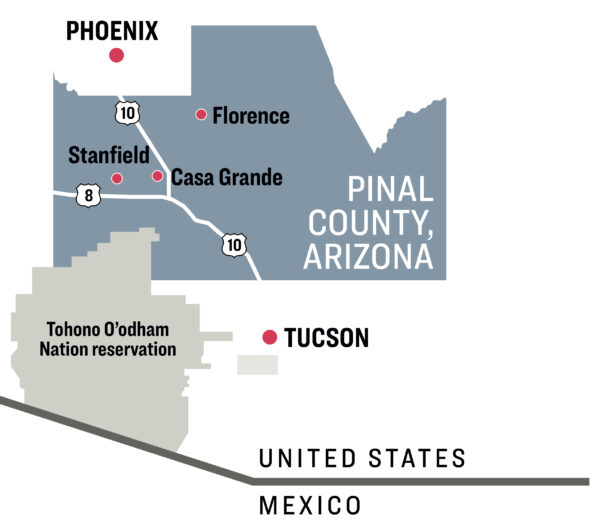 Thomas said that since Biden has ordered to halt the construction of the southern border wall, it has created more trouble for Pinal County since it doesn't have physical barriers, promoting the criminals to funnel through, reaching the highway and then transporting drugs or bodies throughout the country.
Samuel Allegri contributed to this report.