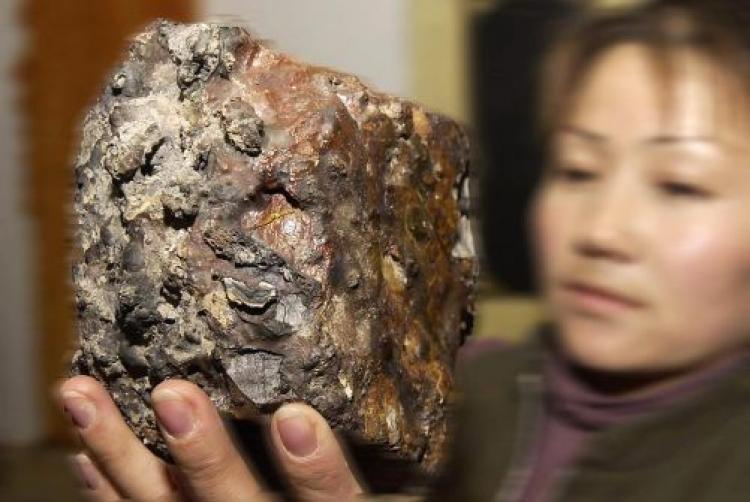 Bob Haag, meteorite collector extraordinaire, wants a piece of the meteorite that came down in Saskatchewan, Canada, and he's prepared to pay someone $10,000 to find it for him.
Haag, who lives in Arizona, says he would go to Saskatchewan himself but for Canada's "insane" law prohibiting taking meteorites out of the country.
"It's exciting, it's fun, it's a blessing from heaven, it's a treasure to just be picked up and found, but because of the law I'm not going up there."
However, assuming someone finds the one-kilogram chunk he's looking for, he will go to Canada and either make a trade with another collector there or sell it. It's also possible to get a permit to export it, says Haag, who is passionate about meteorites and has been making a living buying and selling them for 30 years.
While the locals are expecting rock hounds and meteorite hunters to descend on the area, Haag predicts that the law preventing taking meteorites out of Canada will keep international collectors away.
Known as the Meteorite Man, Haag has visited numerous countries in search of these "space treasures." He keeps his collection of meteorites in an air-conditioned vault beneath his home in Tucson. He has also donated rare meteorites to museums and institutions.
"I do this more than 24 hours a day," he says. "This is all about meteorites 24/7."
The meteorite that crashed near Marsden, about 300 kilometers northwest of Saskatoon, lit up the night sky as it fell and was seen by thousands across the Prairie provinces of Alberta, Manitoba and Saskatchewan. Some witnesses reported getting an odd smell and hearing a rumbling sound.
"Meteorites break up into lots of pieces and each of those pieces is going to make a sonic boom as it breaks apart. So they can make such a roar that it's almost unbelievable," says Haag.
Most meteorites smell like sulphur, says Haag, but there are some that have the odor of starter fluid. These are extremely rare and provide "very important scientific material."
Initially weighing an estimated 10 tonnes, the intensely bright fireball disintegrated in a series of mid-air explosions over the Prairies, providing a spectacular light show. Locals have dubbed it the Marsden Meteorite.
A number of small meteorite fragments have been found on the surface of some frozen ponds in the region, leading researchers from the University of Calgary to believe that there could be thousands in the surrounding fields. The researchers expect to find larger pieces as they follow the trajectory.
Haag, who is the proud owner of meteorites from Mars and the moon, says about four or five "falls" of meteorites occur around the world each year. The last one was in India.