The Metropolitan Police Service (MPS), commonly known as the MET police, has apologised on Friday after several journalists reported that they received threats from police officers when covering Thursday's anti-lockdown protest in London, an editors' association has said.
The Society of Editors (SoE) on Saturday said it welcomed a statement from MPS apologising for "any confusion or difficulties" that some journalists had experienced.
The apology was received on Friday after the SoE sought "urgent clarification from the Home Office and Met Police" regarding the incidents on Thursday.
"The MPS absolutely recognises the status of journalists and the public interest in them carrying out their important work," the MPS statement reads, as quoted by SoE.
The statement went on to say that the MPS had issued additional briefings to its officers to enable journalists to carry out their work.
Ian Murray, executive director of the SoE welcomed the apology.
"The Society of Editors and its members will be pleased to see that the MET are taking seriously the role of the media and their right to attend and cover events throughout this lockdown and pandemic emergency," Murray said in a statement.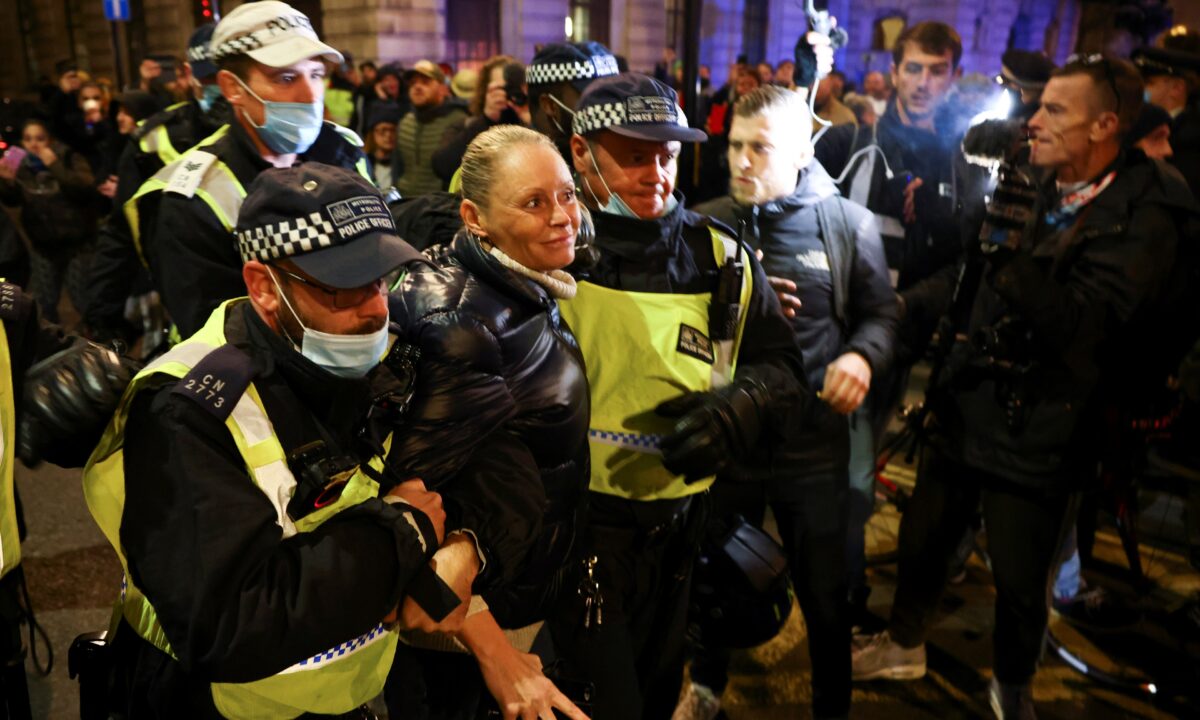 The protest on Thursday, which attracted at least a thousand people—or several thousand, according to some reports—was organised online as part of the annual global "Million Mask March," an anti-establishment protest started in 2012.
It coincided with the first day England went into the second nation lockdown to curb the spread of CCP (Chinese Communist Party) virus, commonly known as novel coronavirus.
The MET police said they had attempted to disperse the crowd but a large group of protesters ignored officers' directions for them to go home.
Protesters were heard chanting slogans such as "no more lockdown" and "take your freedom back" as they marched through central London, 190 of them were arrested for breaches of virus restrictions.
Video journalist Jason N. Parkinson posted a video on Twitter on Thursday evening showing a police officer saying he was considered part of the protest.
"So are you authorised by our office to work here today?" the officer asked. "Because you're part of the protest and there is no protest allowed."
According to a guidance issued to police forces in England by the National Police Chiefs Council in March, journalists are covered as key workers, meaning they can continue to work during lockdowns.
Another video journalist Antony was later assaulted, after being told the press were not exempt from arrest, Parkinson said on Twitter.
"Over the next hour every member of the press I met said they were being threatened with arrest if they did not leave the area," SoE quoted Parkinson's statement as saying.
Peter Clifton, chief editor of PA Media, said it was "completely unacceptable" that his photographer and video journalist were both threatened with arrest unless they left.
"We appreciate these are high-pressure situations and the police have a job to do. But so do journalists," he said.
"In an open society the right of journalists to cover demonstrations should not be up for discussion or open to threats of arrest."