With flood warnings still in place across the UK, authorities are now warning of disruption from snow and ice, as parts of southern England and the Midlands woke to snowfall.
In Gloucestershire, police warned drivers against making all but essential journeys, as the Met Office issued a warning of snow and ice until this evening.
"Rain may turn to snow, which along with widespread ice, will lead to the potential for some disruption to travel and utilities," the Met office said in the warning, which covers from midnight on Monday through to 6 p.m.
The warning, which initially covered the south and Midlands, has now been reduced to a narrow band that includes parts of Dorset, Wiltshire, Oxfordshire, Gloucestershire, and Worcestershire.
There are further warnings of ice and snow for large parts of the country from the Met Office for Tuesday, Wednesday, and Thursday.
"Heavy snow is starting to fall in the rural parts of the county. This will cause delays on the roads," Gloucestershire Police wrote on Twitter. "Only go out if it is essential to do so. Make sure you plan your route and have everything you may need in an emergency including a fully charged mobile phone."
In Merseyside, a race meeting has been abandoned after snow fell on the ground already water-logged by downpours over the Christmas period.
"Unfortunately due to four inches of snow overnight and substantial rain on Boxing Day, racing has been abandoned on Wednesday 30th December," Haydock Park Races said in a statement on Twitter.
Many counties where snow has fallen are still grappling with the flooding from heavy rain over the last few days.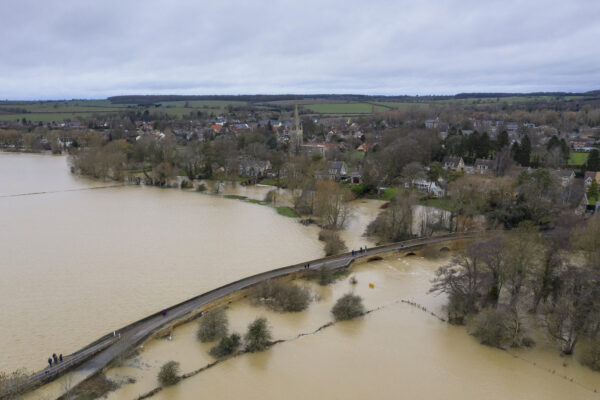 Although almost 120 flood warnings have been lifted in the last day, 90 remain in place.
The government uses a three-tier warning system for floods: severe flood warnings; flood warnings; and flood alerts.
There are no areas currently under the highest tier, which means danger to life. The "flood warning" designation means flooding is expected and to take action.
In addition, 161 flood alerts have been issued—meaning flooding is possible.
After a lull in the weather on Christmas Day, Storm Bella swept in heavy rains and winds on Boxing Day, with gusts reaching 106 mph off the Isle of Wight, and felling trees across the south of England.
The Met Office issued a warning of snow and ice for the south from Wednesday morning through to Thursday.
"A spell of rain will move into southern Wales and England on Wednesday, turning to snow in places and leaving a risk of ice," the Met Office said.