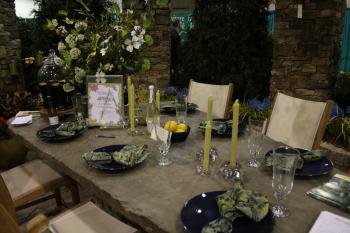 WASHINGTON, D.C.–Nearly all industries related to home and garden sent representatives to the annual Capital Home & Garden Show 2009, held Feb. 26 to March 1 at the Dulles Expo Center in Chantilly, VA, a suburb just outside of Washington. Over 750 exhibitors attended the exposition.
A highlight of the expo was the idea garden center in the South Hall. Eight landscaping companies joined the garden exhibit. They brought early spring to Washington with fresh flowers, fountains, waterfalls, outdoor dining, and other products. One could see the newest gardening technique and designs.

Merrifield Garden Center, the local garden center headquartered at the intersection of Gallows Road and Lee Hwy, won the best feature garden prize of the show.
Speaking of this spring's trend of gardening, Joshua Dean, Landscape Designer, mentioned "bright and happy colors." Dean designed Merrifield Garden Center's exhibit area. He uses vibrant colors such as yellow, blue, and orange. These colors are reinforced by chairs and small fountains.
"This year, I really want to do a happy display. I didn't want to be restrained with my use of color," said Dean.

Many displays had waterfalls, outdoor furnace or large area of flowers, which are not in the minds of many consumers in this economy. Merrifield Garden Center's display stood out at the expo with a feeling of home. Dean considered: "There's nothing more family than eating." Therefore, he set up a beautiful and warm outdoor dinning table in the company's exhibit area.
The company also displayed a 1930 Ford truck with a full load of fresh flowers. This truck belongs to one of Merrifield Garden Center owners' antique automobile collection.

Vegetable gardening was getting a lot of inquiries from among Merrifield Garden Center customers, Dean said. According to him, vegetable gardening is not uncommon. "One of the earliest American gardens was a mixed garden with ornamental plants, fruits, vegetables and herbs."
Spring is approaching. For readers with not much gardening experience, a suggestion from Dean was to start with tough plants. He said:
"Choose plants that bloom for very long amount of time, so you have decreased number of kinds of plants to maintain. Choose some nice bold contrasts. For example, a type I like is knockout roses with boxwoods. You get 6 months of color with the roses and year around interest with the boxwoods. That's a great combination. Then you can start from there and get more complex when you get more competence."
The Washington Home and Garden Show will take place March 19—22 in Washington, D.C., at the Washington Convention Center.