New Mentorship Project Helps Aging Parents of Disabled
February 26, 2009 12:39 am Last Updated: February 26, 2009 12:49 am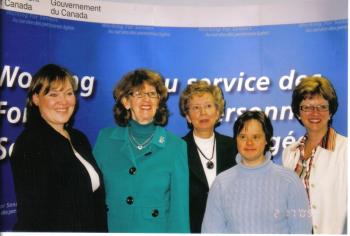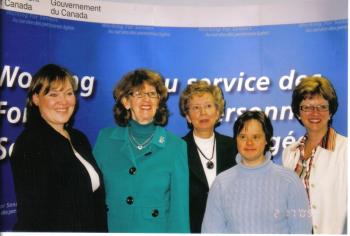 As parents who have a son or daughter with a disability can attest, one of their most important responsibilities is planning for their child's personal and financial wellbeing after they die.
The parents of 38-year-old Ildiko Fejes, born with Down syndrome, have not only taken steps to create long-term support and friendships for Ildiko, they also volunteer at a local charity that helps other families with a loved one with disability.
Ildiko's mother, Julie Fejes, is president of the board of directors of Lifetime Networks Ottawa (LNO), a group that establishes "personal support networks" for persons with disabilities to ensure they will not be left alone when their parents pass away.
"We like the [personal support network] model because it works on the premise that safety and security for anyone, but mainly for people with a disability, lie in having people in your life," said Mrs. Fejes.
With a recent federal injection funding to the tune of $25,000, LNO is set to launch a mentorship project to reach more aging parents with a disabled son and daughter.
Under the project, funded by Human Resources and Skills Development Canada's New Horizons for Seniors Program (NHSP), LNO will recruit seniors to mentor other seniors to help them develop social networks and plan for the future of their children with disabilities.
"There's no question that having a personal support network is of tremendous value for those [with a disability]," Minister Diane Finley told The Epoch Times.
"As an older parent dies, the adult child then still has a support network, and we all know that support networks are very key to the emotional wellbeing of all of us."
Giving parents 'peace of mind'
With the help of an LNO facilitator, Ildiko's family has built such a network for Ildiko.
Now in its sixth year, Ildiko's network of "eight very dedicated women" is drawn from caring people in her life such as friends from church and former colleagues. Ildiko has worked for 17 years as a part-time library clerk for the Canadian Radio-television and Telecommunications Commission.
"The most important thing was that these were the people who always asked about her—how is she doing? What is she doing? Is she this? Is she that? That was an indicator that they had interest and they liked her and loved her," Mrs. Fejes said.
Six years ago, the family invited a group of six potential network members to their home for a barbeque and presented the personal support network model to them. A week later the facilitator called each one and asked if they would like to be part of a network for Ildiko in a more formalized way. All said yes, and the network was born.
Over the years one member had to leave due to other commitments and three others joined the group.
Each of these network members sees Ildiko regularly for visits and activities, and several times a year the whole group, including Ildiko's family, gets together for her birthday, Christmas, and other occasions.
"The personal support network gives peace of mind for my husband and me that when we are gone she will be loved and there will be people to support her beside her brother and sister," said Mrs. Fejes.
"Our other children will not be alone in their responsibility or day-to-day activities looking after their sister. There will be others looking out for her and who will love her."
Building a safe, secure future
LNO is one of eight affiliates of the Planned Lifetime Advocacy Network (PLAN), a Vancouver-based charity working to ensure that individuals with a disability will not only have access to programs and services but will be surrounded by a caring network of friends.
The seven other affiliates are located in British Columbia, Alberta, Saskatchewan, Ontario, and Seattle.
In addition to establishing personal support networks, LNO helps families create a safe and secure future for their disabled relative by providing information and referrals on issues such as housing, government benefits, legal guardianship, and will, estate, and financial planning.
For example, for over a year now LNO has been offering workshops on the federal government's new Registered Disability Savings Plan (RDSP), whose application deadline has been extended to March 2 to qualify for 2008 federal grants and bonds.
It was PLAN that developed and advocated for the implementation of the RDSP in Canada.
The RDSP is the first of its kind in the world to help provide long-term financial security to people with disabilities through contributions from family and friends as well as significant matching government contributions.
With the NHSP funding, LNO will partner with another Ottawa volunteer association, the Senior Citizens Council, to recruit seniors with expertise who can mentor families and provide workshops on issues affecting disabled family members.
The mentors will also offer friendship and relationships and lessen people's isolation, Mrs. Fejes said. "Most families with a disabled family member are isolated … because their concerns are so different from the concerns of parents who do not have a disabled family member."
'We like to look at the abilities'
LNO's mentorship project is one of 800 projects across Canada that received funding under the Community Participation and Leadership component of the NHSP in an announcement last week.
"Through the NHSP and others like it, we rely heavily on the goodwill of individuals in the community who volunteer their time to help, such as with LNO," said Minister Finley.
"We look to see what the volunteerism rate is and what kind of impact [the project] is going to have on individuals and on the community as a whole."
Mrs. Fejes believes the community at large will benefit a great deal by learning about persons with disabilities.
They may be slower, or look a little different, or may have to use a wheelchair, but "have an emotional need for love, like everyone else."
"Throughout the years I have seen many different levels of disability. Each and every one has a gift to give," she said.
LNO serves members with any kind or level of disability, including physical, mental, or developmental disability, or a combination of disabilities.
"We like to look at the abilities. Society will be so much better when everybody, regardless of ability, regardless of colour or race, would be just accepted as a human being for what they are," Mrs. Fejes said.
Moreover, "the members who agree to be in the personal support network are doing it for the person with the disability, but after a while they are realizing that they are getting out of these networks as much as the person with the disability."