Memorial Service Held for Marines Killed in Nevada Training Accident
April 24, 2013 11:55 am Last Updated: July 18, 2015 5:20 pm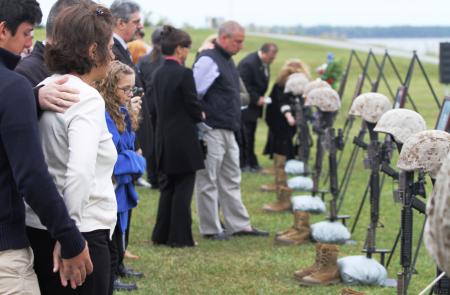 The First Battalion, Ninth Marine Regiment, held a private memorial service for seven Marines that were killed in the training incident in Nevada last month.
Families of the fallen Marines and members of the unit attended the memorial.
"We send our prayers and condolences to the families of the Marines and sailors who have been killed and injured in this tragic incident," said Brig. Gen. Jim Lukeman, 2nd Marine Division Commanding General, in an statement via email. "Our first priority is to provide them with the support they need during this very difficult time, and we're doing that right now."
The Marines were conducting live fire and maneuver training at the Hawthorne Army Depot in Nevada late night on March 18, 2013 when a mortar exploded inside the tube, causing a fatal explosion.
Seven Marines between the ages of 19 and 26 were killed; eight were injured.