WASHINGTON—After 13 years, 3,574 people are confirmed dead. Adherents of a practice currently undergoing the largest religious persecution in the world gathered on the West Lawn of the Capitol on July 12, with over a thousand in attendance. Dozens of political and human rights leaders who could not attend set down their thoughts in missives that filled Falun Gong email inboxes over the last few days.
"I deeply wish I could join you for this important rally and, like all of you assembled today, it is my hope and prayer that this will be the last we will have to hold on behalf of the millions of peaceful Falun Gong practitioners in China," wrote Dr. Katrina Lantos Swett, Chair of the United States Commission on International Religious Freedom, a U.S. federal government commission.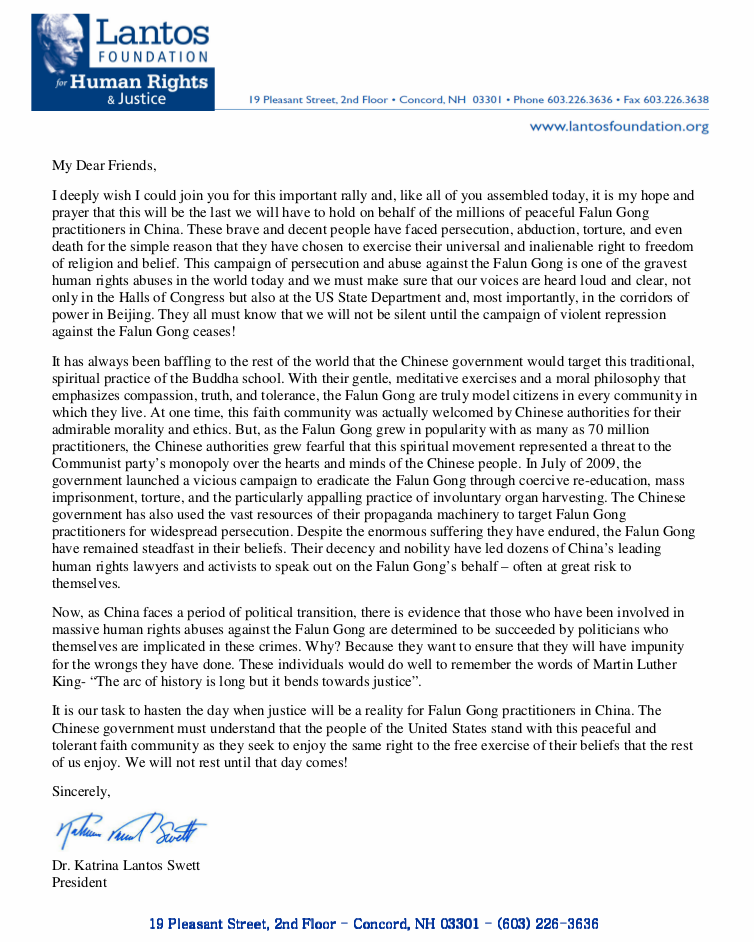 "These brave and decent people have faced persecution, abduction, torture, and even death for the simple reason that they have chosen to exercise their universal and inalienable right to freedom of religion and belief," the letter continued. Swett is also President of the Lantos Foundation for Human Rights & Justice, a Washington-based NGO.
There were many more letters of support: people who, having learned of the depth of the persecution and the nature of Falun Gong, declared that they would stand in solidarity with a group that has been victim to a nationwide suppression directed by the Chinese Communist Party (CCP) in its homeland.
"At one time, this faith community was actually welcomed by Chinese authorities for their admirable morality and ethics. But, as the Falun Gong grew in popularity with as many as 70 million practitioners, the Chinese authorities grew fearful that this spiritual movement represented a threat to the Communist party's monopoly over the hearts and minds of the Chinese people," Swett wrote.
A number of congressional members cited the Department of State's 2011 Human Rights Report, which refers to reports of organ harvesting from Falun Gong practitioners.
"Free countries around the world must band together and oppose this persecution, and oppose the oppressive tactics of the Chinese government," wrote Rep. W. Todd Akin (R-MO), Chairman of the Armed Services Subcommittee on Seapower and Projection Forces.
Congressman Wally Herger (R-CA), Chairman of the Ways and Means Health Subcommittee, wrote that the human rights violations against Falun Gong are "repulsive," and continued that: "I believe the United States and other freedom-loving countries should boldly expose and condemn them."
Congressman John Lewis (D-GA), Chair of the Oversight Subcommittee, called it a "moral outrage that ought to be condemned worldwide… I firmly support and defend the human rights of Falun Gong practitioners."
As such, Senator Robert Menendez (D, NJ), Chairman of the Banking Subcommittee on Housing, Transportation and Community Development, writes that "Speaking out against human rights violations and focusing the world's attention on critical human rights issues is the only way to bring an end to these abusive behaviors." Menendez did his part by introducing Senate Resolution 232 which discusses the persecution and the Tuidang movement.
Others gave unalloyed support to Falun Gong in the face of the state-led terror campaign. "Falun Dafa offers important teachings for daily life, including the use of meditation and exercise. This teaching serves to remind us of the principles of truthfulness, compassion, and tolerance," wrote Congressman Maurice D. Hinchey (D-NY).
Michael G. Grimm (R-NY), member of Congress, wrote that "Falun Gong promotes inner purity and spiritual realization. Practitioners are united by Truth, Compassion, and Forbearance, which are values held by all… The peaceful methods of Falun Gong practitioners, in an effort to broaden the consciousness of people and rid them of hatred, are a paragon of the selflessness upheld by the Buddhist system."
While the United States was founded on the enshrinement of universal rights, "the persecution faced by Falun Gong practitioners simply for their beliefs is a stark reminder to all of us that the struggle for universal rights is far from over," Rep. Russ Carnahan (D-MO) wrote.
"Recently, victims of the persecution came to my office to give their real life narratives of torture, suffering, and damages brought to their families and businesses," wrote Gerald E. Connolly (D-VA). "I understand that Falun Gong practitioners have responded to the state-sanctioned violence using entirely peaceful means. They have persistently educated Chinese citizens about the nature of their practice, the persecution against it, and the real history of the Chinese Communist Party. As a result, more and more Chinese people are standing up to the persecution."
Many of the congressional members were hopeful. Frank R. Wolf (R-VA), Chairman on the House Appropriations Commerce-Justice-Science subcommittee, a longtime supporter of human rights in China and prominent critic of the CCP, wrote: "I pray for the day, and it will come, when true freedom, democracy, and respect for basic human rights and religious freedom sweeps through China."
At the end, under his signature, Wolf hand wrote in what appears to be a thick, black, permanent marker: "FREEDOM IS COMING TO CHINA."
The Epoch Times publishes in 35 countries and in 19 languages. Subscribe to our e-newsletter.