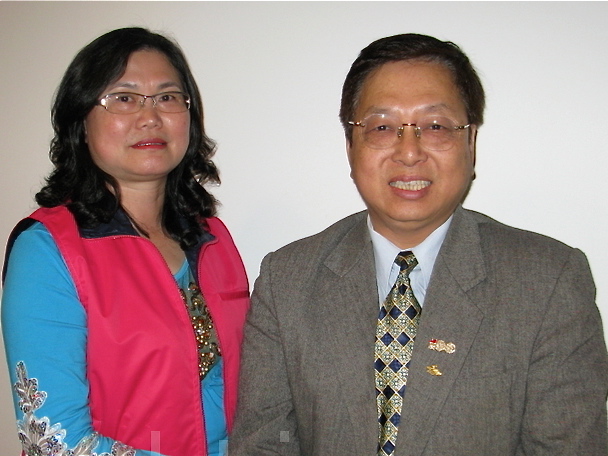 TAOYUAN, Taiwan—"It's simply terrific and amazing! I feel very comfortable and uplifted!" Taoyuan County Councilor Li Li-Chu said after watching Shen Yun Performing Arts New York Company's performance in Taoyuan on April 7.
"The performance is enchanting! It's especially good because it combines the classical and graceful Chinese dance and well-known stories. It presents classical dance and traditional culture to the world's people," said Ms. Li, who felt excited and joyous.
Ms. Li commended the artists' costumes, saying, "Gorgeous! The costumes bring out the traditional clothes and show the subtle beauty of Chinese women.
"The unique costumes match the different themes in the pieces. The fabric of the clothes are of great quality and the delicate texture brings out the graceful charm of the traditional beauty."
The costumes not only bring out the feminine charm but also the strength and masculinity of the men. "The texture of the silk is put to its best use to allow the male artists to show a bit of tenderness in their strength and power. Brilliant!"
Shen Yun also presents several bel canto style solo vocalists. Ms. Li said, "The soloists are able to extend their voices throughout the entire theater without a microphone. Incredible!"
Ms. Li also praised Shen Yun's digial animated backdrops that expand the stage.
"The scenes on the backdrops look so real and the design is exquisite! Great combination of high-tech and cultural art," she said.
Reporting by Huang Tsai-Wen and Lin Hsin-Yi.
Shen Yun Performing Arts, based in New York, has three touring companies that perform simultaneously around the world, with a mission to revive traditional Chinese culture. Shen Yun Performing Arts New York Company will next perform in Melbourne, Australia, April 11-15 at the Regent Theatre.
For more information visit ShenYunPerformingArts.org
Read the original Chinese article