Tens of thousands of protestors who took to the streets of Melbourne in some of the largest protests so far against government-mandated COVID-19 health regulations hailed from a broad cross-section of society—including the wealthiest segment of the state—and were not extremist or fringe elements portrayed by some media outlets.
A new "heat map" from market research firm, Roy Morgan, tracked the home locations of individuals who attended protests on Nov 20 in front of Victoria's Parliament House from 11 a.m. to 2.30 p.m.
The data was provided as part of a research partnership with UberMedia, which collect anonymous mobile phone location information.
It found that the heaviest concentration of protestors came from the outer suburban areas of Melbourne, including South Morang, Tarneit, Cranbourne, Langwarrin, Werribee, Caroline Springs, and Sunshine.
Many also drove hours to be at the event, including from areas like Ballarat, Geelong, Ocean Grove, Torquay, Wallan, Warragul, Hastings, Traralgon, and Wonthaggi.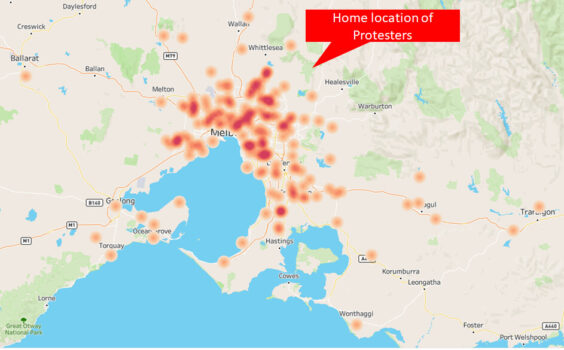 The survey further broke down the protest group via population segment (psychographics) and found that around 30 percent of rallygoers were from the highest income—and highest educated—bracket of Australian society, making an average household income of AU$133,000 (US$94,600) per year.
The next highest segment at around 23 percent was the "Hearth and Home" audience group—the closest to the average Australian, who has a conventional family life and earns around AU$89,000 per year.
The next two segments were the young professional group, Metrotechs (AU$97,000), at around 15 percent, while a lower socio-economic group, the Fair Go segment (AU$57,000)—who are generally more cynical towards authority figures—comprised just under 15 percent.


Among the protestors, the most overrepresented groups, compared to their percentage of the general population, was Hearth and Home and Fair Go.
For example, the latter's presence at the protest was three times above the rate of Australia's population.
"It should perhaps not be a surprise that those already facing a struggle to make ends meet and get ahead in life are out on the streets protesting government vaccine mandates," Michele Levin, CEO of Roy Morgan, said in a press release on Nov. 30.
But Levin said average Australians were also "hit hard" by government-mandated restrictions.
"Businesses in the retail, recreational, and personal in which many of this cohort are employed have been forced to close and put under severe restrictions for the last 18 months—and the new pandemic legislation and vaccine mandates suggests they might have to get used to these restrictions rather than returning to a pre-COVID normality."
"In addition to the financial impacts on their own employment situation, there are also the restrictions that have been placed on their capacity to re-invest into improvements and renovations of their own homes," she added. "The restrictions on 'tradies' and visitors doing house calls during periods of lockdown has been a significant additional factor."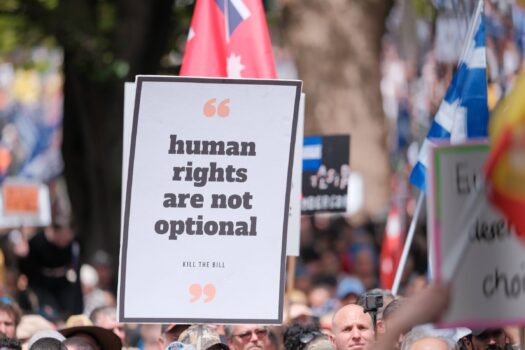 While Levin said the size of the protest indicated Victorians were "incensed" with recent government actions, it stood in stark contrast to recent surveys that showed that state Premier Daniel Andrews was still popular among younger voters.
For months, thousands of Australians have taken to the streets across the country to protest against ongoing government-mandated restrictions.
However, political leaders and media outlets have downplayed or mischaracterised the actions by focusing on fringe elements of the protests responsible for sending death threats to politicians or parading gallows and nooses.
Popular live-streamer Rukshan Fernando, who has been covering the events in Melbourne by streaming hours of uninterrupted footage onto his social media channels, said that while these tactics had been successful previously, ballooning protest numbers were beginning to disrupt the narrative.
"It's hard to ignore big numbers. I think as these numbers grow, these political leaders are having a very hard time saying this is an illegitimate thing. You can't say 100,000 people are all extremist, you know?" he told The Epoch Times, noting that many participants were fully vaccinated and that the high vaccination rates in Australia were not an "endorsement of government or government policy."