A protester who attended the Black Lives Matter march in Melbourne on June 6 has tested positive for the Chinese Communist Party (CCP) virus, the novel coronavirus that causes the disease COVID-19.
Victoria Chief Health Officer Brett Sutton confirmed the diagnosis on June 11, saying that the gentleman in his 30s wore a mask, was not showing any symptoms at Saturday's central Melbourne protest, and that it is unlikely he contracted the virus at the event.
However, the man did develop symptoms within 24 hours of attending the protest, meaning that he may have been contagious at the rally while presymptomatic, Sutton said.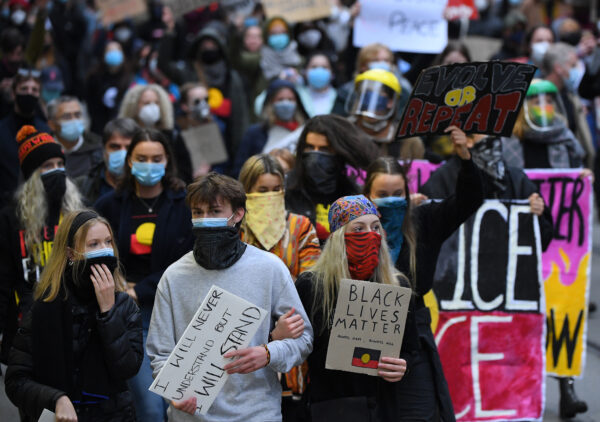 The risk of the virus spreading from this one person varies.
"Without additional protections, one person on average infects about 2-and-half, 3 other people. But every individual will be different.
"The majority of people don't infect anyone else, 70-80 percent of people don't transmit to anyone else. But there are a smaller proportion, 20 to 30 percent of people, who will spread it to a number of other individuals in close contact," Sutton told reporters on June 11.
The non-indigenous male is among eight new cases of the CCP virus in Victoria within the last 24 hours.
Two more cases are travellers in hotel quarantine, one is a close contact linked to the Rydges hotel cluster, and another worked at Bupa Aged Care in Clayton.
A toddler at a childcare centre in Parkville has tested positive. Staff have been instructed to isolate, and the centre will be closed for 24 hours for intensive cleaning by the outbreak management team. Another additional two cases remain under investigation.
There are currently 54 active cases in Victoria as of June 11.
Sutton has urged anyone who attended the protest or elsewhere and are showing symptoms of COVID-19 to self-isolate, get tested, and become well before socializing again.
The public health direction states that gatherings of over 20 are not permitted and will incur a fine of up to $1,652 (US$1,153) and up to $20,000 through the court system.
More protests in solidarity with black American George Floyd and against deaths of Aboriginal people in police custody are planned across Australia for the upcoming weekend.
Protest organisers in Sydney and the Northern Territory have announced events. However, NSW police have said no formal applications have been received, with police deeming the event "unlawful" given the state's active COVID-19 health restrictions.
In the Northern Territory, where outdoor gatherings of up to 500 people are allowed under more relaxed COVID-19 restrictions, the chief health officer is said to be reviewing two COVIDSafe health plans from protest organisers for Saturday—one for under 500 people and one for more than 500 people.
Organizers for the protest in Adelaide, South Australia, have cancelled their event after state police commissioner Grant Stevens said those attending would risk being fined or arrested.
Related Coverage
Speaking on 3AW radio on June 11, Prime Minister Scott Morrison said it would be a disrespect to your neighbour to turn up to a rally this weekend.
"It's a free country and we have our liberty but the price of liberty is we respect our fellow Australians," he said.