First Lady Melania Trump looked striking as ever in a dark blue denim shirt dress as she stepped off the plane after arriving in West Virginia, to participate in a roundtable discussion on July 8.
Trump was visiting the Cabell-Huntington Health Department to listen to officials talk about their plans to tackle the opioid crisis in the area. In attendance was Acting Secretary of Homeland Security Kevin McAleenan, Sen. Shelley Moore Capito (R-W.Va.), Sen. Joe Manchin (D-W.Va.), Rep. Carol Miller (R-W.Va.), as well as many other local and state officials, according to WDTV.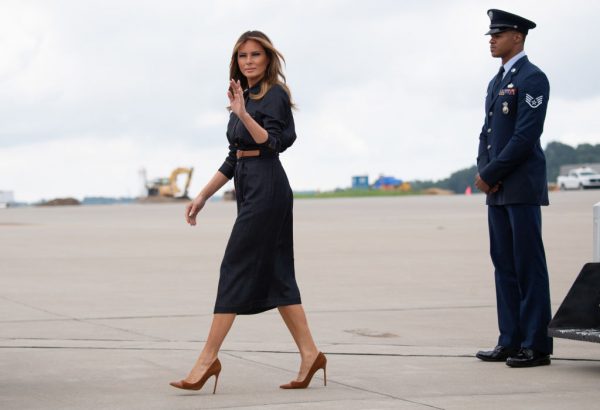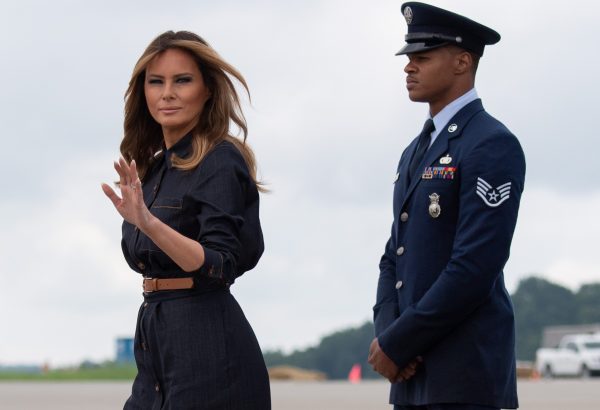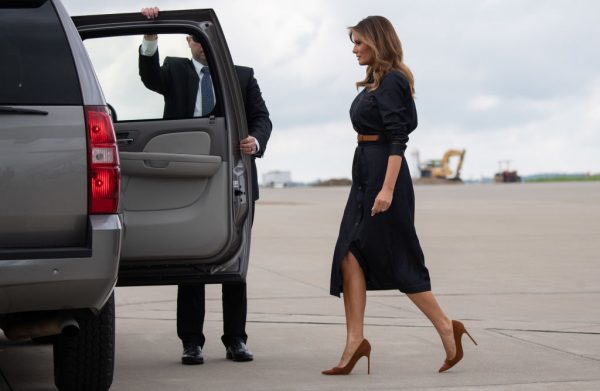 The first lady's denim blue dress was complimented with a light brown belt. She completed the semi-casual look with tan stiletto pumps.
Melania spoke during the roundtable discussion saying that she was pleased to see the progress happening in the state.
Huntington Mayor Steve Williams addressing @FLOTUS saying "we are the epicenter of the opioid epidemic but we believe that it could be said differently that we are the epicenter of the solution of the opioid epidemic." @wchs8fox11 pic.twitter.com/hj5l5fb6lm

— Raven Tiara Brown (@RavenBrownTV) July 8, 2019
"I see the example here of what can be done all across the country," she said, reported WCHS/WVAH. "This is a state that has a big problem, but we are making big progress. I hope people across the state and all around, they will look here and see the example that can be done in other states as well."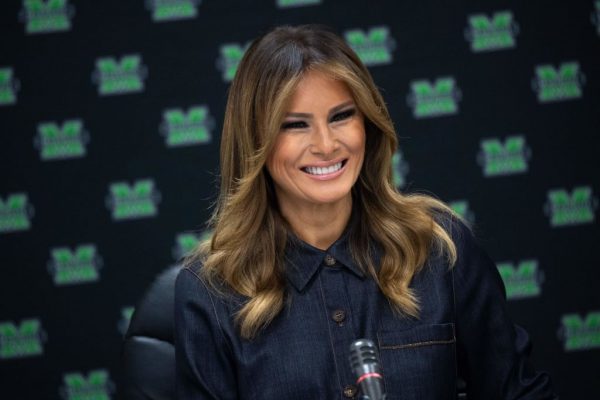 After the roundtable, the first lady participated in a closed-door meeting with leaders of Lily's Place in Huntington, an infant recovery center that provides medical care to children suffering from Neonatal Abstinence Syndrome. There she met with a mother whose baby was born addicted to drugs, according to WSAZ.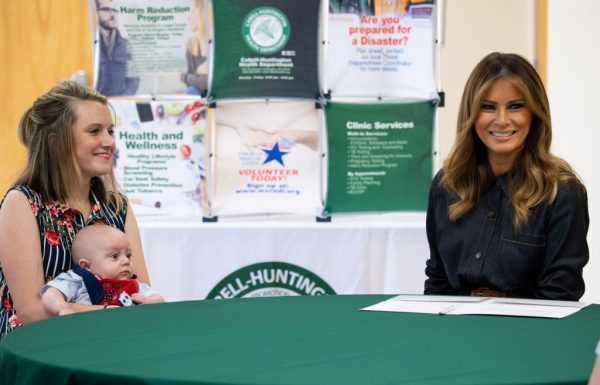 The visit at the center was then followed by a stop at Ritter Park where she saw a display of 453 American flags that represent the number of children in foster care in Cabell County, the news website reported.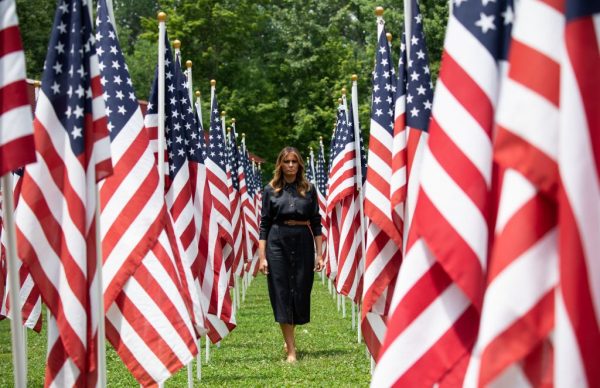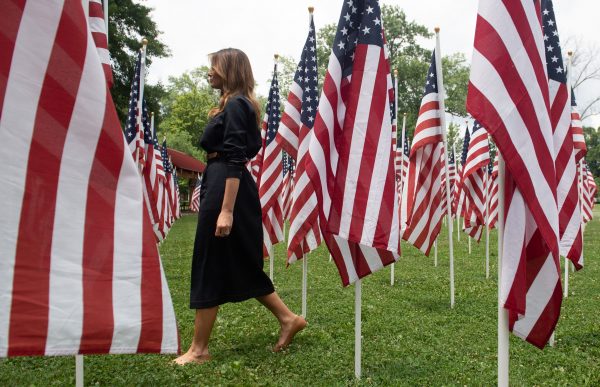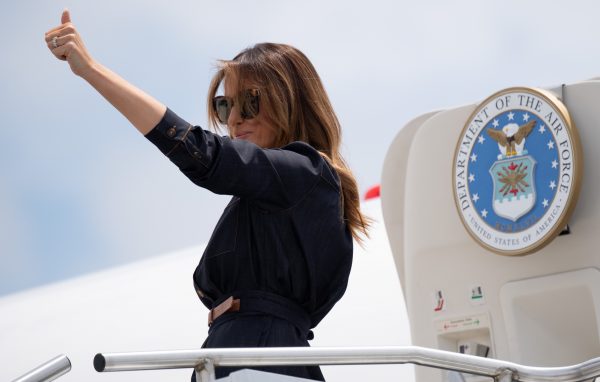 Melania has consistently turned heads with a choice of attire, drawing compliments for her style and elegance. On July 7, the first lady boarded the plane in New Jersey for Washington with President Donald Trump in a stunning cream white dress following their weekend trip.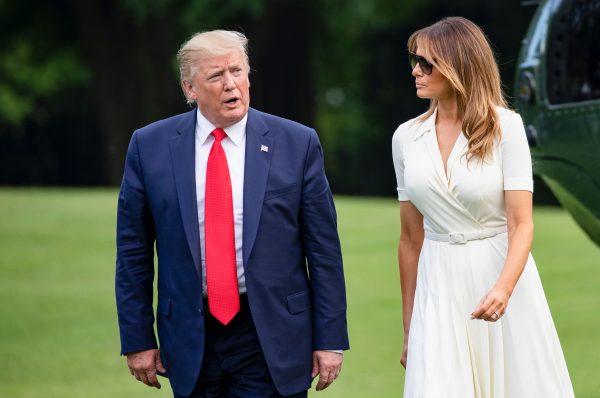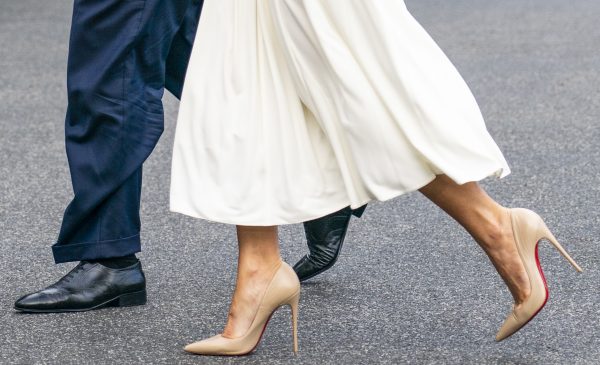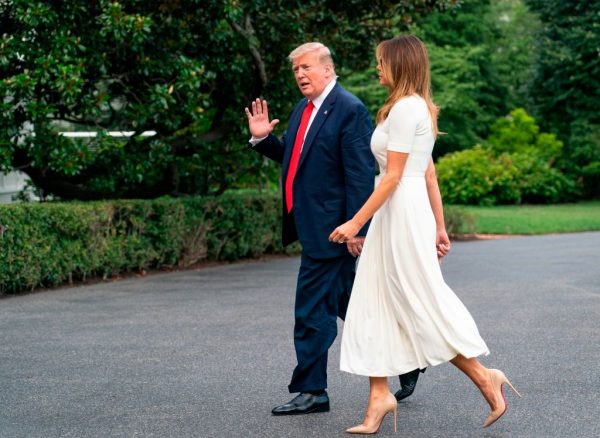 She completed the look with nude stiletto pumps and a pair of large sunglasses.