First Lady Melania Trump on Feb. 19 accepted a "Women of Distinction" award from Palm Beach Atlantic University (PBA), where she spoke about her "Be Best" program and the Trump administration's battle against the opioid crisis.
The first lady said she was "grateful" to attend the "Women of Distinction" annual awards luncheon, which typically recognizes two women for their "exceptional contributions to the community," the university website states. Proceeds from the event go toward a scholarship fund for female students.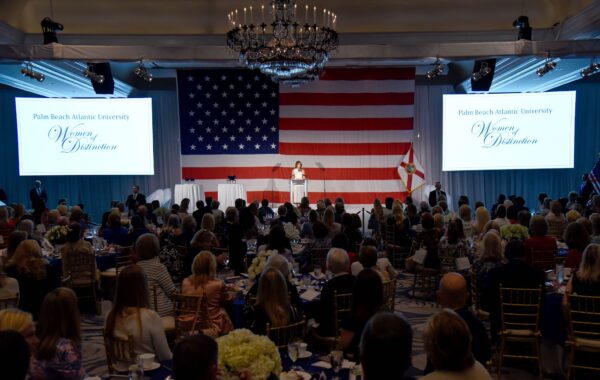 The luncheon's co-chairwoman previously described sole honoree Trump as "an exquisite human being, a magnificent wife and life partner, a superb mother, and an outstanding first lady."
"Melania is a perfect example of a Woman of Distinction, and we are most proud to honor her," she told USA Today.
Addressing the event's 550 attendees, the first lady made reference to her anti-cyber-bullying and anti-drug-abuse initiative, which she launched in 2017. The program's three pillars are well-being, online safety, and opioid abuse.
The program "has been shining a light on programs across the country and overseas that help our youth understand what it means to Be Best," she said.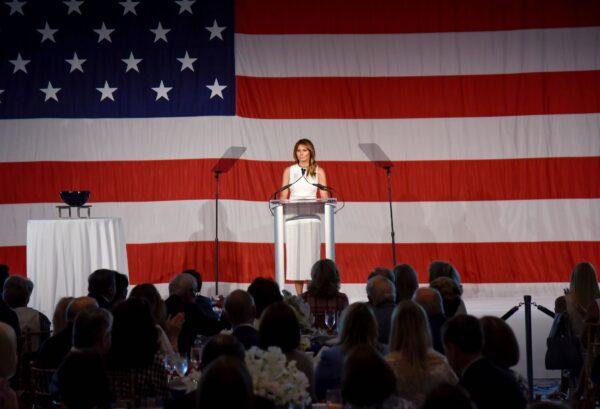 "Be Best can mean performing a simple act of kindness, providing care for someone in need, or teaching a life-enriching lesson," she said, wearing a white dress and standing in front of a two-story U.S. flag.
"It is my hope that by promoting Be Best values, we will give a voice to the concerns and struggles of our children, and help them overcome the challenges they face."
She said that she has met with tech companies such as Microsoft that are working to create a safer experience online for children.
"I'm convinced now more than ever that teaching healthy online behavior is crucial to securing a safer future for our children," Trump said.
The first lady added that the United States experienced its first drop in opioid deaths in three decades last year, giving credit to her husband's programs.
"Opioids have affected the lives of more than 2 million children in the United States," she said, including the children of addicts. "I've seen firsthand how opioid abuse affects families who are struggling with addiction. I have traveled to children's hospitals and treatment facilities who support those affected by opioids."
Palm Beach Atlantic President William Fleming said the 2,500-student university honored the first lady for her compassion and kindness, calling her a worldwide role model.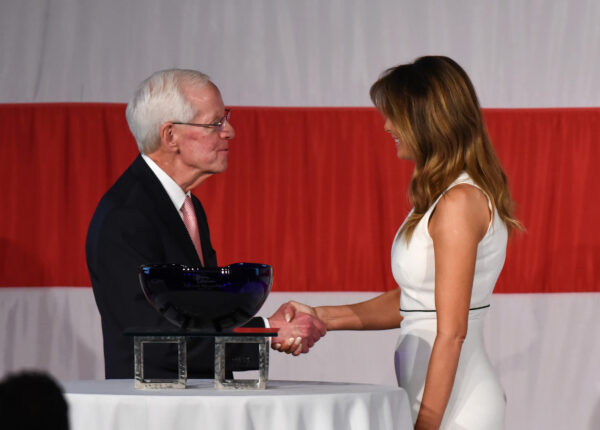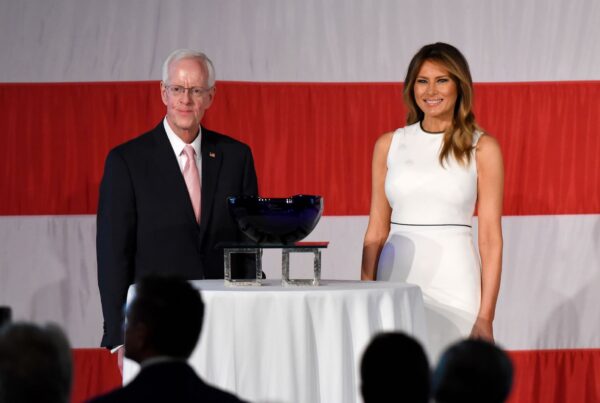 Previous women recognized for their exceptional contributions to the community include Barbara Nicklaus, the wife of golf great Jack Nicklaus; Candy Carson, the wife of Housing Secretary Ben Carson; fashion designer Lilly Pulitzer; and Helen DeVos, whose husband, Rich, co-founded Amway.
The Associated Press contributed to this report.