President Donald Trump and First Lady Melania Trump went on a two-day state visit to India starting Monday, Feb. 24, where they landed at the Sardar Vallabhbhai Patel International Airport in Ahmedabad, Gujarat. This marks the first time Donald Trump has set foot in India.

Trump's daughter Ivanka Trump was also present in India along with her husband, Jared Kushner, and both Ivanka and Melania Trump donned impressive attire befitting the occasion.
Melania Trump donned a white jumpsuit designed by Atelier Caito for Herve Pierre made with a creme crepe fabric, according to India Today. In addition, she kept her hair simple and loose, as with her makeup, which was done subtly. Furthermore, as a way to pay homage to the Indian culture, Melania also wore a green silk sash, embroidered with golden metallic thread to pair together with her white attire.

Herve Pierre, the French-American fashion and costume designer, posted on Instagram about the sash:
"Arriving in India, the First Lady #flotus is wearing a white jumpsuit from @atelier_caito_for_herve_pierre in crème crêpe. The sash was cut in an early XX century Indian textile documents I found in Paris through very good friends who are collectors. @herve_pierre_creative_director. The sash is made out of green silk and gold metallic thread. We used the border which was the most Interesting piece we could use as it was a vintage piece."
Herve Pierre is known to have designed clothes for previous first ladies, such as Hilary Clinton, Laura Bush, and Michelle Obama. Pierre is also known to design clothes for famous people such as Renee Zellweger and Lady Gaga. Pierre was also the person to design Melania Trump's inaugural ball gown after he met her in early January 2017, according to his profile on Atelier Caito for Herve Pierre.
According to Herve Pierre, Melania already owned the Atelier Caito for Herve Pierre jumpsuit in black but asked to have it made in a creme color for her visit to India.

To complete the overall look, Melania Trump finished her outfit with white pumps with a pointed toe, Footwear News reported. Although there isn't any indication as to which brand she was wearing at the time of her visit to India, the first lady is known to choose brands and types such as Manolo Blahnik's BB pumps or Christian Louboutin's So Kate.

The media outlet reported that Donald Trump, upon arrival to India, donned a black suit and wore almond-toe shoes. The president also contrasted his suit with a buttercup-yellow tie. His daughter, Ivanka Trump, wore a light blue dress with floral patterns that were made by Proenza Schouler, a U.S.–based label, according to the Economic Times.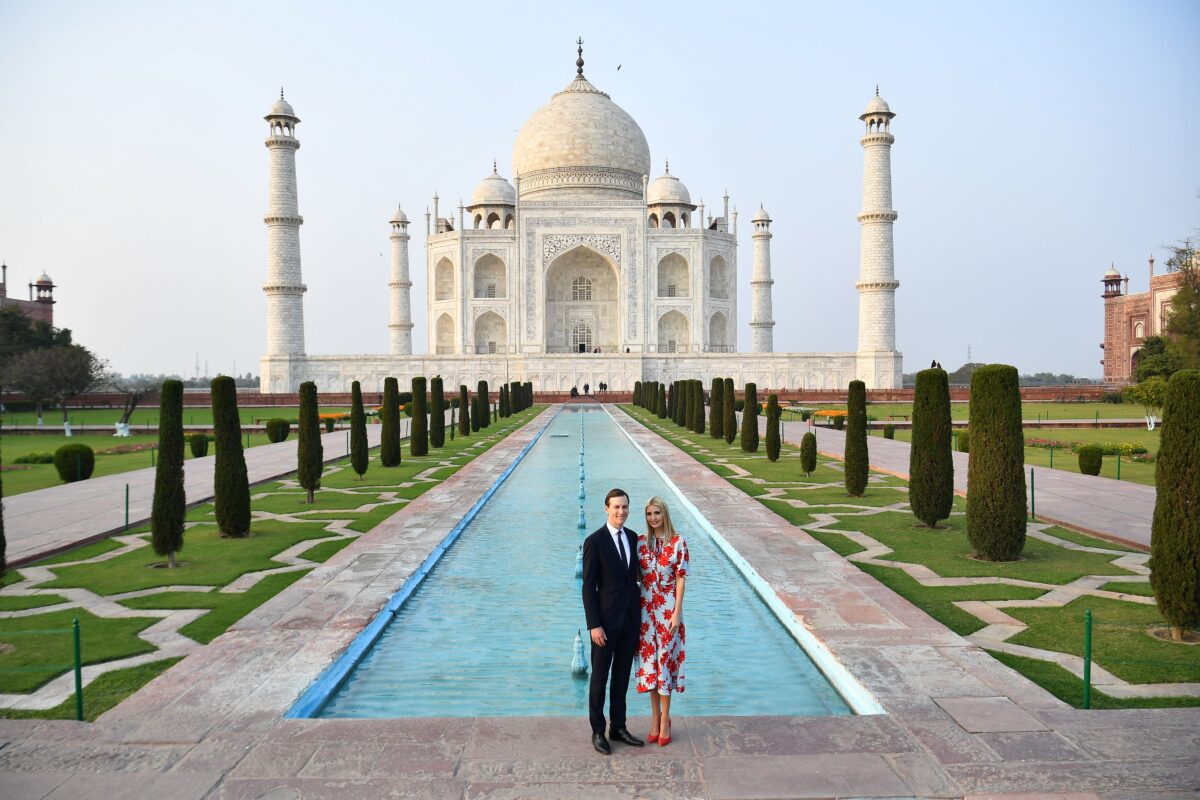 Prime Minister Narendra Modi along with Vijay Rupani, the Chief Minister of Gujarat, was on the tarmac to welcome the president and the first lady. The group headed to Sabarmati Ashram, a national monument, before leaving for the Moreta stadium, where the "Namaste Trump" official welcome was held. Following that, the group would travel to Taj Mahal before heading off to New Delhi.
From NTD News