Melamine Found in 'Olympic Milk'
October 9, 2008 7:24 pm Last Updated: October 1, 2015 10:45 pm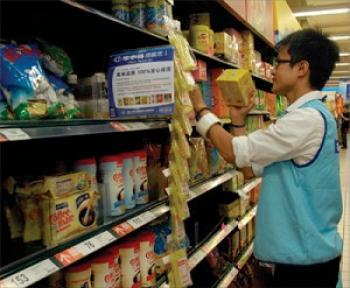 The sole supplier of food and beverages for the Beijing Olympics has been caught producing melamine-contaminated milk.
China's General Administration of Quality Supervision, Inspection and Quarantine (GAQSIQ) found melamine in 31 batches of milk powder made by 20 dairy companies in China, including well-known brands Sanlu, Yalishi, Yili, Mengniu and Sanyuan.
The Beijing-based Sanyuan Foods Company was awarded sole supply rights for food and beverages during the Beijing Olympics.
GAQSIQ released the findings of their investigation on September 30, and according to their report melamine was found in three batches of Sanyuan's high-fiber high-calcium milk powders made on June 23, September 8 and September 11.
Melamine was also detected in a batch of Sanyuan's Nanshan Beiyi IGG infant formula produced on September 9.
Independent Beijing-based Caijing magazine approached the director of Sanyuan's public affairs department on October 6, but he refused to comment on the melamine contamination.
The manufacturer of the tainted milk powder, Qianan Sanyuan Foods, is a subsidiary of Sanyuan.
GAQSIQ found 10.58 mg per kg of melamine in a batch of powder produced by Qianan on August 7.
Sanyuan's tainted milk powder has mainly been used in value-added foods, for further dairy processing or production in yogurt, yogurt drinks, cookies, candy, and chocolate.
This was the first time GAQSIQ has found melamine in Sanyuan products.
Melamine is an organic compound often combined with formaldehyde to produce melamine resin, a synthetic polymer which is fire resistant and heat tolerant.
The chemical was not considered toxic until early 2007, when 8000 pets suddenly died in the US. FDA investigations later revealed the animals had been poisoned by mass-produced pet food containing wheat gluten contaminated with melamine.
GAQSIQ's September 30 report showed the test results from 265 batches of adult milk powder made by 154 dairy companies before September 14.
About 13,000 infants nationwide have been hospitalized with kidney problems and at least three have died after drinking baby formula tainted with melamine, a toxic chemical added to raw milk to raise its apparent protein content.
The original supplier of dairy products for the 2008 Beijing Olympic was Yili Group, but Yili was later turned down by the Beijing Olympic Committee after its products failed quality tests.
Until the September 30 report Sanyuan was the only listed dairy producer that had avoided being associated with China's milk contamination scandal.
Earlier testing had earlier cleared Sanyuan products of melamine, causing its share price to surge.