Melamine Found In Chinese Eggs
October 27, 2008 11:09 am Last Updated: October 1, 2015 10:43 pm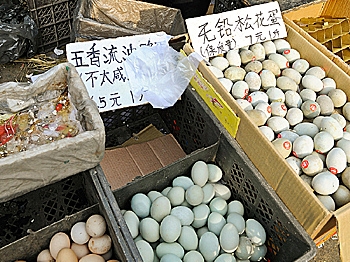 Hong Kong's Center for Food Safety recently announced that the melamine content in fresh eggs imported from mainland China has exceeded safety standards.
Last Friday, the Center for Food Safety confirmed the high concentration of melamine in eggs imported from the Dalian Hanwei Enterprise Group. The eggs were found 4.7 parts per million of melamine, compared with the 2.5 ppm safety limit.
The Center for Food Safety has requested that all supermarkets stop selling and importing eggs from the Dalian distributor. The same high melamine concentrations from the Dalian importer have also been found in eggs sold in Japan and other Southeast Asian countries.
Hong Kong Secretary for Food and Health York Chow said on Sunday that 60 percent of the eggs sold in Hong Kong are imported from mainland China—Hong Kong consumes an average of 1.6 billion eggs each year, or about 230 eggs per person.
Due to the area's high egg consumption, the center will conduct melamine tests on eggs imported from mainland China in the next week. They plan to announce their findings as soon as they're available.
"Since we have found melamine in eggs, we will surely exam chickens," explained Chow. "Livestock feed might have been tainted by melamine, so officials will examine all meat and poultry imported from mainland China and pay special attention to animal organs, such as chicken kidneys and pork kidneys."
Chen Jingming, a chicken farmer and livestock nutrition expert said that the cost for yellow bean powder, a main component of livestock feed, has shot up about 70 percent in the past year. Due to rocketing feed costs, he believes that some suppliers have illegally added melamine into their feed mixture to save money.
Chen added that since eggs have been found to be contaminated, food products containing eggs and other meat products imported from China might also have been tainted.
Chen emphasized that the authorities should make even stricter standards for safe levels of melamine in foods. He said they should not allow any trace of the contaminant in the food supply to prevent a potential panic from the public.