Matilda Callaghan, a young girl from England, was born with a rare condition that left her skin covered in a number of polka dots.
Over the years, photos of the child have gone viral, highlighting Sturge-Weber Syndrome, or SWS.
It's a rare disorder that's present at birth, and children born with the condition have port-wine stain birthmarks, which tend to occur on the face.
The family of this brave girl have made a desperate plea https://t.co/JtPsvZS4RZ pic.twitter.com/CsMXD7UzTY

— Daily Mirror (@DailyMirror) February 2, 2016
What's more, SWS also affects the nervous system, according to the U.S. National Library of Medicine. "SWS is usually not life-threatening. The condition does need regular lifelong follow-up. The person's quality of life depends on how well their symptoms (such as seizures) can be prevented or treated," the website says.
The girl was born with two holes in her heart and a pouch in her throat, and she had open heart surgery when she was seven weeks old, the Mirror reported.
Matilda also cannot walk or talk.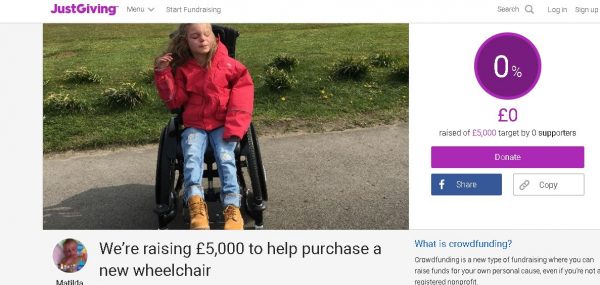 In 2013, the Daily Mail reported that when Matilda was born was a dark purple birthmark on the side of her face. Doctors thought it was a bruise at first but soon realized their mistake.
Two weeks later, they diagnosed her with SWS before she was taken to Wigan Hospital to Alder Hey Children's Hospital in Liverpool due to the severity of her illness.
"We couldn't travel with her as she was so ill. As we stood watching her being taken away, we didn't know if we were going to see her again. We'd been so excited at our baby's arrival, now within a matter of hours we didn't know whether we would even see her alive again," her father said.
According to the Mirror, the child has to have laser treatment every two months, and those treatments leave her with bruises that show up as dots on her face. The dots can last for two to three weeks. The laser treatment is not for cosmetic purposes, but it's to prevent the birthmark from growing and becoming deformed.
A JustGiving page with the child's name, posted on June 2, included what appears to be a recent photo of the girl in her wheelchair. The page is seeking to raise $6,300 to help purchase a new wheelchair.
"We are fundraising to provide her with new chair so that she may continue to do the thing she loves the most, spending time outside," it says, adding: "Matilda has many conditions she doesn't walk or talk, she does however manage to cause mayhem and make people smile wherever she goes."
According to the page, the child's grandfather recently passed away, and the page was set up in light of that development.
Her father, Paul Callaghan, told the Liverpool Echo years ago about her wheelchair: "We want to be able to take her for walks in the countryside—we like to get out as much as we can. We use all our money to cater for Matilda's needs so it's hard to get holidays which would be our escape."
The girl enjoys the countryside where it's calm, he noted.
He told the publication, "Sometimes you can feel trapped in your own environment, it's a massive strain on us as a family. We only have Matilda so we don't know anything different."
The parents, meanwhile, said she is "is just amazing—we just live every day as a bonus."
He said, "It is just unfortunate it has happened to us, but there are a lot of people around with SWS, and we want people to know we are always here to help."
Regarding the birthmarks, "They just see what is in front of them and jump to hurtful conclusions," he said.
'Little Angel'
Instead, he added, "I wish they could see past the birthmark and see what a wonderful little angel she is."
He said at time that the girl's vocabulary is limited to  "mummy, "daddy," "yes," and "no," and communicates through hand gestures.
But he said she is still happy despite the challenges.
"Despite everything she has been through, she has a smile for everyone. She's doing fantastically well," he said.
"We are unbelievably proud of Matilda, she is just amazing–we just live every day as a bonus."