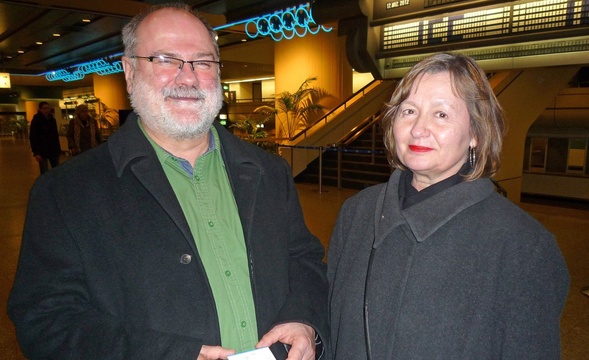 BERLIN—Mr. Michael Fischer, a media consultant at the Berlin "Jazzradio," and his wife Ms. Sabine Fischer attended Shen Yun Performing Arts at the International Congress Centre (ICC) on March 17. 
The Fishers heard so much about the Shen Yun from an acquaintance that they decided to buy tickets and form their own opinion. 
Speaking of the skill of the dancers, "I enjoyed what I saw today. What an accomplishment of these young people," said Mr. Fischer. 
His wife was in full agreement and said, "I was amazed by the synchronization and the harmony by the dance group."
What delighted Mr. Fischer was "the joie de vivre, the zest for life was expressed exceptionally well."
Mr. Fischer was not only pleased by the the joie de vivre, but also by the sense of community the company displayed. He said, "the ability of these young people to be there for each other and the shared happiness came through clearly."
He continued, "Yes, such virtue and goodness expressed by the artists is needed for history to continue and for humans to survive. Besides, all that is associated with truth, integrity, being a part of the group and not insisting on individuality. Shen Yun brings to us all these virtues."
There was diversity in the Shen Yun performance, bringing to the audience not only stories and legends from the past, but also what is happening in China during modern times. 
The uniqueness in the show was that it enriched the audience in the understanding of China with its dance, score, orchestra and songs.
Mr. Fischer ended by saying, "At no time in the past have I seen so much about China." Shen Yun is based in New York and its productions "draw their inspiration from China's 5,000 years of civilization," according to the 2012 program.
New York-based Shen Yun Performing Arts has three touring companies that perform simultaneously around the world. Shen Yun Performing Arts International Company will next perform in Zurich, Switzerland from March 23-25.
For more information, please visit ShenYunPerformingArts.org.