Meb Keflezighi Wins 118th Boston Marathon, First American Since 1983
April 21, 2014 12:48 pm Last Updated: April 21, 2014 12:57 pm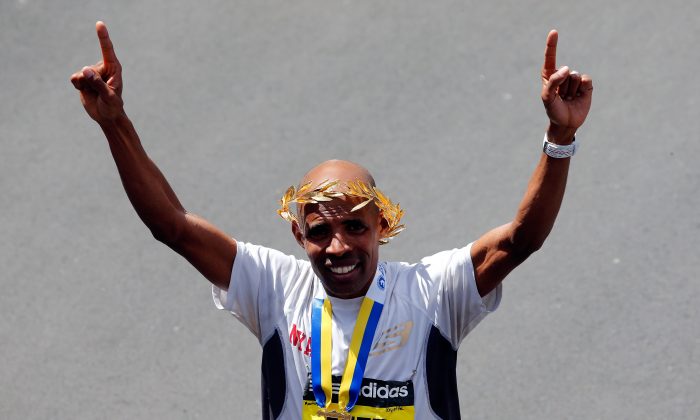 Mebrahtom Keflezighi ran faster than he ever had before to become the first American to win the Boston Marathon in 31 years Monday afternoon. The 38-year-old finished the 26-mile, 385-yard race in 2:08.37, a personal best time by 50 seconds.
Keflezighi led a pack of 17 runners right from the gun, opening the race with a 4:49 mile. He stayed at or near the front for the first several miles, then decided by the ten-mile mark that he needed to get a lead on the faster finishers in the group.
Keflesighi and fellow American Josphat Boit dropped the other runners—probably none of the faster runner believed he could escape them.
Boit was the first to make a move, opening a gap of several dozen yards over his temporary running partner, but it was Meb who made the decisive drive fifteen miles out, dropping Boit and finishing the race solo.
 He ran a 4:48 mile in Mile 18, and 4:47 in Mile 19. At one point Keflezhigi had a gap of 1:12 over the rest of the pack. but he started slowing in the final few miles, while the competition picked up the pace.
Keflezighi looked to be struggling through the final few miles—he maintained a good pace but his face and his stride showed that he was hurting. Wilson Chebet of Kenya closed in on Meb in the final few miles, cutting the lead to six seconds—a matter of a few yards.
Then Meb heard the roaring of the crowd in the final mile near the finish line and found some reserve of energy, increasing his pace and becoming the first American to win the Boston Marathon since 1983.   
Chebet crossed the line 11 seconds later.
Upon crossing the line, the exhausted runner burst into tears, crying quite hard for a bout a minute as he realized what this tremendous achievement meant for him and for Boston.
"If I lost, so what, Keflezighi told Universal Sports. "Maybe I went to early, but I was out here to inspire people to do their best. I did my best and I won."
Keflezighi, one week shy of his 39th birthday, was not considered among the favorites coming into the race. A refugee from war in Eritrea who came to America at the age of twelve, Keflezighi won a silver medal in the 2004 Olympics, but was not among the world's top few dozen marathon runners.
After the terrible disaster of 2013, Keflezihi wanted to show he could be "Boston strong," he said; and he proved to be the strongest on this day.
Official Men's Results:
1. Meb Keflezighi (San Diego, Calif.) 2:08:37
2. Wilson Chebet (KEN) 2:08:48
3. Frankline Chepwony (KEN) 2:08:50
4. Vitaliy Shafar (UKR) 2:09:37
5. Markos Geneti (ETH) 2:09:50
6. Joel Kimurer (KEN) 2:11:03
7. Nick Arciniaga (Flagstaff, Ariz.) 2:11:47
8. Jeffrey Eggleston (Boulder, Colo.) 2:11:57
9. Paul Lonyangata (KEN) 2:12:34
10. Adil Annani (MAR) 2:12:43