This Is How You Beat the Heat SoCal Style
September 17, 2014 10:03 pm Last Updated: September 17, 2014 10:03 pm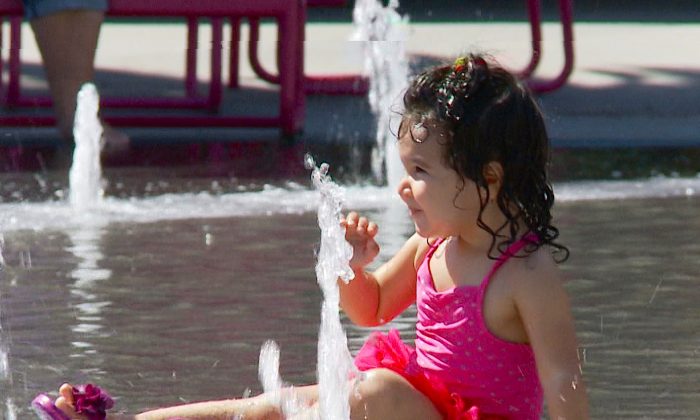 LOS ANGELES—L.A. residents may soon be in for some relief from the heat wave that has been setting records in the area. Temperatures in Los Angeles County reached a high of 108 in Pomona on Sunday, and have remained in the 90s and 100s through Wednesday. Temperatures are supposed to start dropping on Thursday and reach a low on Friday.
The heat wave has already left its mark, however. The high temperatures and dry weather created the perfect conditions for wildfires, and firefighters have been battling almost a dozen major ones since last week.
The state saw a spike in power demand that exceeded supply on Monday, and thousands of people lost power. The Los Angeles Department of Water and Power said the city's energy demand set an all-time record on Tuesday. 
As of Wednesday morning, about 2,100 customers across L.A. County were still without power.
The National Weather Service issued a heat advisory for Los Angeles County, and the San Gabriel, San Fernando, and Santa Clarita valleys. The advisory was in effect till Tuesday evening.
Social Media
Since the hot temperatures began, southern California residents have been posting photos on social media showing how they are beating the heat—or joining it.
One person apparently tried to use their car to bake cookies, while another decided to see if it was really hot enough to fry an egg on their tile. From the picture, it didn't look successful.
Another photo posted to Twitter shows a fan strapped to an open freezer as a makeshift air conditioner and another shows a "DIY swimming pool" with a man in a garbage can filled with water.
Ways to keep cool this summer. No.345. DIY swimming pool. #heatwave pic.twitter.com/68jEAqi0cb

— LateRooms.com (@LateRooms) July 17, 2014
Currently in LA. #LAHeatWave pic.twitter.com/2anwHSgr8E

— patrick muldowney (@patmuldowney) September 16, 2014
Pets were not spared from the heat or social media buzz either. One twitter user posted pictures showing how to make ice cube treats for dogs, while another posted a photo of a cat in a sink. The caption read "This is how you beat an ?#LAheatwave my fellow furballs…thinking outside the litterbox."
Cool off with easy to make frozen treats for dog and cats. http://t.co/kAn1FPnEj8 #LAheatwave pic.twitter.com/HFBPW93LbY

— spcaLA (@spcaLA) May 14, 2014
BTW …this is how you beat an #LAheatwave my fellow furballs…thinking outside the litterbox pic.twitter.com/HRXQya5jj8

— Ms. Austen (@MissiLeaks) September 8, 2013
This Is How They Feel
this is how I feel #lagunabeach #art #hotmess #itstoohot #laheatwave pic.twitter.com/LbHvpNfFli

— Gina Marie Fard (@MeGinaMarie) September 12, 2014
Bodies of water from swimming pools, to the ocean, and even fountains in local parks have become popular as people find different ways to cool off.
SoCal residents attempt to beat the #heat http://t.co/r8khHVHUQJ #HeatWave #LAHeat #LAHeatWave #IEWeather #Weather pic.twitter.com/3AjtTaKBjI

— Sarah Batcha (@SarahBatcha) September 14, 2014
At #LACounty #parks, working to keep little ones cool in this #LAHeatWave: http://t.co/hrluFJPZ2E #LAHeat pic.twitter.com/G3Z5UbFmgA

— Parks and Recreation (@lacountyparks) September 17, 2014
Local officials asked residents to stay indoors, stay hydrated, and avoid excessive physical activity.