Chinese Media Ordered Not to Report Miscarriages Linked to Sichuan's Toxic Homes
April 21, 2009 11:02 pm Last Updated: October 1, 2015 9:53 pm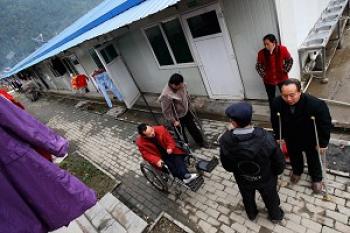 Media in China have been ordered silent after news broke of an apparent high frequency of miscarriages among women living in mobile homes housing survivors of the Sichuan earthquake last year, The Epoch Times has learned.
On April 17, the Sichuan Provincial Party Committee Propaganda Department issued an order to the province's media that there be "no interviews, no reports, or quotes" on the hundreds of embryo deaths that are said to have occurred in women in Dujiangyan, an historic region nestled on the coast of the Min River in Sichuan.
According to reports, the women are living in mobile homes that were constructed with medium-density fiberboard that in some cases emits five-times the maximum level of formaldehyde allowed by Chinese standards.
Physicians say that exposure to formaldehyde during pregnancy can lead to miscarriages.
On March 2, a report in Sichuan media titled, "Beichuan Moms Experience Miscarriages" said the miscarriages were "not an isolated case but a common phenomenon."
The Dujiangyan People's Hospital has recorded more than 100 miscarriages in the small community, Sound of Hope Radio reported.
Both local doctors and affected family members say they suspect that a high level of formaldehyde in the mobile homes' fiberboard is causing the miscarriages.
Most of the would-be mothers are Sichuan earthquake victims who lost their children in the earthquake and are trying to conceive again. According to a study done by the Fertility Assistance Program in January, there were 1,332 quake-affected families with such a desire.
A Dujiangyan woman, Mrs. Lee, who lost her son in the quake explained to Sound of Hope that she was delighted to have a pregnancy test at the hospital. However, the embryo was already dead.
"Seven other women went to be tested, and five of them were told the same," she said, adding, "Doctors did not rule out the possibility of formaldehyde intoxication."
She continued, "Now we all live in mobile homes. Summer is coming, and the formaldehyde smell is getting stronger. The government would not give us an answer. The Mayor even claims the mobile homes have passed the health tests and there is no formaldehyde. We are so heartbroken by the fact that we have to stay in the mobile homes and we dare not have a baby. The pain is doubled."
A volunteer counselor engaged in post-quake health service said there have been dozens of such cases from the parents of one elementary school hit by the quake who have sought counseling help.
"There are far more victim parents we have not had a chance to investigate yet," he said.
Radio France Internationale also reported on April 17 that volunteer counselors confirmed that the quake victims do suspect that illegal formaldehyde levels in mobile home construction materials has caused the miscarriages and stillbirths.
Formaldehyde is known to enhance the adhesion and density of building materials. Formaldehyde in excess is also known to be extremely dangerous and acutely toxic.
Shenyang Women and Infant Hospital President Chou Weiwei indicated that formaldehyde is a high risk factor for abnormal births. The fetus develops the heart in the first 5 months of pregnancy. Exposure to formaldehyde during this period causes a high incidence of congenital heart disease.
There are also quake victims' reports on the Internet that, according to one test conducted by an individual, the formaldehyde level in a mobile home was detected at 0.6 mg per cubic meter, far above China health regulations' maximum of 0.12 mg per cubic meter.