Much of the 2011 Formula One season has followed a pattern: Sebastian Vettel opens enough of a lead in the first two laps that no one can get close enough once DRS is activated to use the system to any advantage. Vettel conserves his tires, enjoys the clean air, and motors to a win by whatever ridiculous margin he and the Red Bull team decide is appropriate.
The Abu Dhabi Grand Prix started in exactly this fashion. Vettel made a great start and had a huge gap on the field entering the second turn. It looked like another Red Bull drive-off win—until the two-time champion went spinning off the course halfway through the corner.
Struck down by a flat tire, Vettel was sidelined before completing a lap. This left the race open for the rest of the field. McLaren showed itself to have the best combination of cars and drivers on the grid.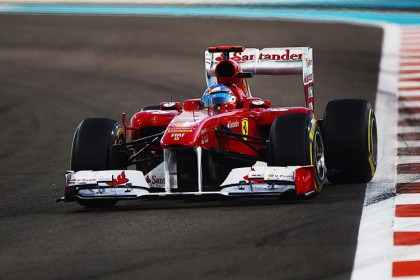 True, Fernando Alonso was able to keep his Ferrari close to Louis Hamilton through the first 43 laps—close, but not catching. Both drivers are past champions, both cars the product of decades of racing success. Yet Alonso, going all-out, couldn't get within three seconds of the leading McLaren, and even lost ground until Hamilton's tires went off right before the final pit stops.
Ferrari's F-150 on the hard tires has been a disappointment all season, and at Abu Dhabi, it was again. Once Alonso took on the Pirelli Primes, he lost all hope for a win; the final margin of victory was 8.4 seconds.
Lewis Hamilton made no errors, maneuvered well through traffic, and had the best car. McLaren's MP4-26 worked well all race long, while the Ferrari needed the softer Option tires to match McLaren's pace.
Button to the Podium Despite Adversity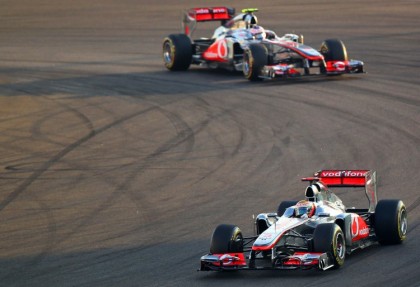 Jenson Button ran a much different race. After some fierce dueling with Mark Webber in the Red Bull RB7 in the first several laps, Button lost use of his KERS unit and couldn't catch the two leaders.
The McLaren driver did manage to run third, at lap times comparable to Webber's, despite losing the extra horsepower of the KERS unit. The pair swapped places again on lap 15, again showing that Button in an ailing McLaren could match Webber in a perfect Red Bull.
Halfway through the race, the McLaren KERS unit reset itself, and Button began turning laps comparable to his teammate Hamilton and Ferrari's Fernando Alonso. Once these three cars were all on Prime tires, Button started eating away at the huge gap to the leaders which had opened while he was KERS-less. The McLarens started lapping in the 1:43's, while Alonso couldn't break 1.44.
Mark Webber did turn in an amazing performance in the final laps, one which highlights not only his driving ability, but also the excellence of the Red Bull chassis and team strategy. The Australian stretched his first set of Option tires 17 laps, his second set for 19. He then chose Options again, and set repeated fastest laps.
Had Vettel, with his amazing tire-saving smoothness, been on the track, he doubtless could have gone a few more laps on each stint, pitted while retaining the lead, and have had plenty of time for the last-lap pit stop to go once around on Primes, without another driver getting close.
Best Car and Driver of 2011? See 2010 (and 2012)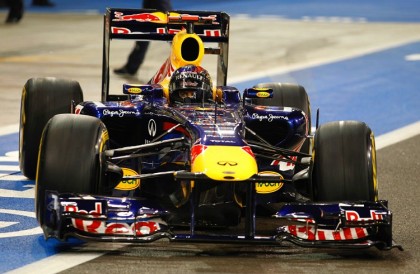 It is hard to argue that Sebastian Vettel is not the best driver in F1 today. He has speed, he has smoothness, he has apparently learned to control his impulsiveness. Some might say he has not been tested in traffic, or has not showed his ability to drive a bad car well. Perhaps—but Vettel's first win came in a Toro Rosso, and he had to fight through plenty of traffic in a car which has never reached even near the front of the pack in the hands of any other driver.
Hamilton, Button, Alonso? All former champions, all great in different ways. Hamilton is the hyper-aggressive overtaker, Alonso similar but a touch more mellow, and Button legendary for winning by being cool and conservative. No way to rate one above another.
The Red Bull RB7 is undoubtedly the most efficient, most refined chassis on the grid. Designer Adrian Newey has some strange genius that transcends computers and simulators. But McLaren has a great car. Not Red Bull great, but certainly second-best on the grid.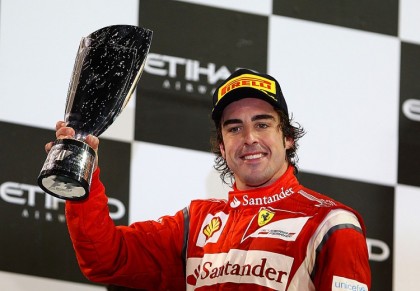 Ferrari, the team that believes it Is Formula One, sadly hasn't had a competitive car for a few seasons. Last year Ferrari had their chassis really working by the last few rounds of the season—far too late. For 2011, they have a car which is the equal of McLaren—until the hard tires go on, when it transforms from a thoroughbred into a cart horse.
2011 is over save the fight for second. Vettel and Red Bull had the thing wrapped up two-thirds of the way through. And so long as Vettel and Newey stay together, it is hard to imagine a very different outcome for 2012.
So for next year, the burning question in F1 will be: Can Ferrari finally field a car to beat McLaren?
Or maybe: how many races until Vettel wraps up his third championship?