HONG KONG—The all new Super Series McLaren 720S was launched at the Geneva Motor Show earlier this year and immediately attracted glowing reports. As details of the new model were absorbed and some of the lucky ones were allowed to drive one the automotive press almost without exception extolled its virtues; for design, technological innovation, road holding, track prowess, drivability, comfort and more.
Faster than the Ferrari 488GTB or Lamborghini Huracan Spyder, as easy to drive as a Porsche Cayman, as comfortable as an executive saloon, lighteningly fast, superb stability, controlled drift in the corners ……were some of the comments.
Since Geneva, what has not been said about this car is hardly worth saying. Every car magazine and website has given it ultimate praise – everyone extolls its virtues, and the superlatives flow time and time again.
So why am I writing about it? Car enthusiasts and the press in Hong Kong have had to wait more than 3 months to get close to this amazing piece of engineering; lighter, stronger and faster than the 650 series that it replaces and some say closely matches the performance of its big brother the P1 track machine.
So it was with great anticipation that I went to the Hong Kong launch held on June 29, part of preview sessions that were held over several days for the media and invited guests.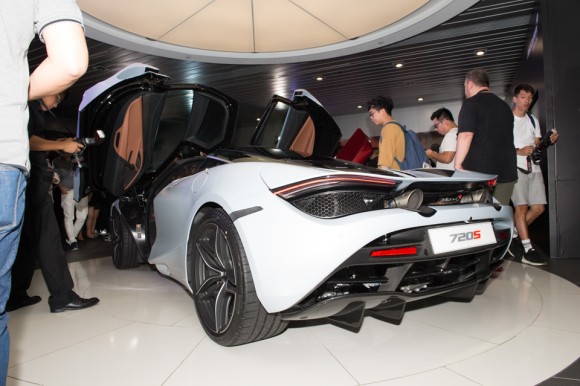 The body contours are sleek, sculptured and easy on the eye but every part of the design is to enhance performance, to improve airflow and direct the forces for enhancing high speed stability. According to Regional Sales Manager Peter Sell, technological concepts stretch the handling and performance to new limits. It provides improved-visibility over previous models with narrower A and C pillars, glass on all sides give excellent in cockpit light and for such a low slung car it is surprisingly easy to enter and exit. The finger light operating, "butterfly" doors include part of the roof and remove part of the sill on opening, providing added ease of access. It comes in three configurations 720S, 720 Luxury and 702S Performance, with lots of additional specification tweeks to be made. From a practical angle, several small storage areas are included within the cabin, a shelf space behind the seats and a 150 litre under-bonnet luggage compartment capable of holding a couple of reasonably sized luggage.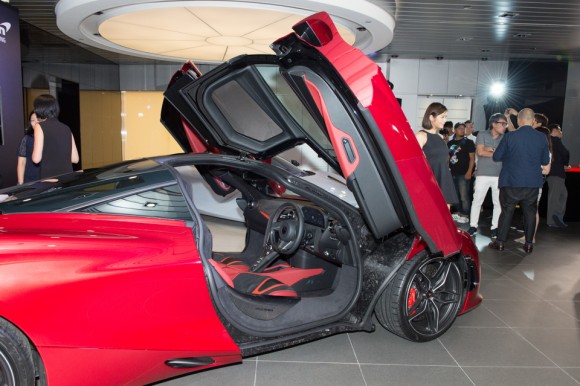 This new model develops 710bhp (720ps), an uplift of 68bhp from the 650S model which it replaces. It has a quoted 0-60 time of 2.8 seconds (0-100kph in 2.9 seconds) with a top speed of 212mph (341kph). It has many new features in bodywork design, aerodynamics and in engineering, for instance the self-adjusting airflow system over the wings and ducts is designed to provide optimum distribution of forces to maintain stability and grip at high speeds. The innovative Proactive Chassis Control System II, with its interlinked hydraulic system controlled though sensors at each wheel, replaces the traditional anti roll bars, designed to give better stiffness and force distribution while cornering yet able to cope with potholes and bumps with ease thereby adding to the comfort of the ride.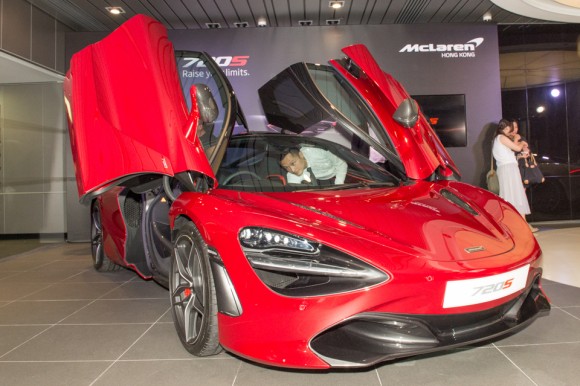 Body panels are mainly made of aluminium, superformed to achieve the impressive contours.  Stressed body parts are in most cases made of carbon fibre as are many of the fittings to reduce weight. The all in one driver/passenger Monocage II made of carbon fibre reduces weight while providing increased safety. It is so strong and durable that in crash tests the same cage was used for 14 consecutive tests, with just new front and back ends bolted on between tests.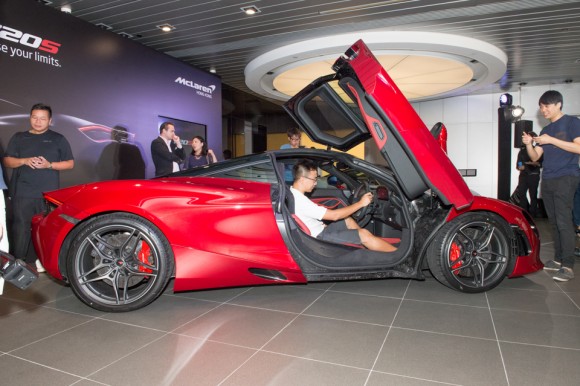 The car is designed for road or track, has 3 selectable driving modes (comfort, sports, racing) and is said to give a thump in the back in taking off and after gear changes in racing mode. Its fuel consumption figures are good for a high performance car at 17.1 mpg for urban, 38.2 extra-urban and 26.4 (10.7l/100km) overall.
The starting price for the 720S is £210,000 sterling (in round figures is HK$2.1 million) but clients often add many available extras, pushing up the price. The current waiting list for the new model is about 9 months according to Peter Sell.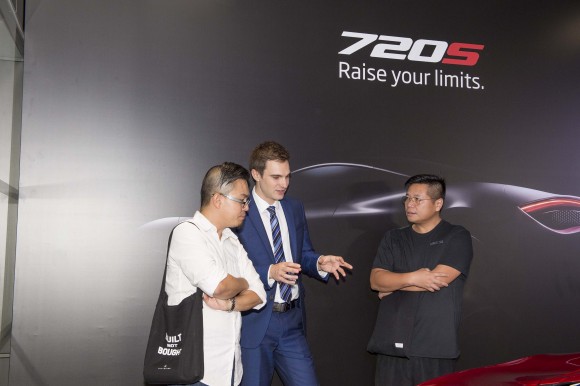 There are 34 standard body colours to choose from but we were told that a unique colour can be specified for the vehicle. The cars are made at McLaren's factory at Working, Surrey in the UK with most components being UK sourced. McLaren is just setting up a new factory in Sheffield to make the carbon fibre, driver/passenger tubs. The annual production rate for the 650 model was about 1,500 cars last year with a total production output of 3,200 for all models (sports, super series and the ultimate P1 for track only). That overall figure is being increased to about 4,000 this year and may in future be extended to 5,000 per annum. This latter figure is expected to be top production rate during the coming years, according to Peter Sell.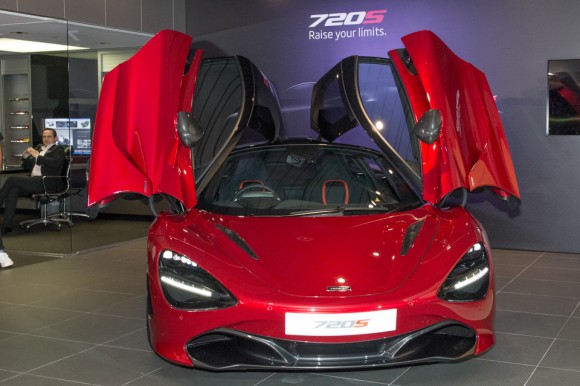 For the more technically inclined, the car is equipped with a twin turbo, dry sump, 32 valve,  4litre (3994cc), V8 M840T engine that revs to 8,500rpm, pushes out 710bhp at 7,250rpm and develops 770N/m (568lbs/ft) of torque at 5,500rpm.
The drive train is a Gratziano, 7-speed, dual clutch seamless shift gearbox (SSG) operating in automatic or with paddle shift controls. The power train is positioned low down in front of the rear wheels and drives the rear wheels.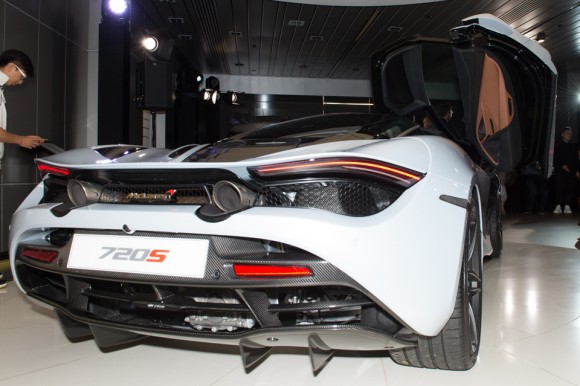 Along with the aero dynamic features of the bodywork, and self-controlling ducts and wings, one of the most innovative features of the car is the suspension system termed, Proactive Chassis Control II, where control is achieved through a four-wheel interlinked hydraulic system with 3 sensors at each wheel, to keep the car in optimum balance. It has a double wishbone suspension, with adaptive dampers. The driver adjustable innovative Variable Drift Control (VDC) system enhanced control around corners at high speed.
There are lots of driver-aids included to help maintain control, including ABS, Traction Control (TCS), Electronic Stability Control (ESC), Variable Drift Control (VDC), Launch Control and Hill Hold Assist. Tyres are 305/30 ZR20 Pirelli P Zero on 20 x 11 inch J rims at the rear and 245/35 ZR19 on 19 x 9 inch J rims at the front.
This Youtube video about the 720S by Ivan Aistrop of AutoTrader is one of my favourites:
Further details at http://cars.mclaren.com/super-series/720s