McDonald's to Hire 6,000 Canadians in National Jobs Spree
April 9, 2013 1:34 am Last Updated: April 9, 2013 1:34 am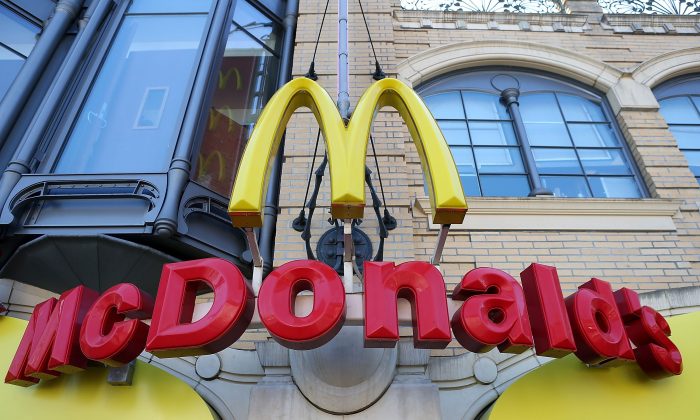 McDonald's Canada is going on an all-out hiring blitz, planning to employ thousands of new workers as part of its "National Hiring Day."
The fast food giant aims to hire over 6,000 new employees in Canada on April 11, the largest number it has ever attempted to hire in a single day.
"In a market where youth unemployment rates are nearly double the Canadian average, we are hiring thousands of part- and full-time positions," Len Jillard, chief people officer of McDonald's Canada, said in a promo video for the event.
"It's a fantastic opportunity especially for young people, and at the same time we're positively benefiting the overall economy by hiring thousands of new employees."
National Hiring Day is an annual one-day hiring spree held at McDonald's locations across the country where job-seekers are invited to apply in person or online for one of the thousands of available positions (6,000 crew and 100 managers).
The move will see a nearly eight percent increase in the company's total Canadian staffing levels, which are currently at around 77,000. Since 2011, McDonald's has hired close to 10,000 people across the country through the one-day event.
Describing itself as "one of Canada's largest employers of youth," McDonald's is also targeting young people searching for their first job. Approximately 65 percent of the fast food company's crew, including those hired on National Hiring Days, are between 15 and 24 years old.
Teenagers make up the largest employee demographic, representing approximately 42 percent of the company workforce.
But people applying for their first job at McDonald's should also consider it a lifelong career option, says McDonald's Canada president and CEO John Betts—who himself started as a crew member 40 years ago.
"I know firsthand what it's like to start your first job working in the kitchen at McDonald's. That's how I got my start. It's where I learned about teamwork and the importance of listening to customers' needs," said Betts.
Betts said he often shares his story of how he rose in the ranks "because I want young people to know they can find real opportunities to learn, grow, and develop at McDonald's."
"I take great pride in the fact that this company offers young people their first job opportunity. We set them up on the path to success whether they stay with us for a year or, like me, an entire career."
Ninety percent of the company's managers and 50 percent of its franchisees began as entry-level crew members. More than 65 percent of corporate staff began as crew members.
"Just like our president, I also began as crew at McDonald's and can personally attest to the fact that we are fully committed to hiring young people and nurturing their success in life and in our organization," said Jillard.
"Whether the [employees] are with us for two years or their whole career, we want their experience at McDonald's to be such that they look at it and say, 'That's the best job I ever had.'"
According to Statistics Canada, unemployment among youths aged 15 to 24 is nearly double (14.2 percent) that of the national average (7.2 percent).
McDonald's Restaurants of Canada Ltd. and its Canadian franchisees own and operate more than 1,400 restaurants and employ more than 80,000 Canadians coast to coast. Approximately 80 percent of McDonald's Canadian restaurants are locally owned and operated by independent entrepreneurs.