In a joint statement, Senate Majority Leader Mitch McConnell (R-Ky.) and House Speaker Nancy Pelosi (D-Calif.) said they "respectfully decline" the Trump administration's offer to provide Congress with rapid COVID-19 testing.
"Congress is grateful for the Administration's generous offer to deploy rapid COVID-19 testing capabilities to Capitol Hill, but we respectfully decline the offer at this time," the two lawmakers said in a rare joint communique, as cited by Politico. "Our country's testing capacities are continuing to scale up nationwide and Congress wants to keep directing resources to the front-line facilities where they can do the most good the most quickly."
The two political leaders added that they would continue to rely on current testing methods until the faster tests become more widespread.
"Consistent with CDC guidelines, Congress will use the current testing protocols that the Office of the Attending Physician has put in place until these speedier technologies become more widely available," Pelosi and McConnell's statement said, according to the Washington Post.
The Trump administration offered to supply rapid tests to Senate lawmakers as they're set to return on May 4 to Capitol Hill from an extended recess due to the outbreak. This came after the Capitol's attending physician, Dr. Brian P. Monahan, told Republican lawmakers there was only limited testing available to senators returning to work in Washington, according to multiple reports.
President Donald Trump said in a tweet May 2 that there was "tremendous" testing capacity for senators, specifying that a rapid test developed by Abbott Laboratories would be made available to lawmakers on Capitol Hill.
Department of Health and Human Services Secretary Alex Azar said in a tweet of his own that the administration would supply tests and three rapid-result testing machines.
"Good news: as the Senate reconvenes to do important work for the American people during this public health crisis, we have now received an initial request and are sending three Abbott point of care testing machines and 1,000 tests for their use," Azar said in a tweet late on May 1.
The Abbott ID NOW COVID-19 test that both Trump and Azar referred to was granted emergency use authorization by the Food and Drug Administration (FDA) in late March. It runs on a portable device the size of a toaster and the company says the process can deliver "positive results in as little as five minutes and negative results in 13 minutes."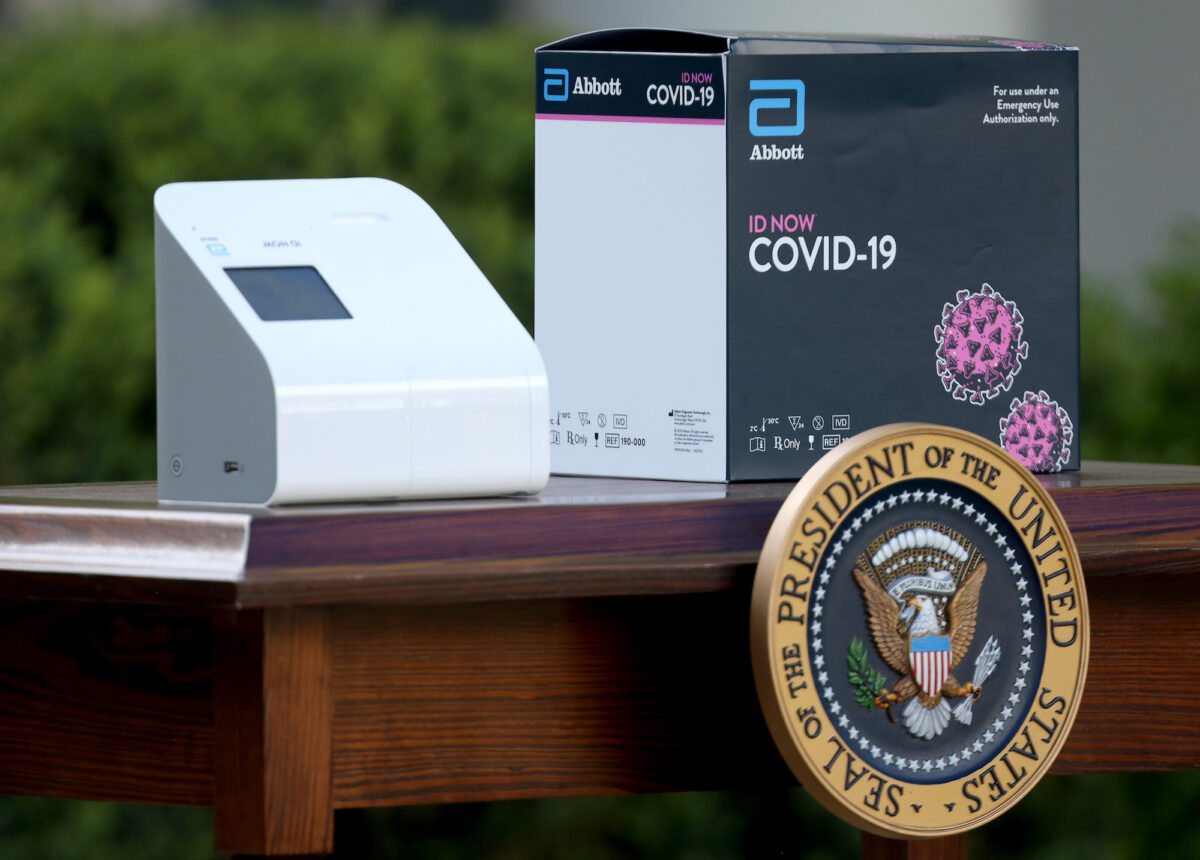 In his tweet, Trump also suggested there were enough tests to accommodate members of the House. He said House members should, like senators, return to work, suggesting they were being unnecessarily blocked by Pelosi.
The House was initially due to return on May 4, the same as the Senate, but Pelosi and House Majority Leader Steny Hoyer (D-Md.) decided to halt those plans after consulting with Monahan, according to Politico.
Monahan, in guidance issued on May 1,  recommended precautions for senators and staff, including avoiding gatherings and modifying office layouts to allow for social distancing.
McConnell, in a statement about Monahan's guidelines, said he would "strongly urge" his fellow lawmakers to follow the new rules.
"I look forward to seeing my colleagues on Monday," McConnell said, adding, "We will continue to stand together for the American people—even as we stand six feet apart."