DAYTONA BEACH, Fla.—Mazda factory driver Tristan Nunez is about to embark on his fourth season a Mazda factory driver, driving one of the fastest cars in the fastest class of the fastest sports car series in North America. This would be an accomplishment for any driver, and is fairly phenomenal for a driver who just turned 21.
For Nunez, it is part of the plan, a plan which started in 2009 when he won his first karting championship and progressed through 2013, when he started driving in North America's top-tier sports car series, scoring six class wins , to earning a seat in the then-new Mazda Prototype in 2014—at age 18.
Tristan Nunez drives the #55 Mazda Motorsports RT24-P in the IMSA WeatherTech Sports car Championship, the premier North American sports car racing series. he has been part of the series since its inception, and drove in both its predecessor series before that.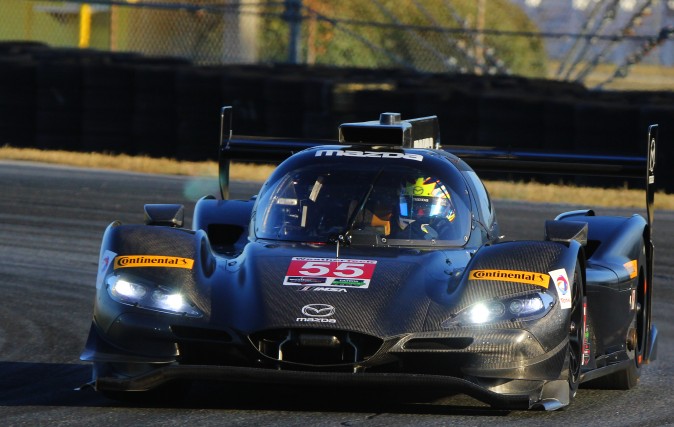 From his first season in karting he showed great promise, and once he started winning, he never stopped.
After a steady stream of race wins and championship victories, the young Floridian had to readjust when he joined Mazda—the car was highly experimental and not terribly reliable.
For two years Mazda struggled to create the series' first and online racing diesel engine; then when it switched to a more conventional gasoline engine in 2016, it faced competition which had been honing their own engines and chassis for a few years, while the Mazda had a five-year-old chassis designed for a different series, and another brand-new motor to develop.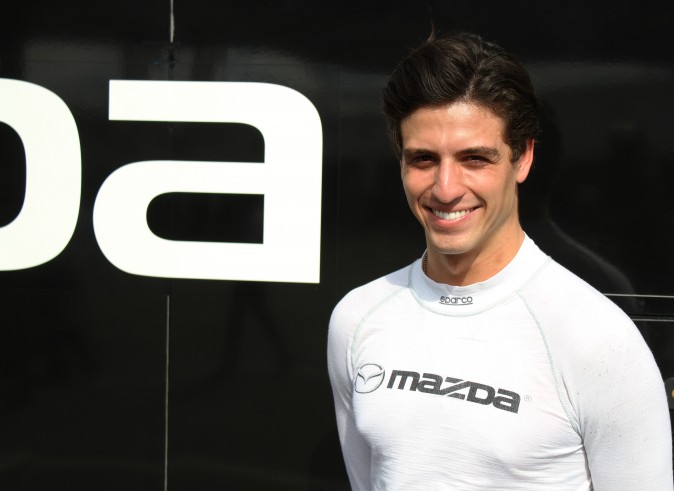 Nunez never got discouraged—and when the new motor in the old chassis showed some promise, he proved that he hadn't lost any quickness, winning two poles, a podium, and a fastest lap.
This year, everything is completely different.
New regulations guarantee that every team will be starting fresh with a new chassis. For the first time, Tristan Nunez has a tool—the Mazda RT24-P—on par with the competition. His performances at the Roar Before the Rolex 24 show that he is ready to use his new tool.
Tristan took some time during the Roar before the 24 to talk a little about the 2016 season and his hopes for 2017.

Highs and Lows of 2016
Nunez and co-driver John Bomarito scored three poles in 2016, and ran up front in many races. Their car had pace, but lacked a little in reliability—which is why they ended the season without any wins. Despite that disappointment, Nunez saw the season as a whole as positive.
"I'm not going to say it was bad because that was the first time in my career I was racing in the prototype class and I got pole position and I ran in front—it was one of those things, a dream-come-true moment," Tristan said of the 2016 season. "It would have been nice to get a win, but to have that [success] already was one of those things was really special to me.
"I am sure it was an emotional roller coaster for the crew as well. They want the win just as bad as us [the drivers.] It's one of those things where we've just got to keep working and learning for our mistakes and try different parts in the different cars to make them faster and more reliable, and in the end, one day we'll get the win. It's just a matter of keeping our heads down and not getting down on ourselves, keep the team spirit up—just keep working.
The guys gave us a great car. It was really just putting all the pieces together and hoping luck would fall our way for the race. There's no question we did everything we could in every race.
"We really want to go out there and win and do it for the brand, do it for the guys in Japan as well.
"I just want success for my whole team. I want to see the guys have the feeling of success, having the overall victory, and really just sharing that moment with them—that's what's special to me."

Sweeping the front row at Mazda Laguna Seca was Tristan's high point of the season. "It's our home track,. There's a great fan base there, which wanted to see the Mazdas be on pole and we did it, we actually swept the front row, we got 1–2,. I don't think that could have gone any better that was definitely the standout of the season."
"You know, I'm living my dream here. I wake up every morning still pinching myself, it feel like it was just yesterday that I was racing IMSA Lites and now I'm on the factory Mazda Prototype team. I can't help but be happy when I'm around the track regardless of what happens …. Personally, I just love what I do—I love coming to the track and doing what I do."
The highs and lows of 2016 reinforced in Tristan the knowledge that day-by-day is the only way to proceed. "I pretty much just took it one step at a time, race by race.
"That's pretty much all you can do in racing—it's so unpredictable. You can prepare as much as you want, put as much money into the sport as possible, and you still can't predict what's going to happen during a race weekend. It's really just going session by session, taking it as it is.
"You just have to take each day as it is. Realize you're living the dream, you have one of the best jobs in the world. Just enjoy the moments—enjoy the pole positions, enjoy leading the race, even if that's just for a couple laps. Enjoy those little things, and when the hard things do come, you have a whole team of guys that are there behind your back ready to take a bullet for you."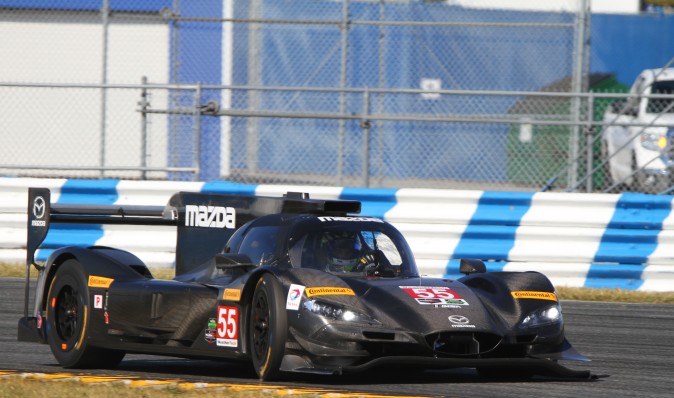 Team Spirit
The theme of team unity, the Mazda family, comes up repeatedly in conversation with Tristan.
Naturally any good driver must also be able to handle media, and praising the brand is de rigueur. Still when speaking with Nunez, one cannot help but feel that he really is excited about the team and the brand.
"It's nice knowing that we have that kind of team spirit," he said. "You really just feel it the Mazda family, within the team.
"I don't think any other teams would take the season, the couple seasons we've had, like this. I'm really blessed to be part of such an amazing group of guys."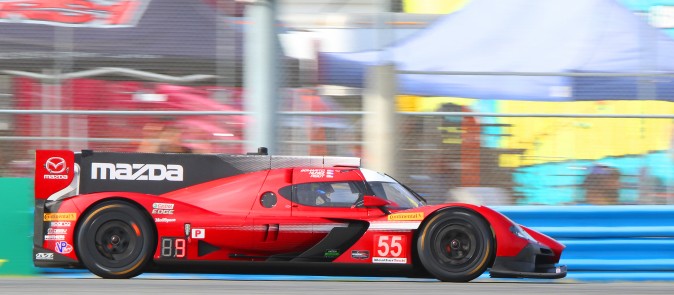 Given his age and his history, it is understandable that Tristan would have this sort of 'college spirit" towards Mazda.
Tristan started driving Mazda-powered cars at the age of 15, was driving the diesel-powered Mazda6 in the Rolex Series GX-class at age 17, and was signed as a factory Prototype driver—the pinnacle of North American sports car achievement—at age 18. Mazda Motorsport director John Doonan recognized Nunez's potential early and gave the young driver opportunities many drivers never have.
Further, the Mazda Motorsports team has been through ups and downs which could tear a team apart, but in this case seems to have tempered the team, forged it to a greater strength.
Doonan was wise enough to keep the team together even when it couldn't show results. Instead of trying to find drivers who could win, Doonan and Mazda invested more money and effort into developing the car, keeping faith with the drivers and crew. Now that the team is finally finding success, that closeness, that journey together through the fire, makes every moment sweeter, and buffers every setback.
Possibly this is in part due to Mazda's Japanese roots. In Japan, loyalty is traditionally one of the strongest and most important virtues, and devoting oneself to one's team is considered the only honorable course. Maybe it is just a quirk of the personalities that make up the team. Maybe it is a reflection of the spirit of John Doonan.
Whatever it is, it seems that beneath the necessary "corporate-speak," Tristan really does appreciate what Mazda has offered him, and really does care for his team mates. There seems to be nothing cynical or calculated in his responses. It seems he really feels the passions he claims to feel.
New Start in 2017
The new IMSA regulations ensure that every team starts with a brand-new chassis for 2017. moreover, auto manufacturers—like Mazda, Cadillac, or Nissan—have the option of adopting a new chassis and their own specifications.
Teams can choose to run an FIA-approved LMP2 with the FIA-approved 4.2-liter V8 Gibson racing engine, or can add their own bodywork and engine to such a chassis to make it their own.
"It's going to be incredible to see," Tristan said. "This is truly the battle of the manufacturers now more than anything before. I am really excited."
The new rules ensure that every team has comparable equipment—unlike the past three years where there were two distinct and unrelated chassis types in the top class, and balancing the two was a nightmare.
Mazda has created what many think is one of the most beautiful cars in recent years, with rounded, flowing bodywork much different than the computer-created, machine-language forms used by most modern designers.
"I think the new formula is going to be great, Tristan said. "It really gives the manufacturers a chance to make the car their own—especially our Mazda RT24-P.
Not that the rest of the field is ugly—after three years of cars which were covered with tacked-on bits and oddities designed to make aging chassis perform better than they were designed to, finally teams can take modern chassis and design the entire package to work properly, giving rise to integrated designs.
The Cadillacs show the same sharp edges and folded-paper shapes that its road cars exhibit. The Nissan has a gaping maw reminiscent of the GTR road car. The new Mazda however, was designed to look good as well as be aerodynamically efficient, using the same design principles, the so -called KODO system, used on its street cars. (Mazda describes KODO as "A fusion of functionality and beauty …. capturing the muscular vigour you see when an animal pounces." Okay.)
Tristan continued: "Our Mazda RT24-P shows the Kodo design language that we've been working on closely with Japan.
"We've actually worked hand-in-hand with the Japanese designers to come up with the design for the car. It's really cool to see art and engineering come together in one I think you really see that with our car."
In an era where computer simulations of airflow decide the shapes of race cars, it is indeed both rare and very welcome to see a car which was penned with an eye for beauty as well as performance. And the new car does perform, scoring highest top speed and second-quickest lap at the Roar Before the Rolex 24.
Tristan's New Ride
Mazda's latest prototype, the RT24-P, is based on a chassis from Riley/Multimatic, with Mazda bodywork and Mazda's turbocharged, four cylinder, two-liter MZ-2.0T, producing around 600 bhp.
While the engine is basically the same as that used in 2016, the rest of the car is one hundred percent new.
Mazda's old prototype was based on a 2012 Lola B12/80 chassis, which itself was an update of a basic design going back a few years. The limitations imposed by the old chassis were not such that Tristan and co-driver Jonathan Bomarito could not capture poles and a podium finish, but it took some effort.
The new car was designed as a unit, using everything designers have learned in the last five years. The result is a car Tristan described as "more efficient," with the aero and mechanical grip better balanced so that everything worked together—"you can really feel that when you are driving the new car," he explained.
"The Lola was a fairly old chassis. Compared to the cars we were running against we did have a fairly old car. Now you can see the differences of what makes a new car, a new car."
Tristan explained that the aerodynamic forces and the suspension were now better balanced. Modern sports cars can develop a couple of tons of downforce—downward pressure caused by the air flowing over the car's body—while the cars themselves weigh less than a ton. The suspension has to cope with the weight of the car, and an extra two tons of weight at top speed.
The RT24-P was designed in collaboration between Mazda and the engineers at Riley/Multimatic so the new car works as a unit, unlike to old car in which center of gravity and amount of downforce changed significantly from when it was designed to when it was retired.
Driving the new car would be as demanding as driving the old car, but in different ways, according to Tristan. "This car is going to be a lot more physical to drive—a lot more down force bigger power—so definitely I've got to prepare myself personally and physically and mentally to be able to go out there and get the job done."
Japan
As a Mazda factory driver, Tristan was invited to participate in Mazda annual FanFest, a multi-day event which invites the marque's supporters to the Okayama International Circuit in Mimasaka, Okayama Prefecture, Japan, Dec. 3–4, 2016. While in Japan, Tristan got to visit Mazda headquarters in Hiroshima, and at the fan Fest demonstrated the 2016 prototype, sharing the track with the legendary 1991 Le Mans-winning 787-B.
"Japan was one of The most incredible experiences I ever had," Truistan exclaimed with undisguised enthusiasm. "That was the first time I really traveled somewhere where the culture was so vastly different and been immersed in that culture.
"We were right in Hiroshima which is where the factory was The culture is way different there than it is in Tokyo, I think Tokyo has a lot more English-speaking there, so … at Hiroshima, the culture … I just got so immersed in it.
"Being able to visit the factory and see where the heart and spirit, Mazda's "Never Stop Challenging" spirit comes from, it really just gave me goose bumps—it's giving me goose bumps now.
"Being able to be at the Mazda Fan Fest, driving our last year's prototype car on the same track with the 787B which won Le Mans, it was just a dream come true.
"That was the first time I saw the 787B in person, and being able to hear it and see it for the first time was really incredible. Just seeing the amount of hard core Mazda fans that came out to that event really just so much more inspiring … It gave me a lot more passion for the brand—I didn't think I could have more passion for the brand before going over there. Coming back I am completely sold on Mazda.
"It was just an incredible experience. I'd love to go back again soon."
Ending Distracted Driving
For almost as long as he has been driving, Tristan has campaigned for his non-profit Dnt txt n drV Foundation, which is dedicated to ending distracted driving. 
Tristan took up the cause when, at age 15, he saw his mother nearly hit another car several times while texting and driving. He realized that someone needed to point out how dangerous distracted driving could be.
As soon as Tristan had sufficient public status that teens would listen to him, he has been addressing his peers in high schools and at special events, spreading the word that car crashes are the top killer of teenagers in America, and texting while driving increases accident risk by a factor of 23.
Despite being increasingly busy as his career accelerates, Tristan still takes time to spread his message.
"We are still pushing hard with the DntTxtnDrv foundation, trying to raise as much money for schools and students which are also advocates of the cause," Tristan explained. "One thing that I've been seeing throughout the years is that it takes its going to take a team to end distracted driving.
Though no longer a teen himself, Tristan remains any effective spokesman because of his career and because of his passion. By reaching out to teens he can transform them into evangelists for the cause, telling other teens to drive safely when Tristan cannot tell them himself.
"I do see a future of our roadways having no crashes but it's going to take teenagers to really be the voice and making it happen. If the younger generation doesn't want to make a change, change is not going to happen. That's really what it comes down to.
"I am doing everything I can … to get students on board with wanting to make the roadway safer, giving them a real perspective that it's not just a game—people are actually dying. Your peers are actually getting killed in car crashes because of something so silly."
Shape of Things to Come
Not many 21-year-olds have their lives planned out as clearly as Tristan Nunez does. "I am ready to be a long-term Mazda driver—if they want me," is how he describes his ideal future.
Since he started driving, Tristan has wanted to be a sports car endurance racer. Ultimately he wants to race at Le Mans—a desire Mazda shares.
His plan for the near future is pretty simple. "I am pretty committed to this program and only this program for now. I'll do some coaching for racing schools here and there but the main focus in the program getting myself ready, training hard."
He couldn't have a better partner than Mazda Motorsports, which operates the most extensive driver development programs for both sports cars and open-wheel racers. The Mazda Road to 24 (#MRT24) and Mazda Road to Indy (#MRTI) programs offer scholarships to talented young drivers starting from the lowest levels. The company boasts that more Mazdas race on any given weekend than any other make.
Mazda has shown its commitment to its IMSA prototype program, funding it through its lean years and persevering until it found success.
Mazda seems willing to take Tristan exactly where he wants to go—and Tristan is certainly ready to take the ride.
The Rolex
Tristan's next big adventure will be the 2017 Rolex 24 at Daytona—one of the nation's most important endurance races. He has raced in the Rolex four times before, with one 13th-place finish and three DNFs.
In two of those races he was driving a brand-new car in its maiden race. In the other two he was driving outdated machinery, but also testing new configurations and in one case testing a brand-new engine.
This year is the first when Tristan has a fast car with a reasonably reliable engine—yes, it is a brand-new chassis and a modification of last year's motor, but every one of his competitors is in a similar situation.
2017 offers Tristan his best chance ever to win this prestigious race.
The IMSA WeatherTech SportsCar Championship 2017 Rolex 24 at Daytona takes the green flag at 2:30 p.m. Saturday, Jan. 28. Tickets can be bought at the gate, online through the Daytona International Speedway website, and by phone at 1-800-PITSHOP.