Mayor's First Budget Focuses on Housing, Education
May 8, 2014 8:10 pm Last Updated: May 8, 2014 8:12 pm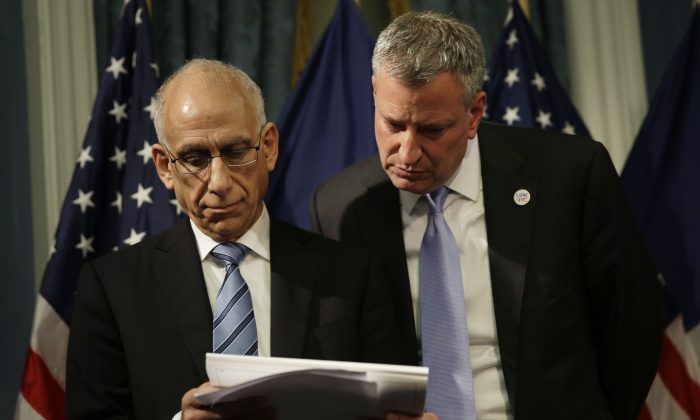 NEW YORK—Mayor Bill de Blasio unveiled a $73.9 billion budget proposal for New York City on Thursday, detailing major spending on education, affordable housing, and municipal labor.
The expenditures in the mayor's first budget reflect de Blasio's vision of a progressive government, which commits significant resources for an array of services meant to bridge the gap between the rich and the poor. De Blasio said that "there is nothing unprogressive about being fiscally prudent." He also acknowledged the fiscal risks facing the administration.
Education
The budget includes $300 million for universal prekindergarten, and $145 million for after-school programs. The document no longer expects revenue de Blasio hoped to secure through his signature plan to levy a tax on the rich city residents. That tax was not approved in Albany, but the city received $300 million to fund pre-K in the state budget.
Housing
The mayor's plan includes funding for a significant expansion of affordable housing—$41 billion in capital investment over the course of 10 years. The mayor's office estimates the plan will create some 200,000 construction jobs.
Union Contracts
The budget estimates that unsettled contracts with the 151 municipal unions will reflect the agreement the administration recently reached with the teachers union. The budget now reflects a pattern of a 10 percent increase for the city's other unions over seven years.
Some unions have demanded a bigger raise than the one received by the teachers. De Blasio said that "I'm not a wiggle-room kind of guy," but added that there are many items on the table as negotiations continue.
The budget is now pending approval from the City Council, which has walked lockstep with the mayor since his first days in office.
Vision Zero Funding
De Blasio's commitment to reduce traffic fatalities in the city to zero, otherwise known as Vision Zero, is funded with $42.9 million with most of the money going to the Department of Transportation for speed cameras, slow zones, and intersection redesigns. The police department will receive $13 million for additional traffic enforcement.
The city also committed $49 million to increase the road resurfacing investment. The city estimates that it will resurface 1,000 lane miles in 2015.
The mayor's budget also commits to reduce revenue from fines by 8 percent from $859 million in fiscal year 2012 to $789 million in fiscal year 2015. De Blasio spoke out against excessive fines during his tenure as a public advocate.
Risks
Despite a positive economic outlook, the mayor outlined a range of risks. The biggest uncertainty—unsettled contracts with the city's labor unions—was addressed by building in raises for workers based on the settlement with the teachers union.
But the city still faces uncertainty when it comes to federal funding, including unmet needs for Sandy recovery and continuing sequestration of federal funds.
"This is a cautious document on purpose," de Blasio said. "We know we have to take a careful stance to protect against future disruptions."