VILLAGE OF HEMPSTEAD, N.Y.—When Wayne J. Hall Sr. became mayor in 2005, the village of Hempstead, situated in the town of Hempstead on Long Island, had a $6.5 million deficit, village bonds rated barely above "junk" status, and a 12-year rise in violent crime.
In an unusual move, he did not attack his four-term predecessor, James Garner (1989–2005). Instead, he took what some locals welcomed as a "buck stops here" philosophy of leadership.
"Not attacking my predecessor left both some Republicans and Democrats scratching their heads," Hall said. "But I fully understood that the people of Hempstead did not elect me to blame the problems we faced on someone else, but rather to develop policies to solve them."
Hall, 69, a Democrat and the son of Jamaican immigrants, said he maintained respect for Garner, a Republican, and the fact Garner was the first African American to serve as mayor in any municipality in Long Island.
"His election in 1989 served as an important milestone for the entire black community," Hall said.
Hall faced off against Garner in 2009 and 2013 mayoral elections, and Hall won both times.
"The campaign for both of us was based solely on the issues and was never reduced to personal attacks. Which is why we were able later to become friends."
Hall has presided over a steady drop in crime and turned the deficit into an over $9 million surplus.
To fight crime, Hall had police expand community policing and upgrade data systems to help them focus on high-crime areas. He cracked down on restaurants and liquor stores selling booze past the regulated 4 a.m. closing time, a move that was considered controversial at the time.
"While most followed the regulations regarding 4 a.m. closing times, some did not.
"So," Hall continued, "we enforced the regulations and shut those establishments down."
Hall took heat from some for shutting down tax-paying businesses where visitors came to spend money.
"To me, it was a matter of common sense," Hall said. "The bars, by not adhering to state and village regulations, were inviting trouble, resulting in street fights, public urination, loud noise past the early morning, and causing damage to both public and private property, so I used the legal system to, so to say, invite them to leave the village."
He also took a common sense approach to solving the debt crisis.
"You cannot spend money you do not have," he said. "So we initiated a stringent streamlining process by which discretionary spending was cut wherever possible."
The village also got deficit-spending legislation that gave it borrowing power to pay off much of the debt.
Those common sense approaches have translated into a 14 percent drop in violent crime in 2015 and the $9 million budget surplus. The village's bonds recently gained an AA-rating from credit evaluating agency Standard and Poor's.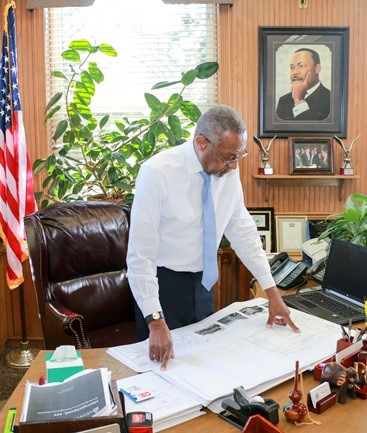 Not one to rest on his laurels, Hall has two new projects in the works.
The first is a pilot public safety program that will sync 70 recently purchased, state-of-the-art cameras with what is referred to in law enforcement as the ShotSpotter system (SSP). Upon recording the sound of gunfire, SSP is programmed to instantly direct the cameras to the exact place where the shooting occurred.
The photos help police catch offenders and also deter crime.
"Those who might have otherwise considered using firearms in our village will be far less likely to do so, because they are now aware that they will be identified and arrested," said Hall.
The second project is a massive redevelopment that many in Nassau County hope will deliver a major economic windfall to the village.
Hempstead has partnered with Renaissance Downtowns/Urban America (RDUA) and RXR Realty LLC in a $2.5 billion public-private enterprise to build thousands of mixed-income housing units and hundreds of stores to house locally owned private businesses in the downtown commercial area of the village.
The project also includes upgrades to the sewer and water systems for the entire village.
Hall said the project will create around 12,000 construction jobs over its 10 years and 8,000 permanent employment positions afterward, generating $10 million in tax revenue for the village.
"This is a win-win situation for the entire village," Hall said. "It will improve the lives of all of our citizens. I feel blessed to be a part of it."
Actually, Hall should feel especially blessed to be where he is today. Diagnosed with a rare kidney disease at age 26, Hall was given five years to live.
He had just served four years in the U.S. Army and had begun his pre-med studies at the New York City College of Technology. But he didn't give up. He married his college sweetheart, fathered two sons with her, and graduated with a bachelor's degree in biology—all within the five years allotted to him.
The rest of his life turned out to be something of a miracle.
"I am a Christian. I went to church every Sunday to pray for a miracle. I believe, however, that for miracles to come true people must do whatever is in their power to help themselves," he said.
Hall gave up becoming a doctor and used his biology degree to work as a technologist in a blood lab. He went on a strict diet that included no salt; jogged regularly, running dozens of half-marathons and one marathon; worked with his doctors to find new, approved drugs; and used his lab to monitor his plan. It worked. 
In fact, it worked so well that up until four and a half years ago, Hall did not need dialysis. He now goes to a dialysis center three days a week to have his blood filtered, but he doesn't let it bother him.
"You will hear no complaints coming from me because I feel blessed to be alive … blessed that I have the entire rest of the day to do my job."
Robert Golomb is a nationally and internationally published columnist. Email him at [email protected] and follow him on Twitter @RobertGolomb