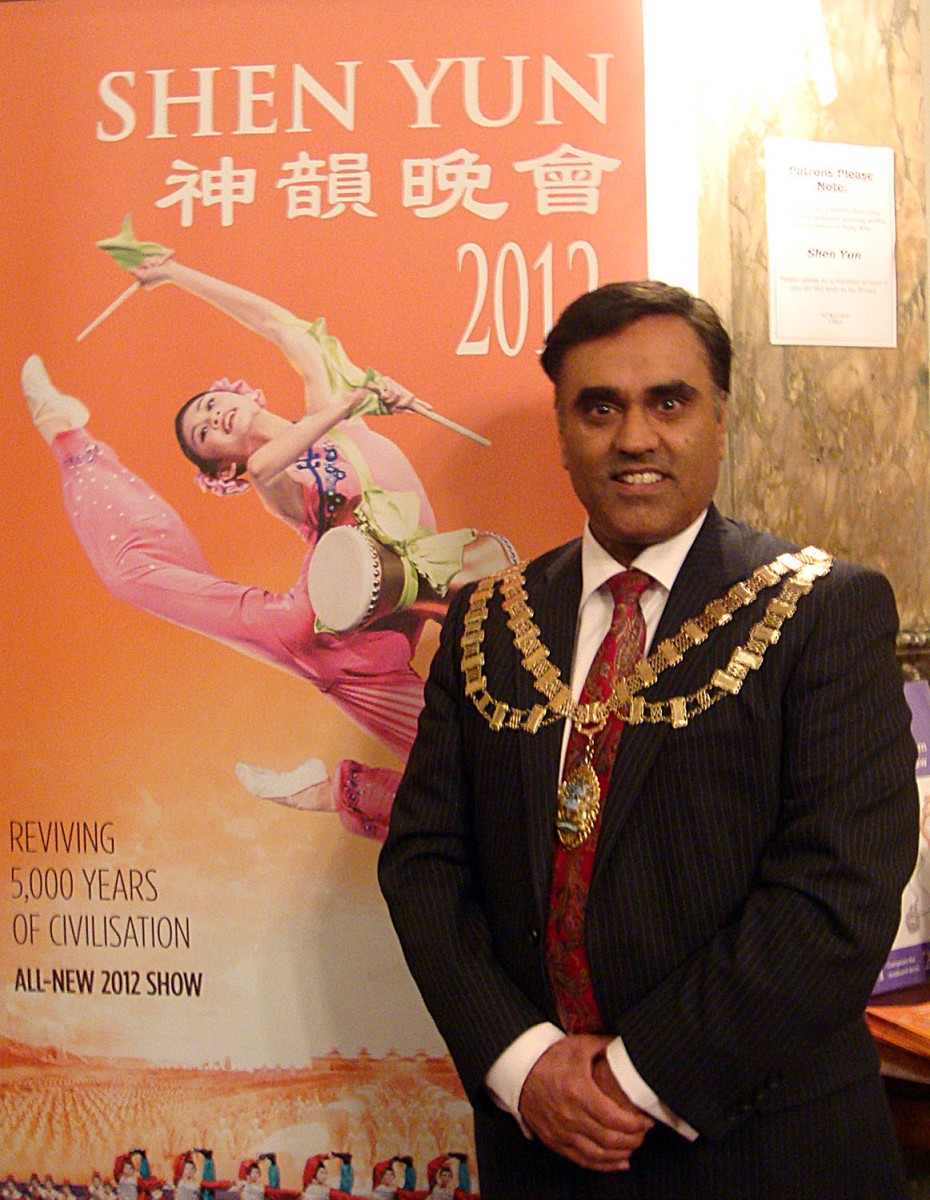 LONDON—Councillor Amritpal Singh Mann, mayor of the London Borough of Hounslow, was moved by the rich colours and traditions presented by Shen Yun Performing Arts International Company during its second performance at the London Coliseum on April 13.
"It's a must-see. Everybody must come and see this, it's fantastic!" Mr. Mann said.
New York-based Shen Yun Performing Arts' stated mission is, according to the company's website, to revive "5,000 years of divinely inspired Chinese culture".
Mr. Mann felt more informed about Chinese culture. He said, "I think the Chinese culture is very important and is very colourful."
Talking of the stories in the dances and the songs which appeal directly to the people in the audience, he said, "The expression of freedom is very important, and that touched my heart profoundly.
"Everybody has got to have a certain degree of freedom in order to express themselves, and I think that's also very important because culture comes about as a part of expression."
This ties in with the comments of audience members throughout Shen Yun's many performances in over a 100 cities over the last six years. Many who have seen the performances mention the dances that tell stories of individual courage during the persecution of Falun Gong in present-day China.
"When you are culturally allowed to express your opinions," Mr. Mann said, "it adds to the flavour of the overall culture, and it's very, very important. If you suppress, then sometimes you don't get the culture growing further and doing a lot more good things and a lot more colourful things. It makes us richer to have different opinions."
Shen Yun's programme book draws attention to values such as compassion and loyalty, kindness and bravery, which, it says, lie at the heart of Chinese tradition. 
"We believe this rich heritage is a precious gift worth keeping," the book says and invites people to "enter a magical world where the good and the righteous always prevail, and where beauty and purity have never been lost".
These sentiments were echoed by Mr Mann: "Chinese culture is very important and is very colourful … it's very rich, rich in colour, rich in tradition. I thought [Shen Yun] was fantastic; I'll come again, any time."
Reporting by Xue Li and Damian Robin
Shen Yun Performing Arts, based in New York, has three touring companies that perform simultaneously around the world, with a mission to revive traditional Chinese culture. The Sunday matinee on April 15 at the London Coliseum marks the end of Shen Yun's 2012 European Tour.
For more information visit ShenYunPerformingArts.org