San Francisco's Mayor Lee 'Incensed' by Lack of Democratic Endorsement
September 4, 2011 3:14 am Last Updated: October 1, 2015 3:45 pm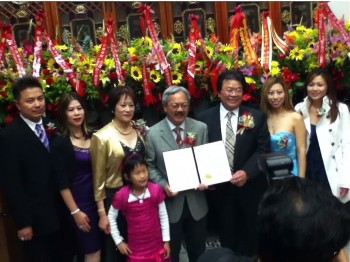 SAN FRANCISCO—At a loud and colorful ceremony held by the Chinese Consolidated Benevolent Association (CBBA) in the heart of Chinatown on Friday, interim Mayor Ed Lee railed against the Democratic County Central Committee's (DCCC's) failure to endorse a Chinese-American or Asian candidate during this year's mayoral race. Lee's speech was aimed at Aaron Peskin, former president of the Board of Supervisors and head of the DCCC, who has charged that Lee's candidacy is in the service of Chinatown powerbroker Rose Pak.
"Even though our Chinese-American population is growing so powerfully in this city, and even though we have a Chinese-American board president and an interim mayor, there are still some political associations that don't think that we deserve their attention," Lee said near the beginning of his short speech during the CCBA ceremony.
"And they call themselves 'democratic,'" he continued.
He counseled the need for "a lot of work" in community representation to prevent "those individuals" from denying Chinese-Americans and Asian-Americans recognition for their leadership of the city.
The remarks were made at a meeting of one of the most powerful Chinese community organizations in the city, which was celebrating—with lions, dragons, drums, and endless photo-ops and speeches in Cantonese—the sixth-term appointment of President Roger Louie.
Lee's speech did not specify the political party or individuals in question, but in an interview with The Epoch Times as he exited the building, Lee clarified that he was talking about the San Francisco DCCC and its leader, Peskin.
Peskin, a former president of the Board of Supervisors and head of the DCCC since 2008, recently made a stir in San Francisco when he alleged that Lee was doing the bidding of Chinatown éminence grise Rose Pak. He further said that Pak was serving the interests in San Francisco of the Chinese regime.
Peskin's remarks were published in The Epoch Times, but many San Franciscans may have missed the chance to read them. Hundreds of copies of that edition mysteriously disappeared from 19 boxes overnight.
Three days later, a bitter attack against Peskin appeared in the Communist-aligned Sing Tao Daily. Peskin was called a racist by Rose Pak, while a member of Lee's campaign staff was quoted as calling him a "red-baiter" and the Joseph McCarthy of San Francisco.
At the event on Friday Lee stopped short of saying that Peskin failed to endorse any Asian or Chinese candidates because he is racist. But he said: "Whatever his motivation is, it's just wrong. It's wrong to ignore a whole community in San Francisco. That's not right."
Lee continued, speaking on behalf of other Asian-American candidates who were not endorsed by the DCCC: "We're very incensed about being left out. That's what, I think, we've always fought against: being left out. And he's decided that that wasn't important enough and I think that's wrong."
In an emailed response to The Epoch Times, Peskin wrote: "We understand that Mr. Lee is disappointed that he did not receive enough votes to obtain the Party's endorsement, but remain very proud of our record in endorsing qualified, ethnically diverse candidates."
Peskin noted that one quarter of the elected members of San Francisco's Democratic Party are Asian, and that during his time as chair of the San Francisco DCCC, the Party has endorsed a number of Asian candidates for various positions, including Jaynry Mak, Sandra Lee Fewer, Norman Yee, Steven Ngo, Eric Mar, David Chiu, Carmen Chu, Emily Murase, Lawrence Wong, Phil Ting, and Jeff Adachi.
The Epoch Times publishes in 35 countries and in 21 languages. Subscribe to our e-newsletter.