The mayor of a city in southern Russia has banned circuses, saying they exploit animals.
"Circuses are the cruelest form of animal exploitation, where they are kept in abnormal conditions. No spectacle that uses any type of animals will ever be allowed in Magas," said Beslan Tsechoyev, the mayor of Magas, according to the BBC.
Tsechoyev canceled a top circus performance scheduled to happen in his city's central Alania Square on May 6. The news was quickly picked up by the mainstream media in Russia as circuses are popular and have a long history in the country.
Circuses are considered art as rich as the ballet or opera in Russia. When the communist regime collapsed in the 1960s, there were 50 traveling circus companies and about 50 buildings dedicated to it, according to Euro Channel.
Tsechoyev was careful in explaining why he canceled the circus performance and said there's a difference between "acrobatic displays conducted in the animals' natural habitat" and training to perform tricks in the circus. He said the circus training is "turning them [animals] into prisoners."
The mayor said a person can enjoy killing and exploiting animals and feel powerful but it is not ethical.
"The circus is the cruelest form of animal exploitation, where they are deprived of all normal conditions. Moreover, when we bring our children to the circus, we show the very attitude that is strictly forbidden to animals, namely cruelty and inhumanity," Tsechoyev said, according to Rossiyskaya Gazeta, a newspaper owned by the Russian government.
"In children, first of all, you need to cultivate a feeling of love, compassion, and kindness towards animals," he said.
Hutches For Squirrels
Last year Tsechoyev arranged red squirrel hutches, heated kennels for stray dogs and cats, and drinking bowls and pools for them to remain cool in summer months around the city, the TASS News Agency reported, according to the BBC.
The mayor shared a picture of the special heated houses for stray cats on his Instagram and said: "The first tenants were such cute creatures who were very comfortable and safe in the house. Animals can not take care of themselves, so taking care of them is the man's business. And our duty is to protect them."
He also didn't allow a dolphinarium in Magas.
Beluga Whale from a Russian Facility Enters Norway
A beluga whale allegedly from a Russian military facility has mysteriously appeared on the coast of Norway. While marine experts hope that it will swim away to where it came from, it has so far refused to leave.
"The last days the whale has still been observed in the same area. Hopefully, it will swim away further north in the Arctic where it belongs and join a pod of white whales," Jorgen Ree Wiig, a marine expert and an inspector for the Norwegian Directorate of Fisheries, said in a statement.
A few fishermen saw the beluga whale and sent pictures to Norway's Institute of Marine Research. These photos were shared with three inspectors sailing on board a Sea Surveillance Service patrol vessel.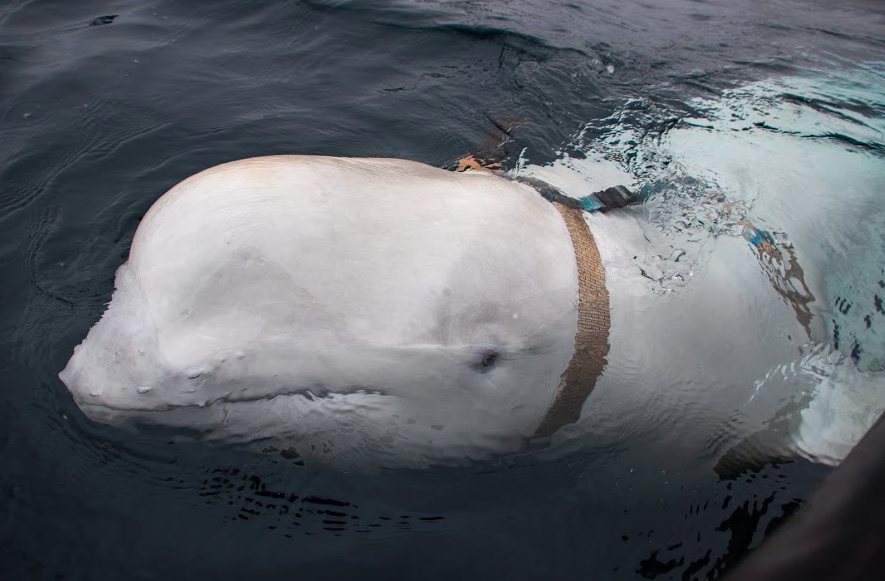 "To our surprise, we saw that the whale had a harness around his body clearly put there on purpose," said Wiig.
The team arrived with its disentangling gear and lured the whale with a cod filet. "The whale was totally habituated to humans and we could touch it," he said.
The team had to work together to free the whale from the harness.
Wiig told ABC News that it is very unlikely for the whale to have been trained by the Russian military.
"Maybe [he] was trained to recover things people lose in the sea, as he is always looking for a boat to come close to," Wiig said.
Since being freed from its harness, the whale has moved only 30 nautical miles and Wiig said that they are looking for the best solution for the young adult's survival.