Mayor de Blasio Appoints New Commissioner of Media and Entertainment in NYC
April 18, 2014 3:43 pm Last Updated: April 24, 2014 3:44 pm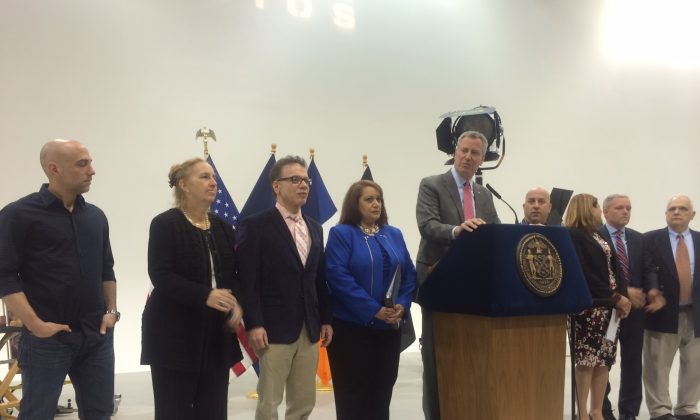 NEW YORK—After three and a half months without a commissioner, de Blasio finally appointed Cynthia López to head the Mayor's Office of Media and Entertainment on Friday.
"We needed someone with a deep appreciation of what these industries, at their best, mean for this city and can mean for the future", de Blasio said as he introduced her during a press conference at Steiner Studios in Brooklyn. "And that is why, after a long search, an exhaustive search, we have chosen Cynthia Lopéz."
Born and raised in Brooklyn, López has 20 years of experience in the media business.  Cynthia López
Previously she was the acting executive director of the Deep Dish Satellite TV Network, executive producer of Hunter College's Satellite TV Network, and the founding chair of the board of directors and a trustee of the National Association of Latino Independent Producers (NALIP). She also serves on the board of directors for Latino Public Broadcasting (LPB).
Since 2006 she has been the executive vice president and executive producer of an award winning PBS series called P.O.V. (Point of View).
"It's engaged in addressing some of the most important issues of our time—climate change and protecting the integrity of our food supply all the way over to issues of economic and social justice," described de Blasio. "This series has really grappled with core issues that need to be talked about more."
Both López's background and her Latino roots fit in with the Mayor's progressive agenda to promote diversity in city government realize his vision of a more unified New York. As he noted in his introduction, she is the first person of color to take this position.
"She's also someone who you can tell immediately has the heart and soul of an advocate for progressive change," he said.
As commissioner, López says she will work to make the movie industry work for New York and hopes that New York will work for the movie industry.
"New York is open for business, whether you are a $10 thousand production or a $100 million production, we will work extremely hard to make sure you have an excellent experience implementing your creative vision here."
And she hopes to make that vision as inclusive as possible, saying she plans to work closely with everyone from the unions, to the big wigs in Hollywood.
"People of color, Latinos, Asians, people from all walks of life, disabled, gay, lesbian etc. that are all part of the production process," she promised. "That they would have opportunities to not only be production assistants but every level of the production process."
The media and entertainment industry employ over 130,000 New Yorkers and generates an estimated $7.1 billion in economic revenue for the city yearly. More importantly, it has become "the DNA" of New York, which is why both de Blasio and López aim to attract as many productions to the city as possible, starting with the "Late Show." As Steve Colbert is set to take over for David Letterman sometime next year, López said, "We would do everything in our power to make that they stay (in New York City)."
Holly Kellum is a special correspondent in New York.