NEW YORK—Prior to the jury being seated Tuesday morning, defense attorney Laura Menninger explained to Judge Alison Nathan that overnight, at 3:30 am, the prosecution disclosed to the defense that "Jane," an alleged victim of Ghislane Maxwell and Jeffrey Epstein who testified last week, had called her brother, "Brian," who was scheduled to testify today, and gave him a heads-up on what to expect.
Additionally, Jane is purported to have said to Brian, "The defense attorney is a [expletive]," and should expect to view an application to the Interlochen Center for the Arts, which had been submitted as evidence.
Menninger requested that Brian not testify until they "find out exactly what was communicated to him by Jane before he gets on the stand."
She added, "I have not had time to research this."
Nathan stated she was concerned about the coaching of a witness and that Jane may be subject to recall and recross.
Both parties planned to discuss this again later in the day.
Once the jury was seated, direct examination of FBI agent Kimberly Meder, of the Child Exploitation and Human Trafficking Task Force, continued by prosecutor Maurene Comey, followed by cross-examination by Menninger.
The prosecution's next witness was Stephen Flatley, a digital forensic examiner for the FBI's Computer Analysis Response Team.
The day's big witness was alleged victim Carolyn.
Unlike Jane and Kate, Carolyn is using her actual given name, but not her surname.
Carolyn's story is a near repeat of Jane's and Kate's.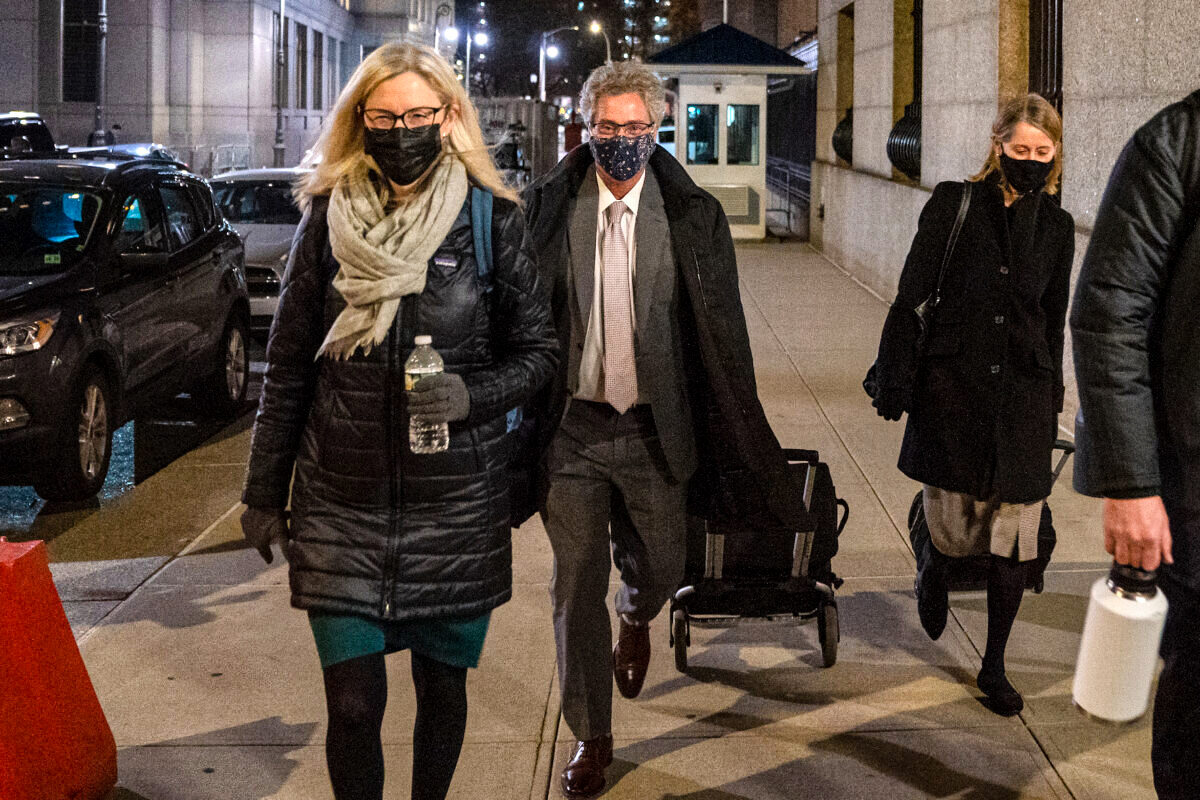 She was young (14 years old); she came from a dysfunctional family (mother, Dorothy, was an alcoholic and drug addict); and she was introduced to one of Epstein's "massage rooms" early on.
In her case, however, it was not Maxwell who initiated contact. Carolyn was introduced to Maxwell by her boyfriend Shawn and Virginia Roberts, who was already involved with Maxwell and Epstein.
Carolyn sounded nervous and spoke in nearly a whisper.
Roberts, according to Carolyn, told her she could make cash by giving Epstein massages.
"I was going to make a lot of money," she said.
Carolyn testified that at her first time at Epstein's Palm Beach estate, she and Roberts entered the kitchen and Maxwell told Roberts, "You can take her upstairs and show her what to do."
Roberts and Carolyn met Epstein in the massage room, and Roberts took off her clothes. She asked Carolyn if she'd be comfortable taking off hers.
Carolyn testified she only removed her outer garments and remained in her undergarments.
She went on to say Epstein was naked and face down on the table, but turned over, and Roberts climbed on top of him and had intercourse.
"I was sitting on the couch right in front of them," said Carolyn while crying.
Both girls were paid in $100 bills, which were left for them on the sink.
Carolyn said the "massages" continued from ages 14 through 18, two or three times per week.
She testified Maxwell set up the massage appointments with her for the first year or two. She continued because "I was young and $300 was a lot of money to me."
Carolyn admitted much of the money she made from massages went to marijuana, cocaine, and alcohol.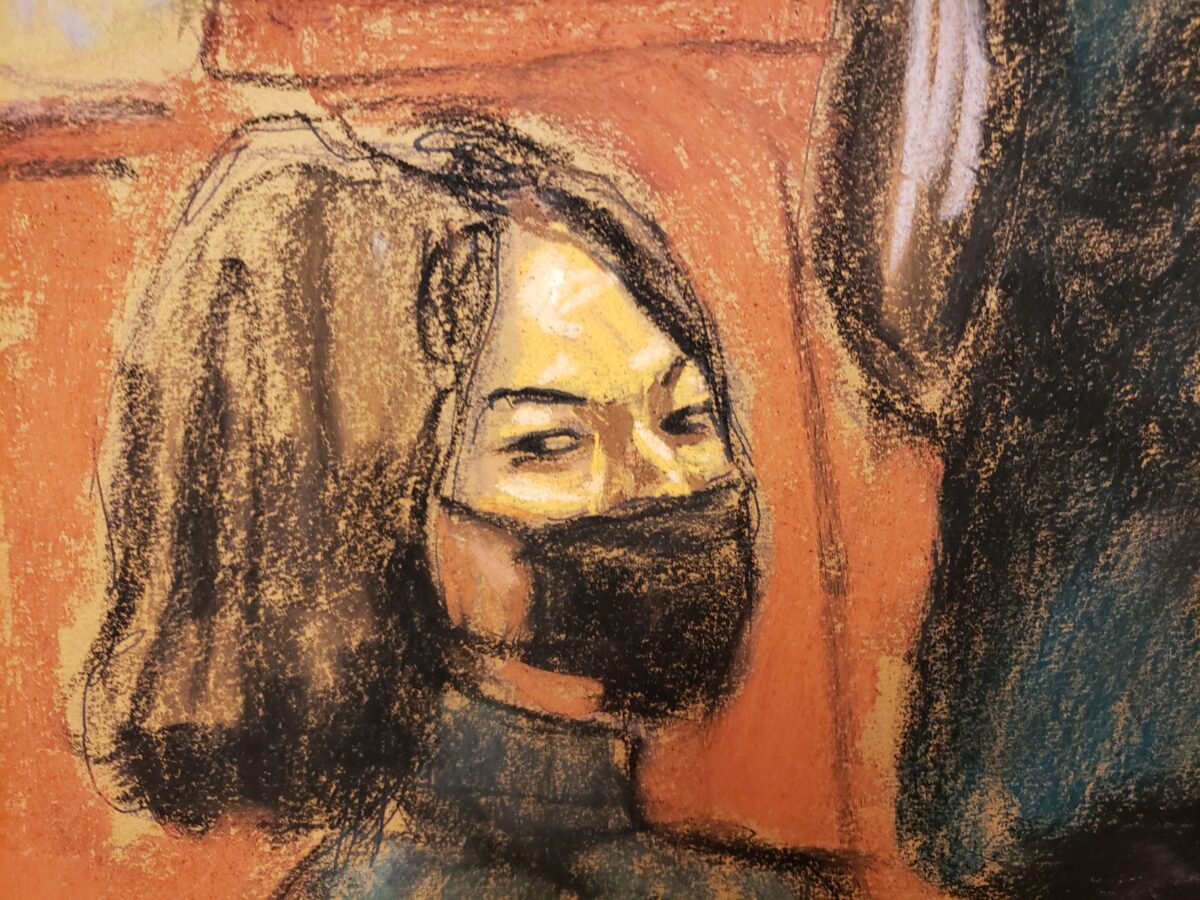 In keeping with the five stages of grooming described by psychotherapist Lisa Rocchio, an expert witness who testified last week, Maxwell spoke of sexual topics and Epstein purchased lingerie for her from Victoria's Secret.
Carolyn accused Maxwell of touching her all over.
She stated she wore her undergarments during the massages in the beginning, but eventually she was fully nude.
Carolyn claims Maxwell saw her fully nude, along with two other 14-year-old girls. She also claims another employee, Sarah Kellen, paid her $500 or $600 to pose for nude photographs.
During the massages, said Carolyn, "Sexual activity happened every single time."
Carolyn said the massages ended for her when she was 18, "because I was too old."
Carolyn spoke about the several medications she currently takes, including one for schizophrenia. She spoke about her arrests and working as an escort (where she was paid for sex) and a stripper.
She disclosed that her lawsuits against Maxwell and Epstein netted her about $250,000 and her payment from the Epstein Victims' Compensation Program netted her between $1–3 million.
Under cross examination, defense attorney Jeffrey Pagliuca used the defense's go-to method of finding inconsistencies in current testimony by comparing it to testimony given in depositions.
Pagliuca referred to an interview Carolyn gave to the FBI in 2007 and the two lawsuits against Maxwell and Epstein in 2008.
He found inconsistencies in dates and current testimony that was omitted from the prior depositions.
"Some of the things I didn't mention because I was embarrassed," said Carolyn.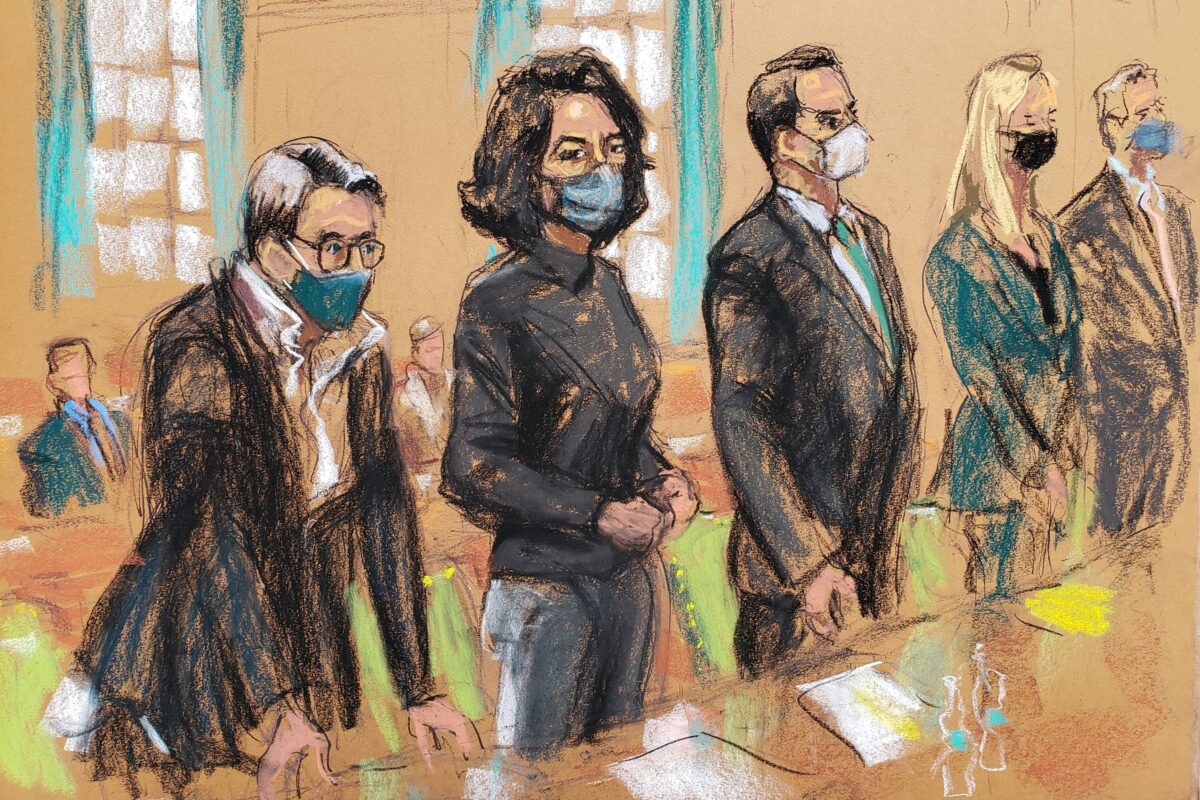 Pagliuca read back testimony where it was Roberts who secured Carolyn's position giving Epstein massages. Pagliuca looked to pin the whole operation on Roberts.
He also reminded Carolyn that other than one, short description of her, Maxwell does not appear in all three depositions.
Carolyn's rebuttal was that Maxwell "was not the subject of the discussion."
Carolyn appeared very uncomfortable and at one point stated, "I'm very confused right now." Occasionally she wiped a tear.
Pagliuca hypothesized the cash left on the sink after the first massage could have been put there by anyone.
The evidence that discredited her the most was her own testimony from one of the depositions that stated Epstein never had sex with her.
"I replied 'no' because I was an unwilling participant. He had sex with me and I stopped it."
Comey could see her witness falling apart and under redirect, asked, "Can you tell us what year it was when you were 13? Fourteen?"
"I can't tell right now," said Carolyn as she broke down and cried.
Comey asked if anyone told her what to say today and she said no.
"Both of you need to behave," said Nathan, referring to Comey and Pagliuca.
"What have you been told by the government to do here today?" Comey asked Carolyn.
"Just tell the truth," she said.
Carolyn's testimony has ended unless she's recalled.