Democratic Congresswoman Maxine Waters, in an attempt to discredit President Donald Trump, made a gaffe, saying that Russian leader Vladimir Putin invaded "Korea."
She asked how Trump could embrace the Russian president "knowing that he is responsible for supplying the bombs that killed innocent children and families in, um, in um."
"Aleppo," someone behind her prodded, referring to Syria's former economic hub, which has been ravaged by fighting during the country's civil war. Last year, former Libertarian presidential candidate Gary Johnson was lampooned for apparently not knowing where, or what, Aleppo is when he asked, "What is Aleppo?"
"Yeah, in Aleppo," she answered. "And the fact that he is wrapping his arms around Putin while Putin is continuing to advance into Korea."
@MaxineWaters pic.twitter.com/6ZA32INHdB

— Asa J @asamjulian) February 7, 2017
Waters may have been trying to refer to Crimea, the Ukrainian region that was taken by Russian-backed rebels in 2014. Both North Korea, a communist state, and South Korea are sovereign nations.
Waters' comments quickly gained traction on social media, with several meme's of her slip-ups circulating on Twitter.
Waters, 78, continued, referring of Trump: "I think he is leading himself into that kind of position where people are beginning to ask, 'What are we going to do?'" She claimed that her goal is to get the president impeached.
"Eventually, we're going to have to do something about him," she said.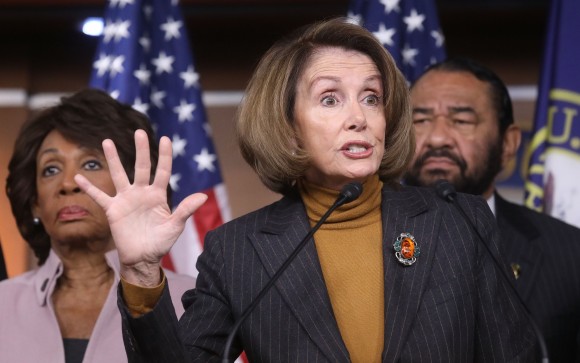 While Rep. Nancy Pelosi, House minority leader, agreed with Waters's comments, she was quick to point out they were not meant to be taken as grounds for impeachment.
"Many things the congresswoman said are grounds for displeasure and unease in the public about the performance of this president," she said, but  "that is not grounds for impeachment."
Meanwhile, Pelosi made a slip-up of her own when she referred to the wrong president.
"While it's only been a couple of weeks since the inauguration, we've seen nothing that I can work with President Bush on," Pelosi said. 
A White House official told CNN that Waters's comments on Trump is a perfect example of "extreme rhetoric from a completely out-of-touch party," referring to the Democrats. Waters, meanwhile, "lost control and perspective," the unnamed official added.