Mauled by Tibetan Mastiffs, Man Goes Into Hiding
September 6, 2010 11:18 pm Last Updated: October 1, 2015 7:07 pm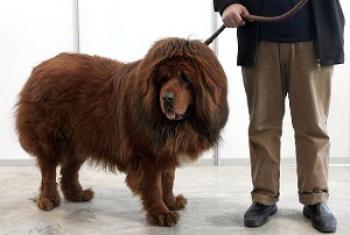 A Chinese man went into hiding after he delayed urgent medical care for injuries inflicted on him by six Tibetan Mastiff dogs in northwest China last week, his fate is currently unknown.
Mr. Chen Xushui, 47, lived frugally in Xi'an, Shaanxi Province in a rented apartment with his wife and their two children. After learning news of the earthquake in April in the Tibetan Autonomous Prefecture of Yushu, northwest China's Qinghai Province, he gave up his voluntary teaching position in Wenchuan, another earthquake-stricken area in Sichuan Province, and immediately went to Yushu to become a volunteer teacher in a school for orphans.
On Aug. 9, Mr.Chen was mauled by six incensed Tibetan Mastiff dogs. He was severely injured and needed to be taken immediately to a hospital in Xining, the capital city of Qinghai Province.
Another volunteer who wished to remain anonymous told The Epoch Times that Mr. Chen did not have enough money to go to Xining, let alone to pay for medical expenses, so he didn't go. The volunteer also said that Mr. Chen could barely manage to walk even with a walking stick.
On Aug. 23, Mr. Chen finally went to Xining Hospital for a medical examination. At about 7 p.m., he sent a text message to other volunteers, saying he couldn't take money donated by others. His blood vessels were weakening and he could not take any more IV drips. He overheard the doctor say that the window of opportunity for his treatment was over, and that there was no hope. He then decided to give up treatment.
Another volunteer that worked in Yushu told The Epoch Times that about a week ago, Chen left the hospital voluntarily and his whereabouts remain unknown.
The volunteer also said that many people had offered to help Mr. Chen. But Mr. Chen was beyond help. When he received an intravenous injections, his hand bruised and blackened as soon as the needle penetrated the skin. The doctor was thus unable to give more IV drips. His right hip had been badly damaged, to the nerves, and he was unable to pick up light objects.
Another volunteer told The Epoch Times that Mr. Chen did not want to disclose where he was and did not want to be found. He didn't want others to worry about him, and did not return phone calls. On Aug. 26, a volunteer reached him and learned that he was staying at a hotel near the Lanzhou Train Station in Lanzhou City, capital of the neighboring Gansu Province.
On Aug. 27, about a dozen volunteers from Gansu began searching for him in hotels around Lanzhou Train Station but could not find him. The next day, a volunteer reached Mr. Chen for the last time and learned that infections had developed around his wounds. Again, he refused to reveal his location. Since then, Mr. Chen turned off his cell phone and could not be reached. Volunteers continued searching in Lanzhou for three more days but still couldn't find him.
Mr. Chen's wife, Ms. Ma Hongjuan, told Xi'an Evening News that she lost contact with her husband more than two weeks ago. She tried calling him but his phone was always off. She sent him text messages, urging him to accept treatment. She wrote, "Come home! Your children and I are very worried about you. We can't live without you. We will go through treatments with you. You can help more people and do better things only if you are healthy."
She said she would spare no money to get him the treatment he needs. She thought he must have lost his mobility because of his injuries and couldn't return home. She said he was a very proud man and did not want to be anyone's burden. He was happy as long as he was helping others.
Mr. Chen's family, friends and coworkers remain hopeful that he can be found soon and receive the medical treatment he requires.
The Tibetan Mastiff is the only canine breed that has remained unchanged by time and environment. It is one of the oldest, most ferocious, and rare large dogs in the world, and is found mainly in Tibet and the Tibetan Autonomous Prefecture of Yushu, Qinghai Province.
Read the original Chinese article.