Matthews Wins the Final Stage, Chris Horner First American to Win the Vuelta a España
September 15, 2013 1:13 pm Last Updated: September 15, 2013 3:11 pm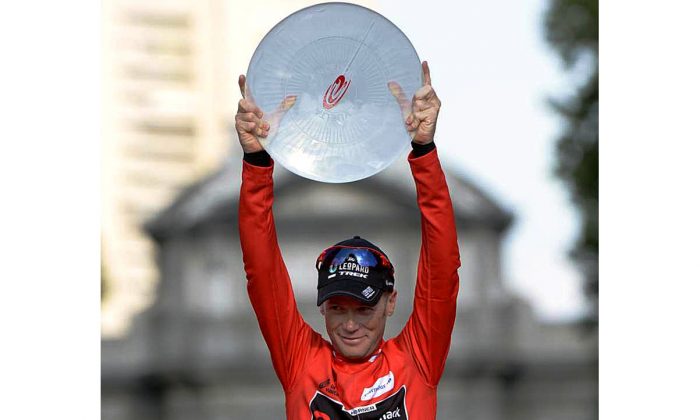 Orica-GreenEdge sprinter Michael Matthews took his second stage win in the 2013 Vuelta a España Sunday, outsprinting Garmin-Sharp's Tyler Farrar in Stage 21, but the focus of the day was on RadioShack's Chris Horner, the first American to win the Vuelta and the oldest to win any of the three Grands Tours.
Horner, a month from his 42nd birthday, is five years older than the previous Grand Tour winner, Belgium's Firmin Lambot, who won at age 36 in 1922.
"I've been a professional for almost 20 years so this represents a lifetime of hard work," Horner told the team website. "A Grand Tour is always a goal for a cyclist to show how good a rider you are. The memories will last forever and the riders I came with were amazing and my team has been fantastic.
"Every year I am motivated to win and try to be the best cyclist I can be," Horner continued. "Every victory is special but today is an amazing day.
"I hope the fans appreciated this race. It's so complicated to get to this point and then have such good luck, to stay healthy and not crash at the wrong moment. All factors have to come together just right to bring home the win."
There was plenty for fans to appreciate at this year's Vuelta. With half the stages ending in summit finishes and many of the others ending in long solo breakaways (some caught in the final few meters, some successful,) and with the race leader's red jersey changing hands half-a-dozen times, there was never a dull day.
The battle for the General Classification win started when Horner won the red jersey in Stage Three with a solo attack on a short, steep uphill finish. He retook the jersey with a long solo attack on another steep summit finish in Stage Ten, and for the final time in Stage 19, again attacking on a steep summit finish.
The most exciting stage of the race, and the most exhausting, was Stage 20, when Astana's Vincenzo Niblai, who had worn the red for more than half the race, attacked Horner seven times on the incredibly long, steep Alto del Angliru, a climb legendary among cyclists. Horner was pushed almost to the breaking point.
Realizing he could not withstand another attack, Horner decided to ride harder, pushing himself until Nibali could not match the pace and cracked. This bit of strategy saved the race for Horner.
"Yesterday you saw how much effort Nibali put in to try to win this race," Horner said Sunday on the RadioShack website. "It was no walk in the park for me. It was probably the hardest victory I've ever had in my career, and possibly the hardest race I've had in my career."
Matthews Makes It Two
The final stage of a Grand Tour is typically a procession followed by several circuits of the host city followed by a sprint. In the Vuelta, that city is often Madrid, and so it was in 2013.
After eight laps or downtown Madrid, the sprinters teams formed up to contest the finish. Sky, Garmin, Argos-Shimano, and Orica were present in force in the final few kilometers, but ultimately it was Argos who had the best organization. Seeing this, Michael Matthews glued himself to the wheel of Argos sprinter Nikias Arndt, with Tyler Farrar following Matthews.
Tyler Farrar was first to go, popping left and launching his sprint too early. Matthews was more patient, waiting until Arndt started before pulling left and passing the German.
Farrar was fast, but Matthews had to be fast for a shorter distance; the Garmin rider didn't have enough left for a second burst, and Matthews crossed the line a couple of lengths ahead.
The Orica GreenEdge rider had also won Stage Five, one of only two other stages which ended in bunch sprints, so for him and his team, the Vuelta was a success.
Horner's Rejuvenation
For Chris Horner, the Vuelta was much more than a race win. Horner will enter the cycling history books. He will always be the first American to win the Vuelta, and it is likely going to be a long time before an older rider wins a grand Tour.
For Horner, the win rejuvenates a career which had seemed to be over just a few months before. Sidelined with a knee injury in March and surgery in June, Horner had not attracted any contract offers; his life as a professional cyclist seemed to be over. Now it is likely he will get a ride for next season, and possibly even get to lead a team for selected races.
For Horner, his most important fans were watching the race in Horner's living room.
"My family is home watching. My daughters are 16 and 14, and my son is 11 so they are old enough to appreciate this. Many riders winning in their 20's and early 30's have small children but mine are at the age where they can appreciate what Dad is doing. When I get back, it will be quite the topic at home."