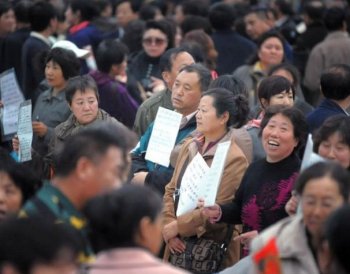 Literally translated from the Chinese as "leftover male" and "leftover female," the pejorative titles 'shengnan' and 'shengnu' refer to Chinese urbanites past their prime, unmarried, and in pursuit of matrimony: finding one's other half is not easy in today's China.
But the parents of this coddled one-child generation are only too happy to step into the breach.
Events such as "10 thousand people matchmaking expos", "marriage supermarkets" and "love buses" have become carnivals of matchmaking services, but where it is rare to find an actual shengnan or shengnu in the flesh. They are instead often staged on behalf of the late-bloomers by their parents, eager to help their only children, even if it means doing so without their knowledge or acquiescence.
The state of an unmarried Chinese in their late 20s and early 30s is not a happy one to be in, and despite its spread the social stigma remains. Parents go on vicarious matchmaking jaunts, meeting others in a similar position, and organizing dates on both their children's behalf.

Life Weekly, a subsidiary of People's Daily Online, published an article on the topic in August. It highlighted a typical matchmaking expo organized by parents in a city park. About 3,000 older parents strolled around, holding signs and sporting broad grins, exchanging telephone numbers with the parents of potential in-laws.
In cities such as Beijing and Nanjing, over 10 such events take place each year, attracting tens of thousands of parents. The potential suitors or sweethearts are either buried in work, or too shy to promote themselves.
Mr. Wang Yuru of the the Shanghai Psychiatrists Association told Life Weekly that on one hand, this type of matchmaking benefits the children by broadening their base of friends, and on the other benefits the stressed parents, who relieve themselves the anxiety of worrying about their only child's future.
Criteria for future in-laws has included a list of superficial must-haves: a secure job, a monthly salary of over 3,000 yuan, both parents healthy and with medical insurance, an apartment (which is not shared with the healthy parents). The criteria is heavily influenced by Chinese pragmatism that developed from the 'One Child' policy implemented in the late 1970's.
As children, these shengnan and shengnu grew up in a narcissistic bubble created by the parents and grandparents. In the uniquely competitive culture of modern China, parents strive to provide the best of everything for the single child, striving to make them "better than the kid next door." This has carried over to the sense of obligation for helping to pick the best life partner for their child, reminiscent of choosing the best piano teacher for their little prince or princess, 20-odd years ago.
According to official statistics, the shengnan and shengnu population over the age of 28 in Beijing is rapidly on the rise: in particular, the number of shengnu has climbed to over 500,000. A shengnu is often a highly-educated career woman who may be required to lower her standards to find a marriage partner, a compromise that neither the doting parents or Chinese society had seen on the horizon.