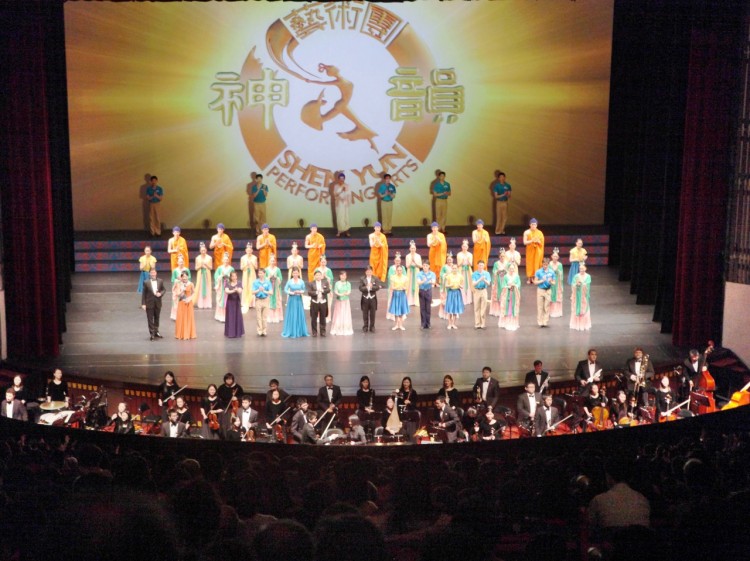 TAIPEI, Taiwan—Professor Wei Dedong teaches Chinese literature and is the dean in the field of the guzheng, a traditional Chinese musical instrument that belongs to the zither family of string instruments.
Professor Wei was seeing Shen Yun Performing Arts New York Company at the Dr. Sun Yat-sun Memorial Hall on March 22. Having seen Shen Yun previously, he sincerely appreciated seeing the performance again, praising Shen Yun for "constantly striving for perfection." "It was an utmost true, good, and beautiful performance," he said.
Mr. Wei has studied and played the guzheng for more than 40 years. As a master of literature, music, and fine art, he is often invited to lecture and perform the guzheng around the world.
"Shen Yun was magnificent, and with a tremendous momentum," he said. "The colors were bright and rich. It is serious and respectful of the ancient history. The costumes were very elegant. They were exquisite, and the production was superb."
Mr. Wei had invited more than 20 friends and members of the Guzheng Society to see Shen Yun with him. He said that there were many artistic elements in Shen Yun worthy of learning. "Shen Yun as a whole is very dedicated, and it has a strong team spirit. It is excellent in both 'quality' and 'quantity.' Every performer has extremely good fundamental skills."
Having taught Chinese literature for 25 years and being the leading authority in the field of the guzheng, Mr. Wei maintains a very strict standard for the interpretation and heritage of the Chinese culture. He said that the Shen Yun solo vocalists represented the spirit of ancient China and could reproduce the 5,000 years of the divinely-inspired culture on the international stage, utilizing Western vocal music, which can be easily accepted by international audiences.
Mr. Wei was referring to the bel canto style used by Shen Yun's solo vocalists who sing with Chinese lyrics. "The mission to serve art and culture is very great," he said.
"It's hard to have this kind of opportunity. If I could have such a performing opportunity, I'd be glad to do so even for 365 days a year."
He said that the value of Shen Yun cannot be measured by the price of the ticket. "Money cannot buy opportunity. Actually, Shen Yun comes to many cities in Taiwan, giving us the opportunity to appreciate such an excellent performance. You can see so many artistic elements performed on stage, and they even fly to the city you live in, so you can enjoy it and learn from it. This kind of opportunity is hard to come by," he said.
Mr. Wei concluded by saying, "Shen Yun as a whole is a very high quality performance." He hoped it would inspire the members of the Guzheng Society. "The basic skills of the guzheng should be as that of Shen Yun dancers, very solid. It is said that if you don't practice the basic skills but only the melody, it will be futile."
He also mentioned that all the members of the Guzheng Society appreciated seeing Shen Yun and that it had been a worthwhile trip.
Reporting by Li Yuan and Sunny Chao.
Shen Yun Performing Arts, based in New York, tours the world on a mission to revive traditional Chinese culture. Shen Yun Performing Arts New York Company will perform in seven cities in Taiwan until April 8 and then continue to top venues in Australia and New Zealand.
For more information visit ShenYunPerformingArts.org

Read the original Chinese article