VANCOUVER—A massive group of truckers are rolling across the country to camp in Canada's capital until a federal COVID-19 vaccine mandate on truck drivers is lifted.
The Freedom Convoy 2022 started from the west coast on Jan. 23, heading from British Columbia to Ottawa. Truckers from every province plan to join under a group called Canada Unity and form a large demonstration against the mandate in the nation's capital on Jan. 29.
"Thousands of us will be parking our trucks on Parliament Hill for as long as it takes until these vaccine mandates are lifted," Tamara Lich, a lead organizer, told The Epoch Times.
Lich, who works in Alberta's oil and gas industry, said when she and a few of her trucker friends launched a GoFundMe campaign on Jan. 14, she never expected the support that they've received.
"It's been overwhelming," Lich said. "I'm seeing Canadians coming together like I have never seen before."
The campaign had raised over $3 million as of Jan. 24.

The upcoming trucker protest comes as the industry already struggles with a shortage of drivers and the country grapples with supply chain disruptions and 30-year high inflation rates.
Under the federal mandate that came into force on Jan. 15, all truck drivers entering Canada need to be fully vaccinated. Unvaccinated Canadian drivers will have to undergo testing and quarantine upon entry, and non-Canadian drivers will be barred from entering.
Lich says she knows many people in the industry who have been affected by the vaccine mandate. The group's goal is to demand the federal government not only end the vaccine mandate for truckers, but all the other COVID-19 mandates in the country.
"Small businesses are being destroyed, homes are being destroyed, and people are being mistreated and denied fundamental necessities to survive," reads the GoFundMe campaign page.
Lich estimates around 2,000 truck drivers will join the convoy from western Canada. Two other convoys have different starting points: The southern route will leave on Jan. 27 from Windsor, Ont, while the eastern route will leave on the same day in Enfield, Nova Scotia.
'Peak of Supply Chain Constraints'
The federal vaccine mandate could result in a loss of 12,000 to 16,000 cross-border commercial drivers, according to a post on the website of the Canadian Trucking Alliance (CTA).
Prime Minister Justin Trudeau defended his government's decision to go ahead with the vaccination measure for truck drivers despite looming price increases and product shortages.
Trudeau said at a press conference in Ottawa on Jan. 19 that truckers have known for months that the mandate was coming, and the United States will soon bring into force an "identical" measure. The U.S. government on Jan. 20 said it will launch its own vaccination mandate on Jan. 22 to ensure all non-American truckers entering the country are vaccinated.
"We are aligned with them," Trudeau said.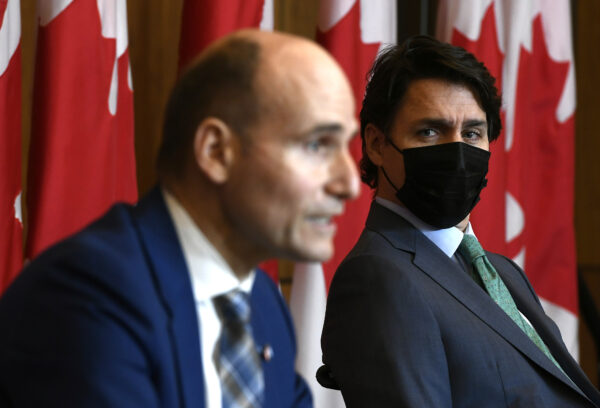 A Transport Canada spokesperson told The Epoch Times that the pandemic is one of the biggest threats to Canada's supply chain, and the best tool to stop COVID-19 is vaccination.
"This is why the government of Canada continues to take action to ensure as many Canadians as possible get vaccinated," the spokesperson said in an email.
The government will continue to work with the trucking industry to ensure awareness of the new requirements to minimize adverse impacts on the labour force and supply chains, Transport Canada added. 
But Alberta Premier Jason Kenney is urging the government to extend an exemption that had been in place for truckers since the start of the pandemic.
"Common sense tells us that we are at the peak of supply chain constraints across North America, around the world, huge inflation," Kenney said at a press conference in Calgary on Jan. 20.
Lich argues that common sense hasn't prevailed with the vaccine mandates because the vast majority of truckers drive alone with little public contact. She says even many vaccinated truck drivers are supporting the protest.
Lich says the trucker protest group plans on causing road blockages in Ottawa as well as major U.S. border crossings. Some Canadian and American truckers will be teaming up to block entry in an act of solidarity and to raise awareness to the protest movement on both sides of the border, she says.
"I don't think Trudeau realizes this, but both Parliament and the borders are going to come to a screeching halt," she said.
She emphasized however that all protests will be conducted peacefully.
The CTA has condemned vaccine mandate protests at the U.S.-Canada border or any public roadways, highways, and bridges.
"Members of the trucking industry who want to publicly express displeasure over government policies can choose to hold an organized, lawful event on Parliament Hill and not disrupt the travelling public," CTA said in a statement.
On Jan. 19, a group of truck drivers protested the mandate at the US-Manitoba international border, blocking the highway and slowing traffic.
Editor's note: This article was updated to reflect the more recent total donation figure the convoy has collected.