A large-scale explosion shook a neighbourhood in London, Ont., on Wednesday night, leaving a total of 7 people injured and up to 10 homes severely damaged.
According to a statement released by the London Police Service, at approximately 10 p.m. on Aug. 14, officers responded to a call claiming that a vehicle had crashed into a house. The vehicle, driven by a 23-year-old Kitchener woman, hit a home on Woodman Avenue and struck a gas line, setting off an enormous explosion.
The explosion completely destroyed one house and caused serious damage to several others in the ensuing fire. The LPS arrived at the scene and were quickly joined by members of the London Fire Department, and they worked together to control the damage.
Officials assessed multiple people who were injured, seven of whom were transported to hospital, including four firefighters, two police officers, and one civilian. All have been treated and released for non-life-threatening injuries save for one firefighter, who is still at the hospital in "serious but stable condition."
Acting Deputy Fire Chief Jack Burt said that he has "never seen an event of this nature" in the 20 years of his career.
Christina Curtis, a witness to the explosion, described the scene in detail to CBC News. "There's debris everywhere, windows are shattered. We watched the roof fly higher than the trees on the street," she said. "The sound was extremely loud. You could feel the explosion go right through you."
*UPDATE* Aerial footage of the Woodman Avenue scene in #ldnont captured early this morning. 23-year-old Kitchener woman facing a number of charges. Read more: https://t.co/kTyj4wyZ27 @LdnOntFire @CityofLdnOnt @MLPS911 pic.twitter.com/6pWcdhhzn6

— London Police ON (@lpsmediaoffice) August 15, 2019
More than 100 homes in the neighbourhood have been evacuated, and affected residents were welcomed at a temporary reception area established in the Carling Heights Optimist Community Centre, where they were provided support to find alternate accommodations. On its Twitter account, the City of London encouraged people to donate items such as food and clothing to the families who were displaced by the incident.
Multiple streets have been closed in the area, including Woodman Avenue—where the explosion took place—and busy streets such as Dufferin and Dundas. As of Thursday afternoon, the scene of the explosion was still considered dangerous and has been cordoned off in preparation for an active fire investigation by the London Police Service.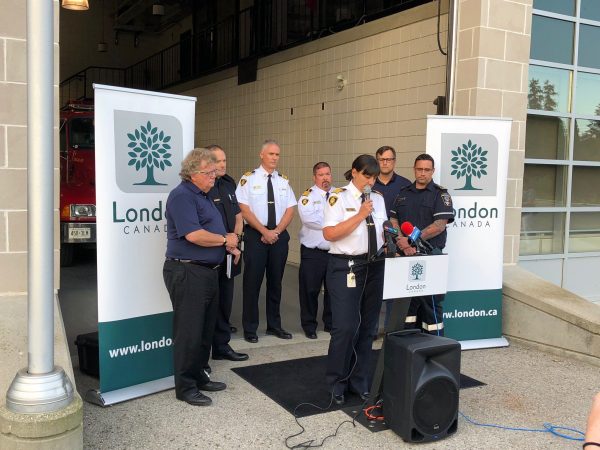 Natural gas services in the area have been shut off due to safety precautions, and the company said that affected customers will be contacted to relight appliances as soon as authorities say it is safe to do so.
London Mayor Ed Holder expressed his support for the victims in a series of tweets.
"I know I speak on behalf of all Londoners when I say thank you to our first responders. As they do so often, they risked their own safety to ensure the safety of others. We wish full and speedy recoveries to all who were injured. All of you, and your families, are in our thoughts and prayers," he wrote.
"I would also like to acknowledge citizens in the area for evacuating so quickly, as well as those who provided care and comfort to their neighbours in the immediate aftermath. All of London stands with the great people of Old East Village."
Police said that Daniella Alexandra Leis has been charged with four counts of impaired driving causing bodily harm as well as driving above the legal alcohol limit. She is expected to appear in court on Sept. 4, 2019.