Massage Therapy Bill Passes California Legislature
Tries to cut down on illicit massage parlors and sex services
September 4, 2014 5:45 am Last Updated: September 10, 2014 11:33 pm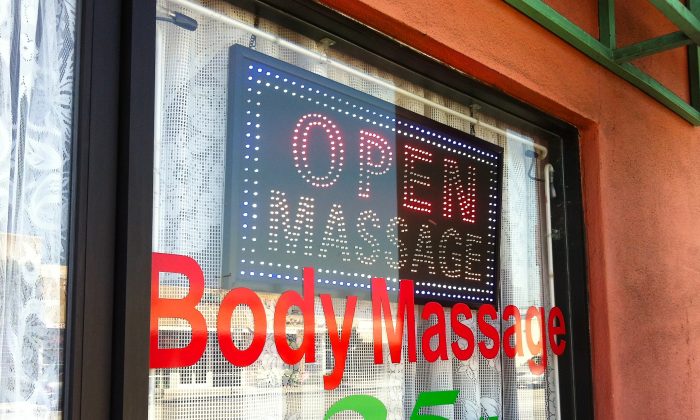 SAN GABRIEL, Calif.—New legislation regulating massage therapy was passed unanimously by the California state Assembly on Friday.
The Massage Therapy Reform Act or AB1147 aims to reduce prostitution and sex trafficking in massage parlors while returning power to cities to regulate the industry.
Residents have complained that some questionable massage parlors are open late and lock their doors during business hours. 
The manager of a local massage establishment, whose door was wide open during normal business hours, said the law would be good for their business.
"I think it is good to set up rules and regulations for the massage business so that we can be prosperous and recognized," said Zheng Zhang, manager of Chinese Ancient Foot Massage. "We welcome that."
The new legislation replaced a controversial law from 2009 that gave a non-profit agency called the California Massage Therapy Council (CAMTC) the authority to certify massage professionals and allowed those who were certified to be exempt from needing a city-issued massage permit.
Some cities said the old law made it too easy for massage parlors to become licensed and fostered illegal activity.
But a spokesperson for the CAMTC, Regina Wilson, said the council has no police authority and has worked with cities to uncover illicit activities.
"At the time (2009), before the original Assembly bill passed, we had ten businesses in our city licensed to perform full-body massage," said Captain Darren Perrine of the San Gabriel Police Department. "Over the last four years, we've seen that grow to 54 massage parlors in our city."
Perrine said since October of 2009, the city of San Gabriel has received over 90 complaints of illicit activities in massage parlors, conducted numerous undercover operations that resulted in arrests, and closed several businesses. He applauded the the new law, which would allow cities to regulate the industry through land-zoning and other city ordinances. 
The new bill would change of makeup of the CMTC board, which was accused of being too close to the massage therapy industry, and would give it more disciplinary authority. 
It also requires each certified massage professional to undergo a background check and fingerprinting, and convicted sex offenders would not be able to apply for massage certification. 
The bill was authored by Assembly members Chris Holden, Jimmy Gomez, and Susan Bonilla and now awaits a signature from Gov. Jerry Brown. If signed, it would go into effect next year and would expire in 2017.
"AB 1147 will give local jurisdictions the authority to shut down the illegitimate business ruining the reputation of the massage therapy industry and ensure that the trained and certified therapists can continue to play a vital healing role in our communities," said Assembly member Bonilla in a press release.